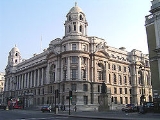 War Office
The
War Office
was a department of the British Government, responsible for the administration of the
British Army
British Army
The British Army is the land warfare branch of Her Majesty's Armed Forces in the United Kingdom. It came into being with the unification of the Kingdom of England and Scotland into the Kingdom of Great Britain in 1707. The new British Army incorporated Regiments that had already existed in England...
between the 17th century and 1964, when its functions were transferred to the
Ministry of Defence
Ministry of Defence (United Kingdom)
The Ministry of Defence is the United Kingdom government department responsible for implementation of government defence policy and is the headquarters of the British Armed Forces....
. The name "War Office" is also often given to the former home of the department, the Old War Office Building on
Horse Guards Avenue
Horse Guards Avenue
Horse Guards Avenue is a road in the City of Westminster, London, linking the major thoroughfares of Whitehall and Victoria Embankment, to the east of the Horse Guards building and parade area. It is not to be confused with Horse Guards Road, which is on the opposite side of the Horse Guards...
,
London
London
London is the capital city of :England and the :United Kingdom, the largest metropolitan area in the United Kingdom, and the largest urban zone in the European Union by most measures. Located on the River Thames, London has been a major settlement for two millennia, its history going back to its...
.
The War Office developed from the
Council of War
Council of war
A council of war is a term in military science that describes a meeting held to decide on a course of action, usually in the midst of a battle. Under normal circumstances, decisions are made by a commanding officer, optionally communicated and coordinated by staff officers, and then implemented by...
, an
ad hoc
grouping of the King and his senior military commanders which oversaw the
Kingdom of England
Kingdom of England
The Kingdom of England was, from 927 to 1707, a sovereign state to the northwest of continental Europe. At its height, the Kingdom of England spanned the southern two-thirds of the island of Great Britain and several smaller outlying islands; what today comprises the legal jurisdiction of England...
's frequent wars and campaigns.