 Donation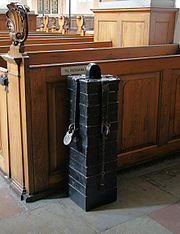 A
donation
is a gift given by physical or legal persons, typically for
charitable
Charitable organization
A charitable organization is a type of non-profit organization . It differs from other types of NPOs in that it centers on philanthropic goals A charitable organization is a type of non-profit organization (NPO). It differs from other types of NPOs in that it centers on philanthropic goals A...
purposes and/or to benefit a cause. A donation may take various forms, including
cash
Cash
In common language cash refers to money in the physical form of currency, such as banknotes and coins.In bookkeeping and finance, cash refers to current assets comprising currency or currency equivalents that can be accessed immediately or near-immediately...
, services, new or used goods including
clothing
Clothing
Clothing refers to any covering for the human body that is worn. The wearing of clothing is exclusively a human characteristic and is a feature of nearly all human societies...
,
toy
Toy
A toy is any object that can be used for play. Toys are associated commonly with children and pets. Playing with toys is often thought to be an enjoyable means of training the young for life in human society. Different materials are used to make toys enjoyable and cuddly to both young and old...
s,
food
Food
Food is any substance consumed to provide nutritional support for the body. It is usually of plant or animal origin, and contains essential nutrients, such as carbohydrates, fats, proteins, vitamins, or minerals...
, and vehicles. It also may consist of emergency, relief or
humanitarian aid
Humanitarian aid
Humanitarian aid is material or logistical assistance provided for humanitarian purposes, typically in response to humanitarian crises including natural disaster and man-made disaster. The primary objective of humanitarian aid is to save lives, alleviate suffering, and maintain human dignity...
items, development aid support, and can also relate to medical care needs as i.e.
blood
Blood
Blood is a specialized bodily fluid in animals that delivers necessary substances such as nutrients and oxygen to the cells and transports metabolic waste products away from those same cells....
or organs for
transplant
Organ transplant
Organ transplantation is the moving of an organ from one body to another or from a donor site on the patient's own body, for the purpose of replacing the recipient's damaged or absent organ. The emerging field of regenerative medicine is allowing scientists and engineers to create organs to be...
. Charitable gifts of goods or services are also called
gifts in kind
Gifts in kind
Gifts in kind is a kind of charitable giving in which, instead of giving money to buy needed goods and services, the goods and services themselves are given. The motivations for GIK vary, but include:...
. The largest form of gifts in kind is created in many nations by the donation of aging automobiles with the item donated being picked up, sold and the proceeds given to the charity or non-profit (type or named) which was the target of the donor's generosity. One standard way of obtaining donations is the use of raffles for the accumulation of funds.
Legal aspects
Donations are gifts given without return consideration. This lack of return
consideration
Consideration
Consideration is the central concept in the common law of contracts and is required, in most cases, for a contract to be enforceable. Consideration is the price one pays for another's promise. It can take a number of forms: money, property, a promise, the doing of an act, or even refraining from...
means that, in
common law
Common law
Common law is law developed by judges through decisions of courts and similar tribunals rather than through legislative statutes or executive branch action...
, an agreement to make a donation is an "imperfect contract void for want of consideration." Only when the donation is actually made does it acquire legal status as a transfer or property. In
civil law
Civil law (legal system)
Civil law is a legal system inspired by Roman law and whose primary feature is that laws are codified into collections, as compared to common law systems that gives great precedential weight to common law on the principle that it is unfair to treat similar facts differently on different...
jurisdictions, on the contrary, donations are valid contracts, though they may require some extra formalities, such as being done in writing.
In politics, the law of some countries may prohibit or restrict the extent to which politicians may accept gifts or donations of large sums of money, especially from business or lobby groups (see
campaign finance
Campaign finance
Campaign finance refers to all funds that are raised and spent in order to promote candidates, parties or policies in some sort of electoral contest. In modern democracies such funds are not necessarily devoted to election campaigns. Issue campaigns in referendums, party activities and party...
). Donations to charities are also usually
tax deductible
Tax deduction
Income tax systems generally allow a tax deduction, i.e., a reduction of the income subject to tax, for various items, especially expenses incurred to produce income. Often these deductions are subject to limitations or conditions...
. Because this reduces the state's tax income, calls have been raised that the state (and the public in general) should pay more attention towards ensuring that charities actually use this 'tax money' in suitable ways.
In countries where there are limits imposed on the freedom of disposition of the
testator
Testator
A testator is a person who has written and executed a last will and testament that is in effect at the time of his/her death. It is any "person who makes a will."-Related terms:...
, there are usually similar limits on donations.
The person or institution giving a gift is called the
donor
, and the person or institution getting the gift is called the
donee
.
Donating in the name of others
It is possible to donate in the name of a third party, making a gift in honor or in memory of someone or something. Gifts in honor or memory of a third party are made for various reasons, such as holiday gifts, wedding gifts, in memory of somebody who has died, in memory of pets or in the name of groups or associations no longer existing. Memorial gifts are sometimes requested by their survivors (e.g. "in lieu of flowers, contributions may be made to ABC Charity"), usually directing donations to a charitable organization for which the deceased was a donor or volunteer, or for a cause befitting the deceased's priorities in life or manner of death. Memorial donations are also sometimes given by people if they cannot go to the ceremonies.
See also