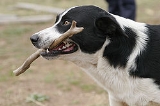 Dog intelligence
Dog intelligence
is the ability of a
dog
Dog
The domestic dog is a domesticated form of the gray wolf, a member of the Canidae family of the order Carnivora. The term is used for both feral and pet varieties. The dog may have been the first animal to be domesticated, and has been the most widely kept working, hunting, and companion animal in...
to learn, think, and solve problems. Dog trainers, owners, and researchers have as much difficulty agreeing on a method for testing canine intelligence as they do for human intelligence. One specific difficulty is confusing a breed's genetic characteristics and a dog's obedience training with intelligence.
Certain
breeds
Dog breed
Dog breeds are groups of closely related and visibly similar domestic dogs, which are all of the subspecies Canis lupus familiaris, having characteristic traits that are selected and maintained by humans, bred from a known foundation stock....
, like
Border Collie
Border Collie
The Border Collie is a herding dog breed developed in the Anglo-Scottish border region for herding livestock, especially sheep. It is the most widespread of the collie breeds....
s, Poodles, German Shepherds,
Shetland Sheepdog
Shetland Sheepdog
The Shetland Sheepdog, often known as the Sheltie, is a breed of herding dog.They are small to medium dogs, and come in a variety of colors, such as sable/white, tri-color, and blue merle. They are vocal, excitable, energetic dogs who are always willing to please and work hard...
s,
Rottweiler
Rottweiler
The Rottweiler is a medium to large size breed of domestic dog that originated in Rottweil, Germany. The dogs were known as "Rottweil butchers' dogs" because they were used to herd livestock and pull carts laden with butchered meat and other products to market...
s, Doberman Pinschers,
Labrador Retriever
Labrador Retriever
The Labrador Retriever is one of several kinds of retriever, a type of gun dog. A breed characteristic is webbed paws for swimming, useful for the breed's original purpose of retrieving fishing nets. The Labrador is the most popular breed of dog by registered ownership in Canada, the United...
s,
Papillon
Papillon (dog)
The papillon , also called the Continental Toy Spaniel, is a breed of dog of the Spaniel type. One of the oldest of the toy Spaniels, it derives its name from its characteristic butterfly-like look of the long and fringed hair on the ears. A papillon with dropped ears is called a phalène...
s,
Australian Cattle Dog
Australian Cattle Dog
The Australian Cattle Dog is a breed of herding dog originally developed in Australia for droving cattle over long distances across rough terrain. In the 19th century, New South Wales cattle farmer Thomas Hall crossed the dogs used by drovers in his parents' home county, Northumberland, with...
s and
Golden Retriever
Golden Retriever
The Golden Retriever is a medium-sized breed of dog. They were historically developed as gundogs to retrieve shot waterfowl such as ducks and upland game birds during hunting and shooting parties. As such, they were bred to have a soft mouth to retrieve game undamaged and have an instinctive love...
s, are claimed by some to be "smarter" breeds of dogs because of their obedience.