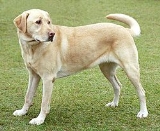 Labrador Retriever
The
Labrador Retriever
(also
Labrador
, or
Lab
for short) is one of several kinds of
retriever
Retriever
A retriever is a type of gun dog that retrieves game for a hunter. Generally gun-dogs are divided into three major classifications: retrievers, flushing spaniels, and pointing breeds. Retrievers were bred primarily to retrieve birds or other prey and return them to the hunter without damage...
, a type of
gun dog
Gun dog
thumb|right|A group of Gun dogs as printed in Dogs of All Nations by W.E. Mason in 1915Gun dogs, also gundogs or bird dogs, are types of dogs developed to assist hunters in finding and retrieving game, usually birds. Gun dogs are divided into three primary types: Retrievers, flushing dogs, and...
. A breed characteristic is webbed paws for swimming, useful for the breed's original purpose of retrieving fishing nets. The Labrador is the most
popular
breed
Dog breed
Dog breeds are groups of closely related and visibly similar domestic dogs, which are all of the subspecies Canis lupus familiaris, having characteristic traits that are selected and maintained by humans, bred from a known foundation stock....
of
dog
Dog
The domestic dog is a domesticated form of the gray wolf, a member of the Canidae family of the order Carnivora. The term is used for both feral and pet varieties. The dog may have been the first animal to be domesticated, and has been the most widely kept working, hunting, and companion animal in...
by registered ownership in Canada, the United Kingdom, and the United States (since 1991).