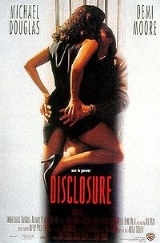 Disclosure (film)
Disclosure
is a
1994
1994 in film
1994 was a significant year in film.The top grosser worldwide was The Lion King, which to date stands as the highest-grossing traditionally-animated film of all time...
thriller directed by
Barry Levinson
Barry Levinson
Barry Levinson is an American screenwriter, film director, actor, and producer of film and television. His films include Good Morning, Vietnam, Sleepers and Rain Man.-Early life:...
, starring
Michael Douglas
Michael Douglas
Michael Kirk Douglas is an American actor and producer, primarily in movies and television. He has won three Golden Globes and two Academy Awards; first as producer of 1975's Best Picture, One Flew Over the Cuckoo's Nest, and as Best Actor in 1987 for his role in Wall Street. Douglas received the...
and
Demi Moore
Demi Moore
Demi Guynes Kutcher , known professionally as Demi Moore, is an American actress. After minor roles in film and a role in the soap opera General Hospital, Moore established her career in films such as St...
. It is based on
Michael Crichton
Michael Crichton
John Michael Crichton , best known as Michael Crichton, was an American best-selling author, producer, director, and screenwriter, best known for his work in the science fiction, medical fiction, and thriller genres. His books have sold over 200 million copies worldwide, and many have been adapted...
's
novel of the same name
Disclosure (novel)
Disclosure is a novel by Michael Crichton, published in 1994. The novel is set in a fictional high tech company, just before the beginning of the dot-com economic boom...
.
The cast also includes
Donald Sutherland
Donald Sutherland
Donald McNichol Sutherland, OC is a Canadian actor with a film career spanning nearly 50 years. Some of Sutherland's more notable movie roles included offbeat warriors in such war movies as The Dirty Dozen, , MASH , and Kelly's Heroes , as well as in such popular films as Klute, Invasion of the...
,
Rosemary Forsyth
Rosemary Forsyth
Rosemary Forsyth is a Canadian-born American actress most notable for her role as Bronwyn opposite Charlton Heston in The War Lord in 1965....
and
Dennis Miller
Dennis Miller
Dennis Miller is an American stand-up comedian, political commentator, actor, sports commentator, and television and radio personality. He is known for his critical assessments laced with pop culture references...
. Like so many of Levinson's films from
Diner
Diner (film)
Diner is a 1982 comedy-drama film written and directed by Barry Levinson. Levinson's screen directing debut, Diner is the first in his "Baltimore films", which also include the subsequent Tin Men, Avalon and Liberty Heights.-Plot:...
(
1982
1982 in film
-Events:* March 26 = I Ought to Be in Pictures, starring Walter Matthau, Ann-Margret and Dinah Manoff is released. Manoff would not appear in another movie until 1987's Backfire.* June = PG-rated film E.T...
) to
Liberty Heights
Liberty Heights
Liberty Heights is a 1999 comedy-drama film by writer-director Barry Levinson. It is a semi-autobiographical account of his childhood growing up in Baltimore in the 1950s. It marked the last appearance of Ralph Tabakin, who appeared in cameo roles in every Levinson movie since his first, Diner , a...
(
1999
1999 in film
The year 1999 in film involved several noteworthy events and has been called "The Year That Changed Movies". Several significant feature films, including Stanley Kubrick's final film Eyes Wide Shut, Pedro Almodóvar's first Oscar-winning film All About My Mother, science fiction The Matrix, Deep...
),
Ralph Tabakin
Ralph Tabakin
Ralph Tabakin was an American actor, engineer, and World War II veteran. Born in San Antonio, Texas, he was the middle child in a family of five. They would also live in New Orleans, Louisiana, before moving and settling in Richmond, Virginia...
appears, this time as an Elevator Attendant.
The film is a combination mystery and thriller about office politics and intrigue in the computer industry in the mid-1990s.
You wanna get fucked? Huh? Is that what you want?

Sexual harassment is about power. When did I have the power? When?

Why don't I just admit it? Admit that I'm that evil white guy everyone is always complaining about? Hey Chau-Minh, come down here so I can exercise my patriarchal urge!

Let's get down to business.

You stick your dick in my mouth and NOW you get an attack of morality?

[Meridith passionately kisses Tom] There... Now that wasn't so bad, wasn't it?

Now you got the power. You got something I want.

Oh, you son-of-a-bitch ... you get back in here and finish what you started. Do you hear me? Do you hear me? You get back in here and finish what you started or you're fuckin' dead. You hear me? You're FUCKIN' DEAD!

Oh Tom, you are the one person I know who sucks up to the people below you.

Of course everyone knows! I'm so old fashioned, I greet my employees with a handshake!