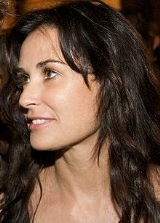 Demi Moore
Demi Guynes Kutcher
known professionally as
Demi Moore
, is an American actress. After minor roles in film and a role in the soap opera
General Hospital
General Hospital
General Hospital is an American daytime television drama that is credited by the Guinness Book of World Records as the longest-running American soap opera currently in production and the third longest running drama in television in American history after Guiding Light and As the World Turns....
, Moore established her career in films such as
St. Elmo's Fire
St. Elmo's Fire (film)
St. Elmo's Fire is a 1985 American coming-of-age film directed by Joel Schumacher. The film, starring Emilio Estevez, Rob Lowe, Andrew McCarthy, Demi Moore, Judd Nelson, Ally Sheedy and Mare Winningham, is a prominent movie of the Brat Pack genre, and revolves around a group of friends that have...
(1985), and in the early 1990s, became one of the highest paid actresses in Hollywood with her successes in
Ghost
Ghost (film)
Ghost is a 1990 romantic drama film starring Patrick Swayze, Demi Moore and Whoopi Goldberg. It was written by Bruce Joel Rubin and directed by Jerry Zucker.-Plot:...
(1990),
A Few Good Men
A Few Good Men (film)
A Few Good Men is a 1992 drama film directed by Rob Reiner and starring Tom Cruise, Jack Nicholson, and Demi Moore. It was adapted for the screen by Aaron Sorkin from his play of the same name. A courtroom drama, the film revolves around the trial of two U.S...
(1992),
Indecent Proposal
Indecent Proposal
Indecent Proposal is a 1993 drama film, based on the novel of the same name by Jack Engelhard. It was directed by Adrian Lyne and stars Robert Redford, Demi Moore, and Woody Harrelson.-Plot:...
(1993), and
Disclosure
Disclosure (film)
Disclosure is a 1994 thriller directed by Barry Levinson, starring Michael Douglas and Demi Moore. It is based on Michael Crichton's novel of the same name.The cast also includes Donald Sutherland, Rosemary Forsyth and Dennis Miller...
(1994).
Moore took her professional name from her first husband, musician
Freddy Moore
Freddy Moore
Frederick George "Freddy" Moore is an American rock musician.- History :Moore was born in Minneapolis, Minnesota. He grew up obsessed with the newly popular Beatles, and moved to San Francisco, California in June 1964. "I didn't have any friends and really didn't want any...
, and is the mother of three daughters from her second marriage to actor
Bruce Willis
Bruce Willis
Walter Bruce Willis , better known as Bruce Willis, is an American actor, producer, and musician. His career began in television in the 1980s and has continued both in television and film since, including comedic, dramatic, and action roles...
.
"In short, Captain, I'd like to suggest that I be the one who that... that it be me who is assigned to represent them... myself."

"Are you going to do any actual investigating, or are you just going to take the guided tour?"

"One thing, though. When you ask the judge for new counsel, Danny... be sure and ask nicely."

"Don't look now, Danny, but you're making an argument."

"You know nothing about the law. You're a used-car salesman, Daniel. You're an ambulance chaser with a rank. You're nothing. Live with that."

"I'm sorry I lost you your set of steak knives."