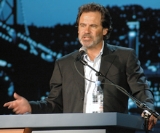 Dennis Miller
Dennis Miller
is an American stand-up comedian, political commentator,
actor
Actor
An actor is a person who acts in a dramatic production and who works in film, television, theatre, or radio in that capacity...
,
sports commentator
Sports commentator
In sports broadcasting, a commentator gives a running commentary of a game or event in real time, usually during a live broadcast. The comments are normally a voiceover, with the sounds of the action and spectators also heard in the background. In the case of television commentary, the commentator...
, and television and radio personality. He is known for his critical assessments laced with pop culture references. He rose to fame as a cast member of
Saturday Night Live
Saturday Night Live
Saturday Night Live is a live American late-night television sketch comedy and variety show developed by Lorne Michaels and Dick Ebersol. The show premiered on NBC on October 11, 1975, under the original title of NBC's Saturday Night.The show's sketches often parody contemporary American culture...
in 1985, and subsequently hosted a string of his own
talk show
Talk show
A talk show or chat show is a television program or radio program where one person discuss various topics put forth by a talk show host....
s on HBO,
CNBC
CNBC
CNBC is a satellite and cable television business news channel in the U.S., owned and operated by NBCUniversal. The network and its international spinoffs cover business headlines and provide live coverage of financial markets. The combined reach of CNBC and its siblings is 390 million viewers...
and in syndication. He currently hosts a daily, three-hour, self-titled talk radio program, nationally syndicated by
Westwood One
Westwood One
Westwood One was an American radio network and was based in New York City. At one time, it was managed by CBS Radio, the radio arm of CBS Corporation, and Viacom and was later purchased by the private equity firm The Gores Group...
.
Although in his early years of fame he was perceived to be quite liberal and anti-Republican, in recent years, Miller has become known for his
right-leaning
Right-wing politics
In politics, Right, right-wing and rightist generally refer to support for a hierarchical society justified on the basis of an appeal to natural law or tradition. To varying degrees, the Right rejects the egalitarian objectives of left-wing politics, claiming that the imposition of equality is...
political opinions.
The current tax code is harder to understand than Bob Dylan reading Finnegans Wake in a wind tunnel."

Americans stick their nose where it doesn't belong more than Cyrano de Bergerac giving head.

Then people ask me if I'm worried about the effects of global warming on my kids. Well, obviously I love my kids and I want them to live to be a 100. So that's another 1.8 degrees. My kids' kids? Three point six. I'll just tell them we moved to Phoenix.

We have now given one of the only 50 states we have to a herd of Simu-Bullwinkles!

For the foreseeable future, we're going to need oil products because I don't like the idea of hydrogen cars. I'm not sure I want to be cruising around a mall parking lot filled with a thousand mini-Hindenburgs.

We're not allowed to do anything to nature anymore, except look at it. It's like porn with leaves.

[T]he man who accused Richard Simmons of slapping him in an airport has dropped the assault charge. Dropped it! Upon hearing the news, Simmons sadly responded, "You mean I'm not going to prison?"

3 June 2004
I'm sorry, those pictures from the Abu Ghraib. At first, they, like infuriated me, I was sad. Then like, a couple days later, after they cut Nicholas Berg|the guy's head off, they didn't seem like much. And now, I like to trade them with my friends.

8 June 2004
A new poll of Iraqis shows that more than half of them believe they would be safer if U.S. troops left their country. In a related story, more than half of Americans believe we would be safer if Iraqis stopped answering poll questions and helped us get their damn lights back on, OK? I love that story, a poll of Iraqis want us to leave.

The Pentagon admitted the Iraqi was never given an identification number and that the Red Cross was never notified about his capture. However, [Defense Secretary] Donald Rumsfeld claims the prisoner has been treated in accordance with Geneva Conventions, including regular conjugal visits with his favorite goat.

18 June 2004