 Detritivore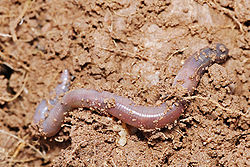 Detritivores
, also known as
detritophages
or
detritus feeders
or
detritus eaters
or
saprophages
, are
heterotroph
Heterotroph
A heterotroph is an organism that cannot fix carbon and uses organic carbon for growth. This contrasts with autotrophs, such as plants and algae, which can use energy from sunlight or inorganic compounds to produce organic compounds such as carbohydrates, fats, and proteins from inorganic carbon...
s that obtain
nutrient
Nutrient
A nutrient is a chemical that an organism needs to live and grow or a substance used in an organism's metabolism which must be taken in from its environment. They are used to build and repair tissues, regulate body processes and are converted to and used as energy...
s by consuming
detritus
Detritus
Detritus is a biological term used to describe dead or waste organic material.Detritus may also refer to:* Detritus , a geological term used to describe the particles of rock produced by weathering...
(decomposing plant and animal parts as well as organic fecal matter). By doing so, they contribute to
decomposition
Decomposition
Decomposition is the process by which organic material is broken down into simpler forms of matter. The process is essential for recycling the finite matter that occupies physical space in the biome. Bodies of living organisms begin to decompose shortly after death...
and the nutrient cycles. They should be distinguished from other
decomposer
Decomposer
Decomposers are organisms that break down dead or decaying organisms, and in doing so carry out the natural process of decomposition. Like herbivores and predators, decomposers are heterotrophic, meaning that they use organic substrates to get their energy, carbon and nutrients for growth and...
s, such as many species of
bacteria
Bacteria
Bacteria are a large domain of prokaryotic microorganisms. Typically a few micrometres in length, bacteria have a wide range of shapes, ranging from spheres to rods and spirals...
, fungi and
protist
Protist
Protists are a diverse group of eukaryotic microorganisms. Historically, protists were treated as the kingdom Protista, which includes mostly unicellular organisms that do not fit into the other kingdoms, but this group is contested in modern taxonomy...
s, which are unable to ingest discrete lumps of matter, but instead live by absorbing and metabolizing on a molecular scale. However, the terms
detritivore
and
decomposer
are often used interchangeably.
Detritivores are an important aspect of many
ecosystem
Ecosystem
An ecosystem is a biological environment consisting of all the organisms living in a particular area, as well as all the nonliving , physical components of the environment with which the organisms interact, such as air, soil, water and sunlight....
s. They can live on any soil with an organic component, and even live in marine ecosystems where they are termed interchangeably with
bottom feeder
Bottom feeder
Demersal fish live on or near the bottom of the sea or lakes. They occupy the sea floors and lake beds, which usually consist of mud, sand, gravel or rocks. In coastal waters they are found on or near the continental shelf, and in deep waters they are found on or near the continental slope or along...
s.
Typical detritivorous animals include
millipede
Millipede
Millipedes are arthropods that have two pairs of legs per segment . Each segment that has two pairs of legs is a result of two single segments fused together as one...
s,
woodlice
Woodlouse
A woodlouse is a crustacean with a rigid, segmented, long exoskeleton and fourteen jointed limbs...
,
dung flies
Scathophagidae
The Scathophagidae is a small family of Muscoidea which are often known as "Dung-flies" although this name is not appropriate except for a few species of the genus Scathophaga which do indeed pass their larval stages in animal dung. The name probably derives from the "Common Yellow Dung-fly", S...
,
slug
Slug
Slug is a common name that is normally applied to any gastropod mollusc that lacks a shell, has a very reduced shell, or has a small internal shell...
s, many terrestrial
worm
Worm
The term worm refers to an obsolete taxon used by Carolus Linnaeus and Jean-Baptiste Lamarck for all non-arthropod invertebrate animals, and stems from the Old English word wyrm. Currently it is used to describe many different distantly-related animals that typically have a long cylindrical...
s, sea stars, sea cucumbers, fiddler crabs, and some sedentary
polychaete
Polychaete
The Polychaeta or polychaetes are a class of annelid worms, generally marine. Each body segment has a pair of fleshy protrusions called parapodia that bear many bristles, called chaetae, which are made of chitin. Indeed, polychaetes are sometimes referred to as bristle worms. More than 10,000...
s such as amphitrites (
Amphitritinae
, worms of the family
terebellidae
Terebellidae
Terebellidae is a family of polychaete worms. They are surface deposit feeders, catching falling particles with numerous elongate prostomial tentacles splayed out on the sea floor. These tentacles, which are the most or only normally visible portion of the animal and are reminiscent of spaghetti,...
) and other
terebellids
Terebellida
Terebellida make up a suborder of the Polychaeta class, commonly referred to as "bristle worms". Together with the Sabellida, the Spionida and some enigmatic families of unclear taxonomic relationship , they make up the order Canalipalpata, one of the three main clades of polychaetes...
.
Scavenger
Scavenger
Scavenging is both a carnivorous and herbivorous feeding behavior in which individual scavengers search out dead animal and dead plant biomass on which to feed. The eating of carrion from the same species is referred to as cannibalism. Scavengers play an important role in the ecosystem by...
s are typically not thought to be detritivores, as they generally eat large quantities of organic matter, but both detritivores and scavengers are specific cases of
Consumer-Resource Systems
Consumer-resource systems
Consumer-resource interactions are the core motif of ecological food chains or food webs, and are an umbrella term for a variety of more specialized types of biological species interactions including prey-predator , host-parasite , plant-herbivore and victim-exploiter systems...
.
Coprovores
Coprophagia
Coprophagia or coprophagy is the consumption of feces, from the Greek κόπρος copros and φαγεῖν phagein . Many animal species practice coprophagia as a matter of course; other species do not normally consume feces but may do so under unusual conditions...
are also usually treated separately as they exhibit a slightly different feeding behaviour. The eating of wood, whether live or dead, is known as
xylophagy
Xylophagy
Xylophagy is a term used in ecology to describe the habits of an herbivorous animal whose diet consists primarily of wood. The word derives from Greek ξυλοφάγος "eating wood", from ξύλον "wood" and φαγεῖν "to eat", an ancient Greek name for a kind of a worm-eating bird...
. Τhe activity of animals feeding only on dead wood is called sapro-xylophagy and those animals, sapro-xylophagous.
Ecology
In food webs, detritivores generally play the role of decomposers. Detritivores are often eaten by
consumers
Heterotroph
A heterotroph is an organism that cannot fix carbon and uses organic carbon for growth. This contrasts with autotrophs, such as plants and algae, which can use energy from sunlight or inorganic compounds to produce organic compounds such as carbohydrates, fats, and proteins from inorganic carbon...
and therefore commonly play important roles as recyclers in ecosystem
energy flow
Energy flow
In ecology, energy flow, also called the calorific flow, refers to the flow of energy through a food chain. In an ecosystem, ecologists seek to quantify the relative importance of different component species and feeding relationships....
and biogeochemical cycles.
Many detritivores live in mature
woodland
Woodland
Ecologically, a woodland is a low-density forest forming open habitats with plenty of sunlight and limited shade. Woodlands may support an understory of shrubs and herbaceous plants including grasses. Woodland may form a transition to shrubland under drier conditions or during early stages of...
, though the term can be applied to certain bottom-feeders in
wet environments
Benthos
Benthos is the community of organisms which live on, in, or near the seabed, also known as the benthic zone. This community lives in or near marine sedimentary environments, from tidal pools along the foreshore, out to the continental shelf, and then down to the abyssal depths.Many organisms...
. These organisms play a crucial role in benthic ecosystems, forming essential
food chain
Food chain
A food web depicts feeding connections in an ecological community. Ecologists can broadly lump all life forms into one of two categories called trophic levels: 1) the autotrophs, and 2) the heterotrophs...
s and participating in the
nitrogen cycle
Nitrogen cycle
The nitrogen cycle is the process by which nitrogen is converted between its various chemical forms. This transformation can be carried out by both biological and non-biological processes. Important processes in the nitrogen cycle include fixation, mineralization, nitrification, and denitrification...
.
Fungi, acting as decomposers, are important in today's terrestrial environment. During the Carboniferous period, fungi and bacteria had yet to evolve the capacity to digest
lignin
Lignin
Lignin or lignen is a complex chemical compound most commonly derived from wood, and an integral part of the secondary cell walls of plants and some algae. The term was introduced in 1819 by de Candolle and is derived from the Latin word lignum, meaning wood...
, and so large deposits of dead plant tissue accumulated during this period, later becoming the
fossil fuel
Fossil fuel
Fossil fuels are fuels formed by natural processes such as anaerobic decomposition of buried dead organisms. The age of the organisms and their resulting fossil fuels is typically millions of years, and sometimes exceeds 650 million years...
s.
By
feeding
Feeding
Feeding is the process by which organisms, typically animals, obtain food. Terminology often uses either the suffix -vore from Latin vorare, meaning 'to devour', or phagy, from Greek φαγειν, meaning 'to eat'.-Evolutionary history:...
on sediments directly to extract the organic component, some detritivores accidentally concentrate toxic
pollutant
Pollutant
A pollutant is a waste material that pollutes air, water or soil, and is the cause of pollution.Three factors determine the severity of a pollutant: its chemical nature, its concentration and its persistence. Some pollutants are biodegradable and therefore will not persist in the environment in the...
s.
Saprophytes
'Saprophyte' (
-phyte
meaning 'plant') is a botanical term that is now considered obsolete. There are no real saprotrophic organisms that are embryophytes, and fungi and bacteria are no longer placed in the
Plant Kingdom
Plant
Plants are living organisms belonging to the kingdom Plantae. Precise definitions of the kingdom vary, but as the term is used here, plants include familiar organisms such as trees, flowers, herbs, bushes, grasses, vines, ferns, mosses, and green algae. The group is also called green plants or...
. Plants that were once considered saprophytes, such as non-photosynthetic
orchid
Orchidaceae
The Orchidaceae, commonly referred to as the orchid family, is a morphologically diverse and widespread family of monocots in the order Asparagales. Along with the Asteraceae, it is one of the two largest families of flowering plants, with between 21,950 and 26,049 currently accepted species,...
s and
monotrope
Monotropaceae
Monotropaceae was a small family of flowering plants under the old Cronquist system of plant classification. It included 10 genera Allotropa, Cheilotheca, Hemitomes, Monotropa, Monotropastrum, Monotropsis, Pityopus, Pleuricospora, Pterospora, Sarcodes....
s, are now known to be parasites on fungi. These species are now termed
myco-heterotroph
Myco-heterotrophy
Myco-heterotrophy is a symbiotic relationship between certain kinds of plants and fungi, in which the plant gets all or part of its food from parasitism upon fungi rather than from photosynthesis. A myco-heterotroph is the parasitic plant partner in this relationship...
s.
Saprophages
'Saprophages' are organisms that eat recently dead organisms, such as how vultures eat carrion.
See also