 Der (Sumer)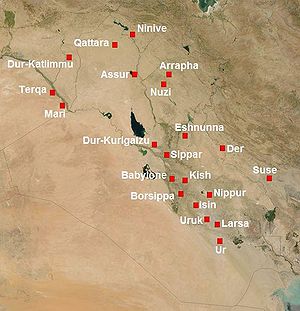 Der
was a
Sumer
Sumer
Sumer was a civilization and historical region in southern Mesopotamia, modern Iraq during the Chalcolithic and Early Bronze Age....
ian
city-state
City-state
A city-state is an independent or autonomous entity whose territory consists of a city which is not administered as a part of another local government.-Historical city-states:...
at the site of modern
Tell Aqar
near
al-Badra
Badra, Iraq
Badra is a town in south eastern Iraq near the Iraqi-Iranian borders in Wasit Governorate. Its population is a mixture of Arabs, Arabized Kurds and Faili Kurds....
in
Iraq
Iraq
Iraq ; officially the Republic of Iraq is a country in Western Asia spanning most of the northwestern end of the Zagros mountain range, the eastern part of the Syrian Desert and the northern part of the Arabian Desert....
's
Wasit Governorate
. It was east of the Tigris River on the border between Sumer and
Elam
Elam
Elam was an ancient civilization located in what is now southwest Iran. Elam was centered in the far west and the southwest of modern-day Iran, stretching from the lowlands of Khuzestan and Ilam Province, as well as a small part of southern Iraq...
. It's name
was possibly Durum.
History
Der was occupied from the Early Dynastic period through Neo-Assyrian times. The local deity of the city was named Ishtaran, represented on Earth by his minister, the snake god Nirah.
In the late 3rd millennium, during the reign of Sulgi of the
Third Dynasty of Ur
Third Dynasty of Ur
The Third Dynasty of Ur, also known as the Neo-Sumerian Empire or the Ur III Empire refers simultaneously to a 21st to 20th century BC Sumerian ruling dynasty based in the city of Ur and a short-lived territorial-political state that some historians regard as a nascent empire...
, Der was mentioned twice. The Sulgi year name 11 was named "Year Ishtaran of Der was brought into his temple", and year 21 was named "Year Der was destroyed".
In the second millennium,
Rim-Sin I
Rim-Sin I
Rim-Sin I ruled the ancient Near East city-stateof Larsa from 1758 BC to 1699 BC or 1822 BC to 1763 BC . His sister En-ane-du was high priestess of the moon god in Ur. Rim-Sin I was a contemporary of Hammurabi of Babylon and Irdanene of Uruk.-Reign:Rim-Sin's reign of Larsa started sometime around...
of
Larsa
Larsa
Larsa was an important city of ancient Sumer, the center of the cult of the sun god Utu. It lies some 25 km southeast of Uruk in Iraq's Dhi Qar Governorate, near the east bank of the Shatt-en-Nil canal at the site of the modern settlement Tell as-Senkereh or Sankarah.-History:According to...
reported destroying Der in his 20th year.
Ammi-Ditana
Ammi-Ditana
Ammi-Ditana was a king of Babylon who reigned from 1683-1640s BC. He was preceded by Abi-Eshuh. Year-names survive for the first 37 years of his reign, plus fragments for a few possible additional years...
of
Babylon
Babylon
Babylon was an Akkadian city-state of ancient Mesopotamia, the remains of which are found in present-day Al Hillah, Babil Province, Iraq, about 85 kilometers south of Baghdad...
also recorded destroying the city wall of Der in his 37th year, that he said had been built earlier by Damiq-ilishu of the Sealand Dynasty.
In 720 BC the
Assyria
Assyria
Assyria was a Semitic Akkadian kingdom, extant as a nation state from the mid–23rd century BC to 608 BC centred on the Upper Tigris river, in northern Mesopotamia , that came to rule regional empires a number of times through history. It was named for its original capital, the ancient city of Assur...
n king
Sargon II
Sargon II
Sargon II was an Assyrian king. Sargon II became co-regent with Shalmaneser V in 722 BC, and became the sole ruler of the kingdom of Assyria in 722 BC after the death of Shalmaneser V. It is not clear whether he was the son of Tiglath-Pileser III or a usurper unrelated to the royal family...
moved against Elam, but the Assyrian host was defeated near Der by the combined army of king Humban-Nikash I of Elam and king Marduk-apla-iddina II of
Babylon
Babylon
Babylon was an Akkadian city-state of ancient Mesopotamia, the remains of which are found in present-day Al Hillah, Babil Province, Iraq, about 85 kilometers south of Baghdad...
.
Archaeology
While it appear that no excavation has occurred at Der, several
notable objects have been discovered nearby, including a
kudurru
Kudurru
Kudurru was a type of stone document used as boundary stones and as records of land grants to vassals by the Kassites in ancient Babylonia between the 16th and 12th centuries BCE. The word is Akkadian for "frontier" or "boundary"...
(discovered at Sippar)
which confirmed the name of the site.
The site itself has been heavily damaged by water over the centuries
and was considered not worth excavating.
External links