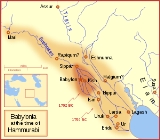 Larsa
Larsa
was an important city of ancient
Sumer
Sumer
Sumer was a civilization and historical region in southern Mesopotamia, modern Iraq during the Chalcolithic and Early Bronze Age....
, the center of the cult of the sun god
Utu
Utu
Utu is the Sun god in Sumerian mythology, the son of the moon god Nanna and the goddess Ningal. His brother and sisters are Ishkur and Inanna and Erishkigal....
. It lies some 25 km southeast of
Uruk
Uruk
Uruk was an ancient city of Sumer and later Babylonia, situated east of the present bed of the Euphrates river, on the ancient dry former channel of the Euphrates River, some 30 km east of modern As-Samawah, Al-Muthannā, Iraq.Uruk gave its name to the Uruk...
in
Iraq
Iraq
Iraq ; officially the Republic of Iraq is a country in Western Asia spanning most of the northwestern end of the Zagros mountain range, the eastern part of the Syrian Desert and the northern part of the Arabian Desert....
's
Dhi Qar Governorate
, near the east bank of the Shatt-en-Nil canal at the site of the modern settlement
Tell as-Senkereh
or
Sankarah
.
According to the
Sumerian king list
Sumerian king list
The Sumerian King List is an ancient manuscript originally recorded in the Sumerian language, listing kings of Sumer from Sumerian and neighboring dynasties, their supposed reign lengths, and the locations of "official" kingship...
, "Larag" (
Sumerian
Sumerian language
Sumerian is the language of ancient Sumer, which was spoken in southern Mesopotamia since at least the 4th millennium BC. During the 3rd millennium BC, there developed a very intimate cultural symbiosis between the Sumerians and the Akkadians, which included widespread bilingualism...
: LA-RA-AK
KI
) was one of the five cities to "exercise kingship" in the legendary antediluvian era.