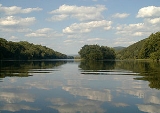 Delaware River
The
Delaware River
is a major river on the
Atlantic
Atlantic Ocean
The Atlantic Ocean is the second-largest of the world's oceanic divisions. With a total area of about , it covers approximately 20% of the Earth's surface and about 26% of its water surface area...
coast of the
United States
United States
The United States of America is a federal constitutional republic comprising fifty states and a federal district...
.
A Dutch expedition led by
Henry Hudson
Henry Hudson
Henry Hudson was an English sea explorer and navigator in the early 17th century. Hudson made two attempts on behalf of English merchants to find a prospective Northeast Passage to Cathay via a route above the Arctic Circle...
in 1609 first mapped the river. The river was christened the
South River
in the
New Netherland
New Netherland
New Netherland, or Nieuw-Nederland in Dutch, was the 17th-century colonial province of the Republic of the Seven United Netherlands on the East Coast of North America. The claimed territories were the lands from the Delmarva Peninsula to extreme southwestern Cape Cod...
colony that followed, in contrast to the
North River
, as the
Hudson River
Hudson River
The Hudson is a river that flows from north to south through eastern New York. The highest official source is at Lake Tear of the Clouds, on the slopes of Mount Marcy in the Adirondack Mountains. The river itself officially begins in Henderson Lake in Newcomb, New York...
was then known. The name Delaware, for
Sir Thomas West
Thomas West, 3rd Baron De La Warr
Thomas West, 3rd and 12th Baron De La Warr was the Englishman after whom the bay, the river, and, consequently, an American Indian people and U.S. state, all later called "Delaware", were named....
3rd
Baron De La Warr
Earl De La Warr
Earl De La Warr is a title created in the Peerage of Great Britain in 1761.In the United States, Thomas West, 3rd baron is often named in history books simply as Lord Delaware. He served as governor of the Jamestown Colony, and the Delaware Bay was named after him...
, was used by the English and became standard following the English conquest of New Netherland in 1664.
The river meets tide-water at
Trenton, New Jersey
Trenton, New Jersey
Trenton is the capital of the U.S. state of New Jersey and the county seat of Mercer County. As of the 2010 United States Census, Trenton had a population of 84,913...
.