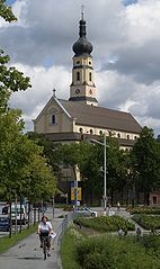 Deggendorf
Deggendorf
is a town in
Bavaria
Bavaria
Bavaria, formally the Free State of Bavaria is a state of Germany, located in the southeast of Germany. With an area of , it is the largest state by area, forming almost 20% of the total land area of Germany...
, capital of the
district Deggendorf
Deggendorf (district)
Deggendorf is a district in Bavaria, Germany. It is bordered by the districts of Regen, Freyung-Grafenau, Passau, Rottal-Inn, Dingolfing-Landau and Straubing-Bogen.-History:The district was established in 1936...
.
The earliest traces of settlement in the area are found near the
Danube
Danube
The Danube is a river in the Central Europe and the Europe's second longest river after the Volga. It is classified as an international waterway....
, about 8,000 years ago. Both
Bronze Age
Bronze Age
The Bronze Age is a period characterized by the use of copper and its alloy bronze as the chief hard materials in the manufacture of some implements and weapons. Chronologically, it stands between the Stone Age and Iron Age...
and
Celt
Celt
The Celts were a diverse group of tribal societies in Iron Age and Roman-era Europe who spoke Celtic languages.The earliest archaeological culture commonly accepted as Celtic, or rather Proto-Celtic, was the central European Hallstatt culture , named for the rich grave finds in Hallstatt, Austria....
ic era archeological finds indicate continuous habitation through the years.
Henry II, Holy Roman Emperor
Henry II, Holy Roman Emperor
Henry II , also referred to as Saint Henry, Obl.S.B., was the fifth and last Holy Roman Emperor of the Ottonian dynasty, from his coronation in Rome in 1014 until his death a decade later. He was crowned King of the Germans in 1002 and King of Italy in 1004...
established in 1002 his supremacy over the area.
Displaced Persons Camp
Deggendorf was the site of a displaced persons camp for Jewish refugees after
World War II
World War II
World War II, or the Second World War , was a global conflict lasting from 1939 to 1945, involving most of the world's nations—including all of the great powers—eventually forming two opposing military alliances: the Allies and the Axis...
. It housed approximately 2,000 refugees, who created a cultural center that included two newspapers, the Deggendorf Center Review and Cum Ojfboj, theater group,
synagogue
Synagogue
A synagogue is a Jewish house of prayer. This use of the Greek term synagogue originates in the Septuagint where it sometimes translates the Hebrew word for assembly, kahal...
,
mikvah
Mikvah
Mikveh is a bath used for the purpose of ritual immersion in Judaism...
, kosher kitchen, and more. The camp even issued its own currency known as the Deggendorf Dollar. Many of the camp's residents were survivors of the concentration camp at Theresienstadt. The camp closed on June 15, 1949.
External links