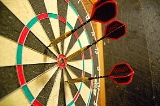 Darts
Darts
is a form of throwing
game
Game
A game is structured playing, usually undertaken for enjoyment and sometimes used as an educational tool. Games are distinct from work, which is usually carried out for remuneration, and from art, which is more often an expression of aesthetic or ideological elements...
where
darts
Dart (missile)
Darts are missile weapons, designed to fly such that a sharp, often weighted point will strike first. They can be distinguished from javelins by fletching and a shaft that is shorter and/or more flexible, and from arrows by the fact that they are not of the right length to use with a normal...
are thrown at a circular target (dartboard) fixed to a wall. Though various boards and games have been used in the past, the term "darts" usually now refers to a standardised game involving a specific board design and set of rules. As well as being a professional competitive sport, darts is a traditional pub game, commonly played in the
United Kingdom
United Kingdom
The United Kingdom of Great Britain and Northern IrelandIn the United Kingdom and Dependencies, other languages have been officially recognised as legitimate autochthonous languages under the European Charter for Regional or Minority Languages...
, across the
Commonwealth
Commonwealth of Nations
The Commonwealth of Nations, normally referred to as the Commonwealth and formerly known as the British Commonwealth, is an intergovernmental organisation of fifty-four independent member states...
, the
Netherlands
Netherlands
The Netherlands is a constituent country of the Kingdom of the Netherlands, located mainly in North-West Europe and with several islands in the Caribbean. Mainland Netherlands borders the North Sea to the north and west, Belgium to the south, and Germany to the east, and shares maritime borders...
,
Ireland
Ireland
Ireland is an island to the northwest of continental Europe. It is the third-largest island in Europe and the twentieth-largest island on Earth...
, the
Scandinavia
Scandinavia
Scandinavia is a cultural, historical and ethno-linguistic region in northern Europe that includes the three kingdoms of Denmark, Norway and Sweden, characterized by their common ethno-cultural heritage and language. Modern Norway and Sweden proper are situated on the Scandinavian Peninsula,...
n countries, the
United States
United States
The United States of America is a federal constitutional republic comprising fifty states and a federal district...
and elsewhere.
Before the First World War, pubs in the United Kingdom had dartboards made from solid blocks of wood, usually elm.