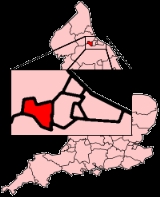 Darlington (borough)
Darlington
is a
local government district
and
borough
Borough
A borough is an administrative division in various countries. In principle, the term borough designates a self-governing township although, in practice, official use of the term varies widely....
in
North East
North East England
North East England is one of the nine official regions of England. It covers Northumberland, County Durham, Tyne and Wear, and Teesside . The only cities in the region are Durham, Newcastle upon Tyne and Sunderland...
England
England
England is a country that is part of the United Kingdom. It shares land borders with Scotland to the north and Wales to the west; the Irish Sea is to the north west, the Celtic Sea to the south west, with the North Sea to the east and the English Channel to the south separating it from continental...
. In 2008 it had a resident
population
Population
A population is all the organisms that both belong to the same group or species and live in the same geographical area. The area that is used to define a sexual population is such that inter-breeding is possible between any pair within the area and more probable than cross-breeding with individuals...
of 100,500 It borders
County Durham
County Durham
County Durham is a ceremonial county and unitary district in north east England. The county town is Durham. The largest settlement in the ceremonial county is the town of Darlington...
to the north and west,
North Yorkshire
North Yorkshire
North Yorkshire is a non-metropolitan or shire county located in the Yorkshire and the Humber region of England, and a ceremonial county primarily in that region but partly in North East England. Created in 1974 by the Local Government Act 1972 it covers an area of , making it the largest...
to the south along the line of the
River Tees
River Tees
The River Tees is in Northern England. It rises on the eastern slope of Cross Fell in the North Pennines, and flows eastwards for 85 miles to reach the North Sea between Hartlepool and Redcar.-Geography:...
, and
Stockton-on-Tees
Stockton-on-Tees (borough)
Stockton-on-Tees is a unitary authority area and borough in the Tees Valley area of north east England, with a population in 2001 of 178,408, rising to 185,880 in 2005 estimates....
to the east.
Council
Traditionally part of County Durham, the current borough boundaries were formed on 1 April 1974 by the creation of a new
non-metropolitan district
Non-metropolitan district
Non-metropolitan districts, or colloquially shire districts, are a type of local government district in England. As created, they are sub-divisions of non-metropolitan counties in a so-called "two-tier" arrangement...
of Darlington by the
Local Government Act 1972
Local Government Act 1972
The Local Government Act 1972 is an Act of Parliament in the United Kingdom that reformed local government in England and Wales on 1 April 1974....
, covering the previous
county borough
County borough
County borough is a term introduced in 1889 in the United Kingdom of Great Britain and Ireland , to refer to a borough or a city independent of county council control. They were abolished by the Local Government Act 1972 in England and Wales, but continue in use for lieutenancy and shrievalty in...
of Darlington along with nearly all of Darlington Rural District (the
Newton Aycliffe
Newton Aycliffe
Newton Aycliffe is a town in County Durham, England. Founded in 1947 under the New Towns Act of 1946, it is the oldest new town in the north of England.-Geography:...
parts of which went to
Sedgefield
Sedgefield (borough)
Sedgefield was, from 1974 to 2009, a local government district and borough in County Durham, in North East England. It had a population of about 87,000 . It was named after Sedgefield; but its largest town was Newton Aycliffe...
). It remained part of County Durham until gaining "independence" as a
unitary authority
Unitary authority
A unitary authority is a type of local authority that has a single tier and is responsible for all local government functions within its area or performs additional functions which elsewhere in the relevant country are usually performed by national government or a higher level of sub-national...
on 1 April 1997. For ceremonial purposes it remains part of County Durham with whom it continues to share certain local services such as
Fire and Rescue
Firefighter
Firefighters are rescuers extensively trained primarily to put out hazardous fires that threaten civilian populations and property, to rescue people from car incidents, collapsed and burning buildings and other such situations...
and
Police
Police
The police is a personification of the state designated to put in practice the enforced law, protect property and reduce civil disorder in civilian matters. Their powers include the legitimized use of force...
. It is included within the
Tees Valley
Tees Valley
The Tees Valley is an area in the North East of England. It can be described as "greater Teesside" and consists of the four unitary authorities created by the breakup of the County of Cleveland in 1996: Hartlepool, Middlesbrough, Redcar & Cleveland, and Stockton-On-Tees along with the borough of...
area for both cultural and regional government administration.
It is made up of 24 council wards, twenty within the town of
Darlington
Darlington
Darlington is a market town in the Borough of Darlington, part of the ceremonial county of County Durham, England. It lies on the small River Skerne, a tributary of the River Tees, not far from the main river. It is the main population centre in the borough, with a population of 97,838 as of 2001...
itself, which are also covered by the
Darlington parliamentary constituency
Darlington (UK Parliament constituency)
Darlington is a borough constituency represented in the House of Commons of the Parliament of the United Kingdom. It elects one Member of Parliament by the first past the post system of election....
and four rural wards of Heighington & Coniscliffe, Hurworth, Middleton St George and Sadberge & Whessoe (part of the
Sedgefield parliamentary constituency
Sedgefield (UK Parliament constituency)
Sedgefield is a county constituency represented in the House of Commons of the Parliament of the United Kingdom. It elects one Member of Parliament by the first past the post system of election...
.
As well as Darlington itself the borough includes the surrounding villages of:
It is also home to
Durham Tees Valley Airport
Durham Tees Valley Airport
Durham Tees Valley Airport is an international airport in north east England, located southeast of Darlington, about southwest of Middlesbrough and south of Durham. The airport serves County Durham and parts of North Yorkshire, and is in Middleton St George in the borough of Darlington...
(previously known as Teesside International Airport), of which the borough council shares joint ownership with the other four Tees Valley councils and Peel Holdings.
The council operates a Leader and Cabinet model of political leadership although a group of local residents aimed to force a referendum on moving to a system with directly-elected executive Mayor. Their bid was unsuccessful.
The political composition of the council, as of a
May 2011 local elections
United Kingdom local elections, 2011
The 2011 United Kingdom local elections were held on Thursday 5 May 2011. In England, direct elections were held in all 36 Metropolitan boroughs, 194 Second-tier district authorities, 49 unitary authorities and various mayoral posts, meaning local elections took place in all parts of England with...
, is Labour 34; Conservative 14; Liberal Democrats 5.
Political party

Political party

A political party is a political organization that typically seeks to influence government policy, usually by nominating their own candidates and trying to seat them in political office. Parties participate in electoral campaigns, educational outreach or protest actions...


make-up of Darlington Borough Council
Party
Seats
Current council
Labour

Labour Party (UK)

The Labour Party is a centre-left democratic socialist party in the United Kingdom. It surpassed the Liberal Party in general elections during the early 1920s, forming minority governments under Ramsay MacDonald in 1924 and 1929-1931. The party was in a wartime coalition from 1940 to 1945, after...



34
Conservative

Conservative Party (UK)

The Conservative Party, formally the Conservative and Unionist Party, is a centre-right political party in the United Kingdom that adheres to the philosophies of conservatism and British unionism. It is the largest political party in the UK, and is currently the largest single party in the House...



14
Lib Dems

Liberal Democrats

The Liberal Democrats are a social liberal political party in the United Kingdom which supports constitutional and electoral reform, progressive taxation, wealth taxation, human rights laws, cultural liberalism, banking reform and civil liberties .The party was formed in 1988 by a merger of the...



5
Economy
This is a chart of trend of regional gross value added of Darlington at current basic prices
published
(pp. 240–253) by
Office for National Statistics
with figures in millions of British Pounds Sterling.
| | | | | |
| --- | --- | --- | --- | --- |
| Year | Regional Gross Value Added | Agriculture | Industry | Services |
| 1995 | 1,115 | 8 | 377 | 729 |
| 2000 | 1,192 | 6 | 417 | 768 |
| 2003 | 1,538 | 6 | 561 | 971 |
includes hunting and forestry
includes energy and construction
includes financial intermediation services indirectly measured
Components may not sum to totals due to rounding
External links
Video clips