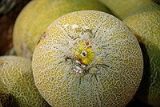 Cucumis
Cucumis
is a genus of
twining
Vine
A vine in the narrowest sense is the grapevine , but more generally it can refer to any plant with a growth habit of trailing or scandent, that is to say climbing, stems or runners...
,
tendril
Tendril
In botany, a tendril is a specialized stem, leaf or petiole with a threadlike shape that is used by climbing plants for support, attachment and cellular invasion by parasitic plants, generally by twining around suitable hosts. They do not have a lamina or blade, but they can photosynthesize...
-bearing plants in the
Cucurbitaceae
Cucurbitaceae
The plant family Cucurbitaceae consists of various squashes, melons, and gourds, including crops such as cucumber, pumpkins, luffas, and watermelons...
family which includes the
cucumber
Cucumber
The cucumber is a widely cultivated plant in the gourd family Cucurbitaceae, which includes squash, and in the same genus as the muskmelon. The plant is a creeping vine which bears cylindrical edible fruit when ripe. There are three main varieties of cucumber: "slicing", "pickling", and...
, true
melon
Melon
thumb|200px|Various types of melonsThis list of melons includes members of the plant family Cucurbitaceae with edible, fleshy fruit e.g. gourds or cucurbits. The word "melon" can refer to either the plant or specifically to the fruit...
s, the
horned melon
Horned melon
The horned melon , also called African horned cucumber or melon, jelly melon, hedged gourd, English tomato, melano, kiwano, or cherie, is an annual vine in the cucumber and melon family. It is considered to be the ancestor of the other cultivated melons...
, and
Cucumis anguria
Cucumis anguria
Cucumis anguria, also called the West Indian Gherkin, Burr Gherkin, Burr Cucumber, or maxixe, and locally known as badunga or cohombro, is a vine grown for its fruit used as a vegetable. It is similar and related to the common cucumber Cucumis anguria, also called the West Indian Gherkin, Burr...
, the West Indian
gherkin
Gherkin
The gherkin is a fruit similar in form and nutritional value to a cucumber. Gherkins and cucumbers belong to the same species , but are from different cultivar groups....
. Thirty species occur in Africa, 25 in India, Indochina, Southeast Asia, and Australia
See also
Cucumber

Cucumber

The cucumber is a widely cultivated plant in the gourd family Cucurbitaceae, which includes squash, and in the same genus as the muskmelon. The plant is a creeping vine which bears cylindrical edible fruit when ripe. There are three main varieties of cucumber: "slicing", "pickling", and...



Melon

Melon

thumb|200px|Various types of melonsThis list of melons includes members of the plant family Cucurbitaceae with edible, fleshy fruit e.g. gourds or cucurbits. The word "melon" can refer to either the plant or specifically to the fruit...



Horned melon

Horned melon

The horned melon , also called African horned cucumber or melon, jelly melon, hedged gourd, English tomato, melano, kiwano, or cherie, is an annual vine in the cucumber and melon family. It is considered to be the ancestor of the other cultivated melons...



Bailan melon

Bailan melon

The Bailan melon is a locally famous type of melon grown near Lanzhou, the capital city of Gansu province in the People's Republic of China....



Cantaloupe

Cantaloupe

"Rockmelon" redirects here, for the band see Rockmelons. See also Cantaloupe .Cantaloupe refers to a variety of Cucumis melo, a species in the family Cucurbitaceae which includes nearly all melons and squashes. Cantaloupes range in size from...



Galia

Galia (melon)

The Galia is a type of hybrid melon originating from a cantaloupe-honeydew cross, larger than a cantaloupe, and with deep green flesh. The name Galia is the feminine form of the Israeli name Gal ....



Hami Melon

Hami melon

The Hami melon is a type of muskmelon, originally from Hami, Xinjiang. It is also referred to as the Chinese Hami melon. A generic term that can be applied is "snow melon". The outer color is generally white through pink or yellow through green. The inside flesh is sweet and crisp.In Mandarin,...



Honeydew

Honeydew (melon)

Honeydew is a cultivar group of the muskmelon, Cucumis melo Inodorus group, which includes crenshaw, casaba, Persian, winter, and other mixed melons.-Characteristics:...



Muskmelon

Muskmelon

Muskmelon is a species of melon that has been developed into many cultivated varieties. These include smooth skinned varieties such as honeydew, crenshaw and casaba, and different netted cultivars...



Piel de Sapo

Piel de Sapo

Piel de Sapo. Turkish name is Kelek, and Kurdish name is Khirchan , commonly known and marketed as Santa Claus melon, family Cucurbitaceae is a type of melon widely available in the Northern Hemisphere. It has a blotched green peel after which it is named...



Sugar melon

Sugar melon

A sugar melon is a type of cantaloupe that is about five to six inches in diameter and weighing between two and a half to four pounds . Nearly round in shape, it has thick, sweet, orange flesh and a ribbed exterior that is a silvery gray.-References:* Ward, Artimas. The Grocer's Encycplopedia....



Winter melon

Winter melon

The winter melon, also called white gourd, ash gourd, or "fuzzy melon", is a vine grown for its very large fruit, eaten as a vegetable when mature. It is the only member of the genus Benincasa. The fruit is fuzzy when young. The immature melon has thick white flesh that is sweet when eaten...



Cuculope (cucumber melon)
External links