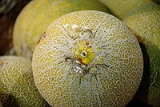 Melon
This
list of melons
includes members of the plant family
Cucurbitaceae
Cucurbitaceae
The plant family Cucurbitaceae consists of various squashes, melons, and gourds, including crops such as cucumber, pumpkins, luffas, and watermelons...
with edible, fleshy fruit e.g. gourds or cucurbits. The word "melon" can refer to either the plant or specifically to the fruit. Many different cultivars have been produced, particularly of
muskmelon
Muskmelon
Muskmelon is a species of melon that has been developed into many cultivated varieties. These include smooth skinned varieties such as honeydew, crenshaw and casaba, and different netted cultivars...
s.
Although the melon is a botanical fruit, some varieties may be considered culinary vegetables rather than
fruits
.