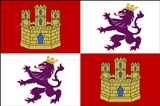 Crown of Castile
The
Crown of Castile
was a medieval and modern state in the
Iberian Peninsula
Iberian Peninsula
The Iberian Peninsula , sometimes called Iberia, is located in the extreme southwest of Europe and includes the modern-day sovereign states of Spain, Portugal and Andorra, as well as the British Overseas Territory of Gibraltar...
that formed in 1230 as a result of the third and definitive union of the crowns and parliaments of the kingdoms of
Castile
Kingdom of Castile
Kingdom of Castile was one of the medieval kingdoms of the Iberian Peninsula. It emerged as a political autonomous entity in the 9th century. It was called County of Castile and was held in vassalage from the Kingdom of León. Its name comes from the host of castles constructed in the region...
and
León
Kingdom of León
The Kingdom of León was an independent kingdom situated in the northwest region of the Iberian Peninsula. It was founded in AD 910 when the Christian princes of Asturias along the northern coast of the peninsula shifted their capital from Oviedo to the city of León...
upon the accession of the then King
Ferdinand III of Castile
Ferdinand III of Castile
Saint Ferdinand III, T.O.S.F., was the King of Castile from 1217 and León from 1230. He was the son of Alfonso IX of León and Berenguela of Castile. Through his second marriage he was also Count of Aumale. He finished the work done by his maternal grandfather Alfonso VIII and consolidated the...
to the vacant Leonese throne. It continued to exist as a separate entity after the personal union of the crowns of Castile and
Aragon
Crown of Aragon
The Crown of Aragon Corona d'Aragón Corona d'Aragó Corona Aragonum controlling a large portion of the present-day eastern Spain and southeastern France, as well as some of the major islands and mainland possessions stretching across the Mediterranean as far as Greece...
with the marriage of the
Catholic Monarchs
Catholic Monarchs
The Catholic Monarchs is the collective title used in history for Queen Isabella I of Castile and King Ferdinand II of Aragon. They were both from the House of Trastámara and were second cousins, being both descended from John I of Castile; they were given a papal dispensation to deal with...
in 1469 and wasn't formally abolished until the
unification policies
Nueva Planta decrees
The Nueva Planta decrees were a number of decrees signed between 1707 and 1716 by Philip V—the first Bourbon king of Spain—during and shortly after the end of the War of the Spanish Succession which he won....
of
Philip V of Spain
Philip V of Spain
Philip V was King of Spain from 15 November 1700 to 15 January 1724, when he abdicated in favor of his son Louis, and from 6 September 1724, when he assumed the throne again upon his son's death, to his death.Before his reign, Philip occupied an exalted place in the royal family of France as a...
in the early 18th century.