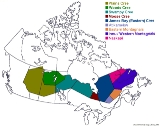 Cree language
Cree
is an
Algonquian language
Algonquian languages
The Algonquian languages also Algonkian) are a subfamily of Native American languages which includes most of the languages in the Algic language family. The name of the Algonquian language family is distinguished from the orthographically similar Algonquin dialect of the Ojibwe language, which is a...
spoken by approximately 117,000 people across
Canada
Canada
Canada is a North American country consisting of ten provinces and three territories. Located in the northern part of the continent, it extends from the Atlantic Ocean in the east to the Pacific Ocean in the west, and northward into the Arctic Ocean...
, from the Northwest Territories and
Alberta
Alberta
Alberta is a province of Canada. It had an estimated population of 3.7 million in 2010 making it the most populous of Canada's three prairie provinces...
to
Labrador
Labrador
Labrador is the distinct, northerly region of the Canadian province of Newfoundland and Labrador. It comprises the mainland portion of the province, separated from the island of Newfoundland by the Strait of Belle Isle...
, making it the aboriginal language with the highest number of speakers in Canada. It is also spoken in the
U.S. state
U.S. state
A U.S. state is any one of the 50 federated states of the United States of America that share sovereignty with the federal government. Because of this shared sovereignty, an American is a citizen both of the federal entity and of his or her state of domicile. Four states use the official title of...
of
Montana
Montana
Montana is a state in the Western United States. The western third of Montana contains numerous mountain ranges. Smaller, "island ranges" are found in the central third of the state, for a total of 77 named ranges of the Rocky Mountains. This geographical fact is reflected in the state's name,...
. Despite numerous speakers within this wide-ranging area, the only region where Cree has any
official status
Official language
An official language is a language that is given a special legal status in a particular country, state, or other jurisdiction. Typically a nation's official language will be the one used in that nation's courts, parliament and administration. However, official status can also be used to give a...
is in the Northwest Territories, alongside eight other aboriginal languages.
Endonyms are
Nēhiyawēwin
ᓀᐦᐃᔭᐍᐏᐣ (Plains Cree),
Nīhithawīwin
(Woods Cree),
Nēhinawēwin
and
Nehirâmowin
(Atikamekw),
Nehilawewin
(Western Montagnais, Piyekwâkamî dialect),
Leluwewn
(Western Montagnais, Betsiamites dialect),
Innu-Aimûn
(Eastern Montagnais),
Iynu-Ayamûn
(Southern Inland East Cree),
Iyiyiw-Iyimiwin
(Northern East Cree).
The Cree
dialect continuum
Dialect continuum
A dialect continuum, or dialect area, was defined by Leonard Bloomfield as a range of dialects spoken across some geographical area that differ only slightly between neighboring areas, but as one travels in any direction, these differences accumulate such that speakers from opposite ends of the...
can be divided by many criteria.