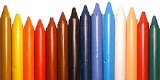 Crayon
A
crayon
is a stick of colored
wax
Wax
thumb|right|[[Cetyl palmitate]], a typical wax ester.Wax refers to a class of chemical compounds that are plastic near ambient temperatures. Characteristically, they melt above 45 °C to give a low viscosity liquid. Waxes are insoluble in water but soluble in organic, nonpolar solvents...
,
charcoal
Charcoal
Charcoal is the dark grey residue consisting of carbon, and any remaining ash, obtained by removing water and other volatile constituents from animal and vegetation substances. Charcoal is usually produced by slow pyrolysis, the heating of wood or other substances in the absence of oxygen...
,
chalk
Chalk
Chalk is a soft, white, porous sedimentary rock, a form of limestone composed of the mineral calcite. Calcite is calcium carbonate or CaCO3. It forms under reasonably deep marine conditions from the gradual accumulation of minute calcite plates shed from micro-organisms called coccolithophores....
, or other materials used for writing, coloring,
drawing
Drawing
Drawing is a form of visual art that makes use of any number of drawing instruments to mark a two-dimensional medium. Common instruments include graphite pencils, pen and ink, inked brushes, wax color pencils, crayons, charcoal, chalk, pastels, markers, styluses, and various metals .An artist who...
, and other methods of illustration. A crayon made of
oiled chalk
is called an
oil pastel
Oil pastel
Oil pastel is a painting and drawing medium with characteristics similar to pastels and wax crayons. Unlike "soft" or "French" pastel sticks, which are made with a gum or methyl cellulose binder, oil pastels consist of pigment mixed with a non-drying oil and wax binder...
; when made of
pigment
Pigment
A pigment is a material that changes the color of reflected or transmitted light as the result of wavelength-selective absorption. This physical process differs from fluorescence, phosphorescence, and other forms of luminescence, in which a material emits light.Many materials selectively absorb...
with a dry binder, it is simply a
pastel
Pastel
Pastel is an art medium in the form of a stick, consisting of pure powdered pigment and a binder. The pigments used in pastels are the same as those used to produce all colored art media, including oil paints; the binder is of a neutral hue and low saturation....
; both are popular media for color artwork. A
grease pencil
Grease pencil
The grease pencil, a wax writing tool also known as a wax pencil, china marker, , is made of hardened colored wax and is useful for marking on hard, glossy non-porous surfaces such as porcelain, glass, polished stone, plastic, ceramics and other glazed, lacquered or polished surfaces, as well as...
or
china marker
(UK
chinagraph pencil
) is made of colored hardened
grease
Petroleum
Petroleum or crude oil is a naturally occurring, flammable liquid consisting of a complex mixture of hydrocarbons of various molecular weights and other liquid organic compounds, that are found in geologic formations beneath the Earth's surface. Petroleum is recovered mostly through oil drilling...
and is useful for marking on hard, glossy surfaces such as
porcelain
Porcelain
Porcelain is a ceramic material made by heating raw materials, generally including clay in the form of kaolin, in a kiln to temperatures between and...
or
glass
Glass
Glass is an amorphous solid material. Glasses are typically brittle and optically transparent.The most familiar type of glass, used for centuries in windows and drinking vessels, is soda-lime glass, composed of about 75% silica plus Na2O, CaO, and several minor additives...
.