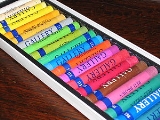 Pastel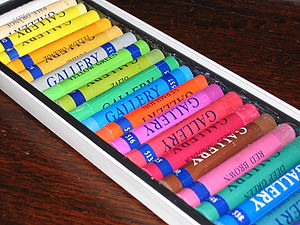 Pastel
is an art medium in the form of a stick, consisting of pure powdered
pigment
Pigment
A pigment is a material that changes the color of reflected or transmitted light as the result of wavelength-selective absorption. This physical process differs from fluorescence, phosphorescence, and other forms of luminescence, in which a material emits light.Many materials selectively absorb...
and a binder. The pigments used in pastels are the same as those used to produce all colored art media, including
oil paint
Oil paint
Oil paint is a type of slow-drying paint that consists of particles of pigment suspended in a drying oil, commonly linseed oil. The viscosity of the paint may be modified by the addition of a solvent such as turpentine or white spirit, and varnish may be added to increase the glossiness of the...
s; the binder is of a neutral hue and low saturation.
The color effect of pastels is closer to the natural dry pigments than that of any other process.
The noun "pastel" gives rise to:
another noun, for an artwork whose medium is pastels
a verb, meaning to produce an artwork with pastels
an adjective, meaning pale in color
Pastel media
Pastel sticks or crayons consist of pure powdered pigment combined with a binder. The exact composition and characteristics of an individual pastel stick depends on the type of pastel and the type and amount of binder used. It also varies by individual manufacturer.
Dry pastels have historically used binders such as
gum arabic
Gum arabic
220px|thumb|right|Acacia gumGum arabic, also known as acacia gum, chaar gund, char goond, or meska, is a natural gum made of hardened sap taken from two species of the acacia tree; Acacia senegal and Acacia seyal...
and gum tragacanth. Methyl cellulose was introduced as a binder in the twentieth century. Often a
chalk
Chalk
Chalk is a soft, white, porous sedimentary rock, a form of limestone composed of the mineral calcite. Calcite is calcium carbonate or CaCO3. It forms under reasonably deep marine conditions from the gradual accumulation of minute calcite plates shed from micro-organisms called coccolithophores....
or
gypsum
Gypsum
Gypsum is a very soft sulfate mineral composed of calcium sulfate dihydrate, with the chemical formula CaSO4·2H2O. It is found in alabaster, a decorative stone used in Ancient Egypt. It is the second softest mineral on the Mohs Hardness Scale...
component is present. They are available in varying degrees of hardness, the softer varieties being wrapped in paper.
Dry pastel media can be subdivided as follows:
Soft pastels: This is the most widely used form of pastel. The sticks have a higher portion of pigment and less binder, resulting in brighter colors. The drawing can be readily smudged and blended, but it results in a higher proportion of dust. Finished drawings made with soft pastels require protecting, either framing under glass or spraying with a fixative to prevent smudging.
Hard pastels: These have a higher portion of binder and less pigment, producing a sharp drawing material that is useful for fine details. These can be used with other pastels for drawing outlines and adding accents. However the colors are less brilliant than with soft pastels.
Pastel pencils: These are pencils with a pastel lead. They are useful for adding fine details.
In addition, pastels using a different approach to manufacture have been developed:
Oil pastel

Oil pastel

Oil pastel is a painting and drawing medium with characteristics similar to pastels and wax crayons. Unlike "soft" or "French" pastel sticks, which are made with a gum or methyl cellulose binder, oil pastels consist of pigment mixed with a non-drying oil and wax binder...


s: These have a soft, buttery consistency and intense colors. They are slightly more difficult to blend than soft pastels, but do not require a fixative.
Water-soluble pastels: These are similar to soft pastels, but contain a water-soluble component, such as glycol. This allows the colors to be thinned out using a water wash.
There has been some debate within art societies as to what exactly counts as a pastel. The Pastel Society within the UK (the oldest pastel society) states the following are acceptable media for its exhibitions:
"Pastels, including Oil pastel

Oil pastel

Oil pastel is a painting and drawing medium with characteristics similar to pastels and wax crayons. Unlike "soft" or "French" pastel sticks, which are made with a gum or methyl cellulose binder, oil pastels consist of pigment mixed with a non-drying oil and wax binder...


, Charcoal, Pencil, Conté

Conté

Conté, also known as Conté sticks or Conté crayons, are a drawing medium composed of compressed powdered graphite or charcoal mixed with a wax or clay base, square in cross-section...


, Sanguine

Sanguine

Sanguine is chalk of a reddish color, often called the true colour of blood. tending to brown, used in drawing, The word also describes any drawing done in sanguine.-Technique:...


, or any dry media".
The emphasis appears to be on "dry media" but the debate continues.
Manufacture
In order to create hard and soft pastels, pigments are ground into a paste with water and a gum binder and then rolled or pressed into sticks. The name "pastel" comes from ML
pastellum
(neut.) woad (orig. woad paste), for LL
pastellus
(masc.), dim. of
pasta
: paste. The
French
French language
French is a Romance language spoken as a first language in France, the Romandy region in Switzerland, Wallonia and Brussels in Belgium, Monaco, the regions of Quebec and Acadia in Canada, and by various communities elsewhere. Second-language speakers of French are distributed throughout many parts...
word
pastel
first appeared in 1662.
Most brands produce gradations of a color, the original pigment of which tends to be dark, from pure pigment to near-white by mixing in differing quantities of
chalk
Chalk
Chalk is a soft, white, porous sedimentary rock, a form of limestone composed of the mineral calcite. Calcite is calcium carbonate or CaCO3. It forms under reasonably deep marine conditions from the gradual accumulation of minute calcite plates shed from micro-organisms called coccolithophores....
. This mixing of pigments with chalks is the origin of the word "pastel" in reference to "pale color" as it is commonly used in cosmetic and fashion venues.
A pastel is made by letting the sticks move over an abrasive ground, leaving color on the grain of the paper, sandboard, canvas etc. When fully covered with pastel, the work is called a pastel
painting
; when not, a pastel
sketch
or
drawing
. Pastel paintings, being made with a medium that has the highest pigment concentration of all, reflect light without darkening
refraction
Refraction
Refraction is the change in direction of a wave due to a change in its speed. It is essentially a surface phenomenon . The phenomenon is mainly in governance to the law of conservation of energy. The proper explanation would be that due to change of medium, the phase velocity of the wave is changed...
, allowing for very
saturated
Saturation (color theory)
In colorimetry and color theory, colorfulness, chroma, and saturation are related but distinct concepts referring to the perceived intensity of a specific color. Colorfulness is the degree of difference between a color and gray. Chroma is the colorfulness relative to the brightness of another color...
colors.
Recently, soft pastels have been launched in a pan format so they can be used like paint.
Pastel supports
Pastel supports need to provide a "tooth" for the pastel to adhere and hold the pigment in place. Supports include:
laid paper

Laid paper

Laid paper is a type of paper having a ribbed texture imparted by the manufacturing process. In the 19th century its use diminished as it was largely supplanted by wove paper...


(e.g. Ingres; Canson Mi Teintes)
abrasive supports (e.g. with a surface of finely ground pumice or marble dust)
Protection of pastel artworks
Pastels can be used to produce a permanent work of art if the artist meets appropriate archival considerations. This means:
Use only pastels with lightfast pigments. Pastels which have used pigments which change color or tone when exposed to light have suffered the same problems as can be seen in some oil paintings using the same pigment.
Works are done on an acid free archival quality support. Historically some works have been executed on supports which are now extremely fragile and the support rather than the pigment needs to be protected under glass and away from light
Works are properly mounted and framed under glass in a way which means that the glass does not touch the artwork. This avoids the deterioration which is associated with environmental hazards such as air quality, humidity, mildew problems associated with condensation and smudging.
Some artists protect their finished pieces by spraying them with a fixative

Fixative

A fixative is a stabilizing or preservative agent:*Fixative , a liquid usually sprayed over a finished piece of artwork to better preserve it and prevent smudging...


. A pastel fixative is an aerosol varnish which can be used to help stabilize the small charcoal or pastel particles on a painting or drawing. It cannot prevent smearing entirely without dulling and darkening the bright and fresh colors of pastels. It is also toxic, therefore it requires careful use.
For these reasons, some pastelists avoid its use except in cases where the pastel has been overworked so much that the surface will no longer hold any more pastel. The fixative will restore the "tooth" and more pastel can be applied on top. It is the tooth of the painting surface that holds the pastels, not a fixative. Abrasive supports avoid or minimize the need to apply further fixative in this way.
Glassine
Glassine
Glassine is a very thin and smooth paper that is air and water resistant. It is translucent unless dyes are added to color it or make it opaque...
(paper) is used by artists to protect artwork which is being stored or transported. Some good quality books of pastel papers also include glassine to separate pages.
Health and safety hazards
Pastels are a dry medium and produce a great deal of dust, which can cause respiratory irritation. More seriously, pastels use the same pigments as artists' paints, many of which are toxic. For example, exposure to
cadmium pigments
Cadmium pigments
Cadmium pigments are a class of pigments that have cadmium as one of the chemical components. They are highly toxic and can produce cadmium poisoning. Most of cadmium produced worldwide is used in the production of nickel-cadmium batteries, but about half the remaining consumption, which is about...
, which are common and popular bright yellows, oranges, and reds, can lead to
cadmium poisoning
Cadmium poisoning
Cadmium is an extremely toxic metal commonly found in industrial workplaces. Due to its low permissible exposure limit, overexposures may occur even in situations where trace quantities of cadmium are found. Cadmium is used extensively in electroplating, although the nature of the operation does...
. Pastel artists, who use the pigments without a strong painting binder, are especially susceptible to such poisoning.
Pastel art in art history
The pastel medium was first mentioned by
Leonardo da Vinci
Leonardo da Vinci
Leonardo di ser Piero da Vinci was an Italian Renaissance polymath: painter, sculptor, architect, musician, scientist, mathematician, engineer, inventor, anatomist, geologist, cartographer, botanist and writer whose genius, perhaps more than that of any other figure, epitomized the Renaissance...
in 1495.
Artists such as Maurice Quentin de La Tour and Rosalba Carriera have been using pastels to create masterpieces as far back as 1703.
During the 18th century the medium became fashionable for
portrait
Portrait
thumb|250px|right|Portrait of [[Thomas Jefferson]] by [[Rembrandt Peale]], 1805. [[New-York Historical Society]].A portrait is a painting, photograph, sculpture, or other artistic representation of a person, in which the face and its expression is predominant. The intent is to display the likeness,...
painting, used in a mixed technique with
gouache
Gouache
Gouache[p], also spelled guache, the name of which derives from the Italian guazzo, water paint, splash or bodycolor is a type of paint consisting of pigment suspended in water. A binding agent, usually gum arabic, is also present, just as in watercolor...
.
In the United States, initially pastels only had occasional use in portraiture. However in the late nineteenth century, pastel (like watercolor) became more popular. The Society of Painters in Pastel was founded in 1885.
The Pastellists
The Pastellists
The Pastellists was an organization of artists that formed in New York at the end of 1910 for the purpose of exhibiting artwork produced in the medium of pastel. The group was short lived, but filled a void in the art scene of the time.-History:...
, led by
Leon Dabo
Leon Dabo
Leon Dabo was an American tonalist landscape artist best known for his paintings of New York, particularly the Hudson Valley. His paintings were known for their feeling of spaciousness, with large areas of the canvas that had little but land, sea, or clouds...
, organized in New York in 1910.
Pastels have become popular in modern art because of the medium's broad range of bright colors.
Pastel artists
The 18th-century painters
Maurice Quentin de La Tour
Maurice Quentin de La Tour
Maurice Quentin de La Tour was a French Rococo portraitist who worked primarily with pastels. Among his most famous subjects were Voltaire, Rousseau, Louis XV and Madame de Pompadour.-Biography:...
(
see above portrait
) and
Rosalba Carriera
Rosalba Carriera
Rosalba Carriera was a Venetian Rococo painter. In her younger years, she specialized in portrait miniatures...
are especially well known for their pastel technique. Jean Baptiste Simeon Chardin's 1699-1779 pastel portraiture and
still life
Still life
A still life is a work of art depicting mostly inanimate subject matter, typically commonplace objects which may be either natural or man-made...
paintings are much admired.
The 19th-century French painter
Edgar Degas
Edgar Degas
Edgar Degas[p] , born Hilaire-Germain-Edgar De Gas, was a French artist famous for his work in painting, sculpture, printmaking and drawing. He is regarded as one of the founders of Impressionism although he rejected the term, and preferred to be called a realist...
was a most prolific user of pastel and its champion.
Mary Cassatt
Mary Cassatt
Mary Stevenson Cassatt was an American painter and printmaker. She lived much of her adult life in France, where she first befriended Edgar Degas and later exhibited among the Impressionists...
, introduced the Impressionists and pastel to her friends in Philadelphia and Washington, and helped popularize both in the USA.
Whistler produced
a quantity of pastels around 1880
, including a body of work relating to Venice, and this probably contributed to the growing enthusiasm for the medium. In particular, he demonstrated how few strokes were required to evoke a place or an atmosphere (example Note in Pink and Brown (17.97.5).
Modern notable artists who have worked extensively in pastels include
Fernando Botero
Fernando Botero
Fernando Botero Angulo is a Colombian figurative artist. His works feature a figurative style, called by some "Boterismo", which gives them an unmistakable identity...
,
Francesco Clemente
Francesco Clemente
Francesco Clemente is an Italian and American contemporary artist. Influenced by thinkers as diverse as Gregory Bateson, William Blake, Allen Ginsberg, and J Krishnamurti, the art of Francesco Clemente is inclusive and nomadic, crossing many borders, intellectual and geographical.Dividing his time...
,
Daniel Greene
Daniel Greene (artist)
Daniel Greene PSA, NA, AWS is an American artist who works in the media of pastels and oil painting. The winner of a dozen or so awards throughout his career, Greene has painted portraits of several well-known individuals, including Mayor Robert F. Wagner, Eleanor Roosevelt, and Ayn Rand.On May...
,
Wolf Kahn
Wolf Kahn
Wolf Kahn is a German-born American painter.Kahn is known for his combination of realism and Color Field, and known to work in pastel and oil paint. He studied under Hans Hofmann, and also graduated from the University of Chicago...
, and
R. B. Kitaj
R. B. Kitaj
Ronald Brooks Kitaj was an American artist who spent much of his life in England.-Life:Born in Chagrin Falls, Ohio, near Cleveland, United States, his Hungarian father, Sigmund Benway, left his mother, Jeanne Brooks, shortly after he was born and they were divorced in 1934. His mother was the...
.
External links