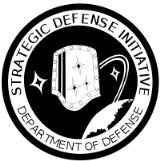 Strategic Defense Initiative
The
Strategic Defense Initiative
(
SDI
) was proposed by U.S. President
Ronald Reagan
Ronald Reagan
Ronald Wilson Reagan was the 40th President of the United States , the 33rd Governor of California and, prior to that, a radio, film and television actor....
on March 23, 1983 to use ground and space-based systems to protect the United States from attack by strategic
nuclear
Nuclear weapon
A nuclear weapon is an explosive device that derives its destructive force from nuclear reactions, either fission or a combination of fission and fusion. Both reactions release vast quantities of energy from relatively small amounts of matter. The first fission bomb test released the same amount...
ballistic missile
Ballistic missile
A ballistic missile is a missile that follows a sub-orbital ballistic flightpath with the objective of delivering one or more warheads to a predetermined target. The missile is only guided during the relatively brief initial powered phase of flight and its course is subsequently governed by the...
s. The initiative focused on strategic defense rather than the prior strategic offense doctrine of
mutual assured destruction
Mutual assured destruction
Mutual Assured Destruction, or mutually assured destruction , is a doctrine of military strategy and national security policy in which a full-scale use of high-yield weapons of mass destruction by two opposing sides would effectively result in the complete, utter and irrevocable annihilation of...
(MAD). The
Strategic Defense Initiative Organization
(SDIO) was set up in 1984 within the
United States Department of Defense
United States Department of Defense
The United States Department of Defense is the U.S...
to oversee the Strategic Defense Initiative.
The ambitious initiative was "widely criticized as being unrealistic, even unscientific" as well as for threatening to destabilize MAD and re-ignite "an offensive arms race".