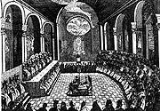 Counter-Reformation
The
Counter-Reformation
(also the
Catholic Revival
or
Catholic Reformation
) was the period of
Catholic
Roman Catholic Church
The Catholic Church, also known as the Roman Catholic Church, is the world's largest Christian church, with over a billion members. Led by the Pope, it defines its mission as spreading the gospel of Jesus Christ, administering the sacraments and exercising charity...
revival beginning with the
Council of Trent
Council of Trent
The Council of Trent was the 16th-century Ecumenical Council of the Roman Catholic Church. It is considered to be one of the Church's most important councils. It convened in Trent between December 13, 1545, and December 4, 1563 in twenty-five sessions for three periods...
(1543–1565) and ending at the close of the
Thirty Years' War
Thirty Years' War
The Thirty Years' War was fought primarily in what is now Germany, and at various points involved most countries in Europe. It was one of the most destructive conflicts in European history....
, 1648 as a response to the
Protestant Reformation
Protestant Reformation
The Protestant Reformation was a 16th-century split within Western Christianity initiated by Martin Luther, John Calvin and other early Protestants. The efforts of the self-described "reformers", who objected to the doctrines, rituals and ecclesiastical structure of the Roman Catholic Church, led...
.
The Counter-Reformation was a comprehensive effort, composed of four major elements:
Ecclesiastical or structural reconfiguration
Religious orders
Spiritual movements
Political dimensions
Such reforms included the foundation of seminaries for the proper training of priests in the spiritual life and the theological traditions of the Church, the reform of religious life by returning orders to their spiritual foundations, and new spiritual movements focusing on the devotional life and a personal relationship with
Christ
Christ
Christ is the English term for the Greek meaning "the anointed one". It is a translation of the Hebrew , usually transliterated into English as Messiah or Mashiach...
, including the
Spanish mystics
Spanish mystics
The Spanish Mystics are major figures in the Catholic Reformation of 16th and 17th century Spain. The goal of this movement was to reform the Church structurally and to renew it spiritually...
and the
French school of spirituality
French school of spirituality
The French School of Spirituality was the principal devotional influence within the Catholic Church from the mid 17th Century through the mid 20th Century not only in France but throughout the church in most of the world...
.