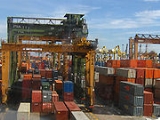 Container terminal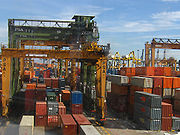 A
container terminal
is a facility where
cargo containers
Intermodal container
An intermodal container is a standardized reusable steel box used for the safe, efficient and secure storage and movement of materials and products within a global containerized intermodal freight transport system...
are
transshipped
Transshipment
Transshipment or Transhipment is the shipment of goods or containers to an intermediate destination, and then from there to yet another destination....
between different transport vehicles, for onward transportation. The transshipment may be between
container ship
Container ship
Container ships are cargo ships that carry all of their load in truck-size intermodal containers, in a technique called containerization. They form a common means of commercial intermodal freight transport.-History:...
s and land vehicles, for example
train
Train
A train is a connected series of vehicles for rail transport that move along a track to transport cargo or passengers from one place to another place. The track usually consists of two rails, but might also be a monorail or maglev guideway.Propulsion for the train is provided by a separate...
s or
truck
Truck
A truck or lorry is a motor vehicle designed to transport cargo. Trucks vary greatly in size, power, and configuration, with the smallest being mechanically similar to an automobile...
s, in which case the terminal is described as a
maritime container terminal
. Alternatively the transshipment may be between land vehicles, typically between train and truck, in which case the terminal is described as an
inland container terminal
.
Maritime container terminals tend to be part of a larger
port
Port
A port is a location on a coast or shore containing one or more harbors where ships can dock and transfer people or cargo to or from land....
, and the biggest maritime container terminals can be found situated around major harbours. Inland container terminals tend to be located in or near major cities, with good rail connections to maritime container terminals.
Both maritime and inland container terminals usually provide storage facilities for both loaded and empty containers. Loaded containers are stored for relatively short periods, whilst waiting for onward transportation, whilst unloaded containers may be stored for longer periods awaiting their next use. Containers are normally stacked for storage, and the resulting stores are known as container stacks.
In recent years methodological advances regarding container terminal operations have considerably improved. For a detailed description and a comprehensive list of references see, e.g., the operations research literature.
See also

Cargo airline

Cargo airline

Cargo airlines are airlines dedicated to the transport of cargo. Some cargo airlines are divisions or subsidiaries of larger passenger airlines.-Logistics:...



Containerization

Containerization

Containerization is a system of freight transport based on a range of steel intermodal containers...



Dock (maritime)

Dock (maritime)

A dock is a human-made structure or group of structures involved in the handling of boats or ships, usually on or close to a shore.However, the exact meaning varies among different variants of the English language...



Pick and pack

Pick and Pack

Pick and pack is a part of a complete supply chain management process that is commonly used in, but not limited to, the retail distribution of goods. It entails processing small to large quantities of product, often truck or train loads and disassembling them, picking the relevant product for each...



Shipping list
Warehouse

Warehouse

A warehouse is a commercial building for storage of goods. Warehouses are used by manufacturers, importers, exporters, wholesalers, transport businesses, customs, etc. They are usually large plain buildings in industrial areas of cities and towns. They usually have loading docks to load and unload...