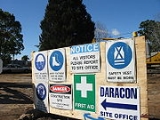 Construction site safety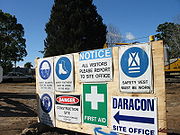 Construction
Construction
In the fields of architecture and civil engineering, construction is a process that consists of the building or assembling of infrastructure. Far from being a single activity, large scale construction is a feat of human multitasking...
is the most dangerous land-based work sector in
Europe
Europe
Europe is, by convention, one of the world's seven continents. Comprising the westernmost peninsula of Eurasia, Europe is generally 'divided' from Asia to its east by the watershed divides of the Ural and Caucasus Mountains, the Ural River, the Caspian and Black Seas, and the waterways connecting...
, after the
fishing industry
Fishing industry
The fishing industry includes any industry or activity concerned with taking, culturing, processing, preserving, storing, transporting, marketing or selling fish or fish products....
. In the
European Union
European Union
The European Union is an economic and political union of 27 independent member states which are located primarily in Europe. The EU traces its origins from the European Coal and Steel Community and the European Economic Community , formed by six countries in 1958...
, the fatal accident rate is nearly 13 workers per 100,000 as against 5 per 100,000 for the all sector average (Source:
Eurostat
Eurostat
Eurostat is a Directorate-General of the European Commission located in Luxembourg. Its main responsibilities are to provide the European Union with statistical information at European level and to promote the integration of statistical methods across the Member States of the European Union,...
).
In the U.S. there were 1,225 fatal occupational injuries in the construction sector in 2001 with an incidence rate of 13.3 per 100,000 employed workers. For the same year the construction industry experienced 481,400 nonfatal injuries and illnesses at a rate of 7.9 per 100 full-time workers in the industry. Construction has about 6% of U.S. workers, but 20% of the fatalities - the largest number of fatalities reported for any industry sector.Hong Kong is also notorious for her high construction accidents rates. Although the accidents rate dropped from 350 per 1000 workers in mid 1980 to 60 per 1000 workers in 2007, it still accounted for nearly 20% of all the industrial accidents in Hong Kong.
The problem is not that the hazards and risks are unknown, it is that they are very difficult to control in a constantly changing work environment.
Construction Fatality Rates
Country/Region
Fatalities (per Annum per 100,000 Workers)
Year
Notes
EU
13.3
1996
France

France

The French Republic , The French Republic , The French Republic , (commonly known as France , is a unitary semi-presidential republic in Western Europe with several overseas territories and islands located on other continents and in the Indian, Pacific, and Atlantic oceans. Metropolitan France...



12.1
1996
Germany

Germany

Germany , officially the Federal Republic of Germany , is a federal parliamentary republic in Europe. The country consists of 16 states while the capital and largest city is Berlin. Germany covers an area of 357,021 km2 and has a largely temperate seasonal climate...



15.4
1996
Ireland

Ireland

Ireland is an island to the northwest of continental Europe. It is the third-largest island in Europe and the twentieth-largest island on Earth...



8.0
1996
Italy

Italy

Italy , officially the Italian Republic languages]] under the European Charter for Regional or Minority Languages. In each of these, Italy's official name is as follows:;;;;;;;;), is a unitary parliamentary republic in South-Central Europe. To the north it borders France, Switzerland, Austria and...



14.4
1996
United Kingdom

United Kingdom

The United Kingdom of Great Britain and Northern IrelandIn the United Kingdom and Dependencies, other languages have been officially recognised as legitimate autochthonous languages under the European Charter for Regional or Minority Languages...



3.4
20098/08
United States of America
10.8
2006
Hazards to construction workers
The leading safety hazards on site are falls from height, motor vehicle crashes, excavation accidents, electrocution, machines, and being struck by falling objects. Some of the main health hazards on site are
asbestos
Asbestos
Asbestos is a set of six naturally occurring silicate minerals used commercially for their desirable physical properties. They all have in common their eponymous, asbestiform habit: long, thin fibrous crystals...
, solvents, noise, and manual handling activities.
Falls from heights is the leading cause of injury in the construction industry. In the OSHA Handbook (29 CFR), fall protection is needed in areas and activities that include, but are not limited to: ramps, runways, and other walkways; excavations; hoist areas; holes; formwork; leading edge work; unprotected sides and edges; overhand bricklaying and related work; roofing; precast erection; wall openings; residential construction; and other walking/working surfaces.
The height limit where fall protection is required is not defined. It used to be 2 metres in the previous issue of Work at Height Regulations. It is any height that may result in injury from a fall. Protection is also required when the employee is at risk to falling onto dangerous equipment.
Fall protection can be provided by guardrail systems, safety net systems, personal fall arrest systems, positioning device systems, and warning line systems.
All employees should be trained to understand the proper way to use these systems and to identify hazards. The employee or employer will be responsible for providing fall protection systems and to ensure the use of these systems.
For further information and specifics, 29 CFR list out further instruction in Subpart M.
Motor Vehicle Crashes are another major safety hazard on construction sites. It is important to be safety cautious while operation motor vehicles or Equipment on the site. Motor vehicles shall have a service brake system, emergency brake system, and a parking brake system. All vehicles must be equipped with an audible warning system if the operator chooses to use it. Vehicles must have windows and doors, power windshield wipers, and have a clear view of site from the rear window.
Equipment on the job site must have light and reflectors if intended for night use. The glass in the cab of the equipment must be safety glass. The equipment must be used for their intended task at all times on the job site.
Further instruction can be found in 29 CFR Subpart O.
Before any excavation has taken place, the contractor is responsible for notification of all applicable companies that excavation work is being performed. Location of utilities is a must before breaking ground. During excavation, the contractor is responsible for providing a safe work environment for employees and pedestrians. The contractor shall comply with all standards set forth in 29 CFR Subpart P.
Access and Egress is also an important part of excavation safety. Ramps used by equipment must be designed by a competent person, qualified in structural design.
No person is allowed to cross underneath or stand underneath any loading or digging equipment. Employees are to remain at a safe distance from all equipment while it is operational.
Inspect the equipment before every use.
Further instruction for excavation can be found in 29 CFR Subpart P.
Efforts to Improve Safety
Although construction is one of the worst industries in Europe in terms of safety, there have been, and are, various groups working towards improving construction conditions and safety. Construction conditions have improved ten-fold from 15 years ago, and as technology increases, so does the safety and working conditions of construction jobs. Organizations working toward improving construction safety include:
Construction Safety Council
ConstructionSafety.org
Hazards to non-workers
Many construction sites cannot completely exclude non-workers. Road construction sites must often allow traffic to pass through. This places non-workers at some degree of risk.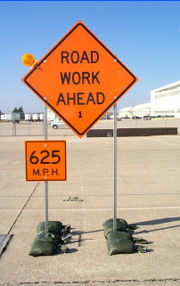 Road construction sites are blocked-off and traffic is redirected. The sites and vehicles are protected by signs and barricades. However, sometimes even these signs and barricades can be a hazard to vehicle traffic. For example, improperly designed barricades can cause cars that strike them to roll over or even be thrown into the air. Even a simple safety sign can penetrate the windshield or roof of a car if hit from certain angles.
Once a long time a go there were more deaths than ever but these days the death rate has increased more the ever.
The majority of death in construction are caused by hazards relating to construction activity. However, many deaths are also caused by no construction activities, such as electrical hazards. A notable example of this occurred when Andy Roberts, a father of four, was killed while changing a light bulb at a construction site when he came into contact with a loose bare wire that was carrying two thousand volts of electricity and died. (August 1988 New York (U.S.A)). Events like this motivated the passing of further safety laws relating to non construction activities such as electrical work laws.
Applicable laws
Under
European Union Law
European Union law
European Union law is a body of treaties and legislation, such as Regulations and Directives, which have direct effect or indirect effect on the laws of European Union member states. The three sources of European Union law are primary law, secondary law and supplementary law...
, there are
European Union Directive
European Union directive
A directive is a legislative act of the European Union, which requires member states to achieve a particular result without dictating the means of achieving that result. It can be distinguished from regulations which are self-executing and do not require any implementing measures. Directives...
s in place to protect workers, notably Directive 89/391 (the Framework Directive) and Directive 92/57 (the Temporary and Mobile Sites Directive). This legislation is transposed into the Member States and places requirements on employers (and others) to assess and protect workers health and safety.
In the
United States
United States
The United States of America is a federal constitutional republic comprising fifty states and a federal district...
the
Occupational Safety and Health Administration
Occupational Safety and Health Administration
The United States Occupational Safety and Health Administration is an agency of the United States Department of Labor. It was created by Congress of the United States under the Occupational Safety and Health Act, signed by President Richard M. Nixon, on December 29, 1970...
(OSHA) sets and enforces standards concerning workplace safety and health.
See also
Occupational Safety
Construction

Construction

In the fields of architecture and civil engineering, construction is a process that consists of the building or assembling of infrastructure. Far from being a single activity, large scale construction is a feat of human multitasking...



Temporary fencing

Temporary fencing

Temporary Fence is used where building a permanent fence is either impractical or unneeded. Temporary fencing is used when an area needs barriers for the purposes of public safety or security, crowd control, theft deterrent, or equipment storage. Its most common use is as construction hoarding for...



Roof edge protection

Roof edge protection

Roof edge protection is fall protection equipment most commonly used during the construction of commercial buildings or residential housing. It often consists of a toe board, a main guard rail and an intermediate rail.".-Legal requirements:...



NIOSH Power Tools Database

NIOSH Power Tools Database

The NIOSH Power Tools Database contains sound power levels, sound pressure levels, and vibrations data for a variety of common power tools that have been tested by researchers. Data are collected for both the unloaded and loaded use of power tools...



Safe-in-Sound Excellence in Hearing Loss Prevention Award

Safe In Sound Award

The Safe-In-Sound Excellence in Hearing Loss Prevention Award was created by the National Institute for Occupational Safety and Health and the . This award is geared towards companies or organizations that strive for Excellence in Hearing Loss Prevention. Starting in 2009, the NHCA and NIOSH...



Safety by design

Safety by design

Safety by design is a concept and movement that encourages construction or product designers to "design out" health and safety risks during design development...



External links