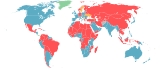 Conscription
Conscription
is the compulsory enlistment of people in some sort of
national service
National service
National service is a common name for mandatory government service programmes . The term became common British usage during and for some years following the Second World War. Many young people spent one or more years in such programmes...
, most often
military service
Military service
Military service, in its simplest sense, is service by an individual or group in an army or other militia, whether as a chosen job or as a result of an involuntary draft . Some nations require a specific amount of military service from every citizen...
. Conscription dates back to antiquity and continues in some countries to the present day under various names. The modern system of near-universal national conscription for young men dates to the
French Revolution
French Revolution
The French Revolution , sometimes distinguished as the 'Great French Revolution' , was a period of radical social and political upheaval in France and Europe. The absolute monarchy that had ruled France for centuries collapsed in three years...
in the 1790s, where it became the basis of a very large and powerful
military
Military
A military is an organization authorized by its greater society to use lethal force, usually including use of weapons, in defending its country by combating actual or perceived threats. The military may have additional functions of use to its greater society, such as advancing a political agenda e.g...
. Most
Europe
Europe
Europe is, by convention, one of the world's seven continents. Comprising the westernmost peninsula of Eurasia, Europe is generally 'divided' from Asia to its east by the watershed divides of the Ural and Caucasus Mountains, the Ural River, the Caspian and Black Seas, and the waterways connecting...
an nations later copied the system in peacetime, so that men at a certain age would serve 1–3 years on
active duty
Active duty
Active duty refers to a full-time occupation as part of a military force, as opposed to reserve duty.-Pakistan:The Pakistan Armed Forces are one of the largest active service forces in the world with almost 610,000 full time personnel due to the complex and volatile nature of Pakistan's...
, then transfer to the
reserve force
Military reserve force
A military reserve force is a military organization composed of citizens of a country who combine a military role or career with a civilian career. They are not normally kept under arms and their main role is to be available to fight when a nation mobilizes for total war or to defend against invasion...
.
In China, the State of Qin instituted universal military service following the registration of every household.
1798 Conscription is made mandatory in France by the Jourdan law.
1863 United States begins its first military draft; exemptions cost $300.
1863 New York Draft Riots: in New York City, opponents of conscription begin three days of rioting which will be later regarded as the worst in United States history.
1916 Prime Minister of Australia Billy Hughes is expelled from the Labor Party over his support for conscription.
1917 World War I: The Selective Service Act of 1917 is passed, giving the President of the United States the power of conscription.
1917 World War I: Conscription begins in the United States as "Army registration day".