CompUSA
CompUSA
is a retailer and reseller of
consumer electronics
Consumer electronics
Consumer electronics are electronic equipment intended for everyday use, most often in entertainment, communications and office productivity. Radio broadcasting in the early 20th century brought the first major consumer product, the broadcast receiver...
,
technology
Technology
Technology is the making, usage, and knowledge of tools, machines, techniques, crafts, systems or methods of organization in order to solve a problem or perform a specific function. It can also refer to the collection of such tools, machinery, and procedures. The word technology comes ;...
products and
computer
Computer
A computer is a programmable machine designed to sequentially and automatically carry out a sequence of arithmetic or logical operations. The particular sequence of operations can be changed readily, allowing the computer to solve more than one kind of problem...
services. Its headquarters are in
Miami, Florida
Miami, Florida
Miami is a city located on the Atlantic coast in southeastern Florida and the county seat of Miami-Dade County, the most populous county in Florida and the eighth-most populous county in the United States with a population of 2,500,625...
.
Until its reorganization, CompUSA, Inc. was a wholly owned
subsidiary
Subsidiary
A subsidiary company, subsidiary, or daughter company is a company that is completely or partly owned and wholly controlled by another company that owns more than half of the subsidiary's stock. The subsidiary can be a company, corporation, or limited liability company. In some cases it is a...
of
U.S. Commercial Corp S.A.B. de C.V.
and indirectly controlled by a common shareholder,
Carlos Slim
Carlos Slim Helú
Carlos Slim Helú is a Mexican business magnate and philanthropist who as of 2011 is the richest person in the world, for the second year in a row...
.
On December 7, 2007, an affiliate of liquidation firm
Gordon Brothers Group
Gordon Brothers Group
Gordon Brothers Group, headquartered in Boston, Massachusetts, is a liquidation firm that was founded in 1903 by Jacob Bernard, Louis and Joseph Gordon....
bought the company.
Systemax
purchased the CompUSA brand, 16 retail locations and other company assets in January, 2008.
The Company now operates retail stores in Florida, Texas, Georgia, Illinois, Delaware, North Carolina, Puerto Rico and operates CompUSA.com, a
retail
Retail
Retail consists of the sale of physical goods or merchandise from a fixed location, such as a department store, boutique or kiosk, or by mail, in small or individual lots for direct consumption by the purchaser. Retailing may include subordinated services, such as delivery. Purchasers may be...
web site and a dedicated catalog site for businesses.
History
Founded in 1984 as Soft Warehouse in
Addison, Texas
Addison, Texas
Addison is a city in Dallas County, Texas . The population was 14,166 at the 2000 census, and 15,737 according to a 2009 estimate. Addison is a northern suburb of Dallas...
, a northern suburb of
Dallas
Dallas, Texas
Dallas is the third-largest city in Texas and the ninth-largest in the United States. The Dallas-Fort Worth Metroplex is the largest metropolitan area in the South and fourth-largest metropolitan area in the United States...
, by Errol Jacobson and Michael Henochowicz, the company began national expansion in 1985 with its first megastore opening in
Atlanta, Georgia
Atlanta, Georgia
Atlanta is the capital and most populous city in the U.S. state of Georgia. According to the 2010 census, Atlanta's population is 420,003. Atlanta is the cultural and economic center of the Atlanta metropolitan area, which is home to 5,268,860 people and is the ninth largest metropolitan area in...
.
Jacobson and Henochowicz led a team of young managers including Elizabeth Greenwood and Pat Wyckoff who were skilled in retail, distribution, logistics, service and merchandising. Managed by Greenwood, the first satellite office opened in Tampa, Florida. Greenwood and Wyckoff soon joined forces with Cheryl Stoddard to open the Atlanta, Georgia store. The concept was copied in Dallas, and spurred the debut of stores in Houston and Southern California. Others involved in the process included Jeff Deskin, Randy Kilmer, James Ross, Melanie Collins, Dewey Thoes.
In 1991, under the direction of Chief Executive Officer Nathan P. Morton, the company's name was changed to CompUSA, and the company became publicly traded on the New York Stock Exchange. While under Morton's leadership, CompUSA grew to over $2 billion in revenues. Morton resigned in 1993 after a falling out with the board of directors.
Timeline
1990 - Long running radio ad campaign featuring character "P.C. Modem" begins.
1993 - Began offering technical services at customer locations.
1996 - Launched retail sales on CompUSA.com.
1997 - Partners with Apple Computer

Apple Computer

Apple Inc. is an American multinational corporation that designs and markets consumer electronics, computer software, and personal computers. The company's best-known hardware products include the Macintosh line of computers, the iPod, the iPhone and the iPad...


in a "store within a store" concept for selling Macintosh

Macintosh

The Macintosh , or Mac, is a series of several lines of personal computers designed, developed, and marketed by Apple Inc. The first Macintosh was introduced by Apple's then-chairman Steve Jobs on January 24, 1984; it was the first commercially successful personal computer to feature a mouse and a...


computers.
1998 - Acquired Tandy's

Tandy Corporation

Tandy Corporation was a family-owned leather goods company based in Fort Worth, Texas. Tandy was founded in 1919 as a leather supply store, and acquired RadioShack in 1963. The Tandy name was dropped in May 2000, when RadioShack Corporation was made the official name.-History:Tandy began in 1919...


Computer City

Computer City

Computer City was a chain of United States-based computer superstores operated by Tandy Corporation; the retailer was sold to CompUSA in 1998 and liquidated....


subsidiary with the help of former CEO Nathan P. Morton.
1998 - In May, the company invested in facilities, technology, and expertise to form CompUSA Call Center Services, a division that provided contact center services to OEMs

Original Equipment Manufacturer

An original equipment manufacturer, or OEM, manufactures products or components that are purchased by a company and retailed under that purchasing company's brand name. OEM refers to the company that originally manufactured the product. When referring to automotive parts, OEM designates a...


, corporate help desks, software publishers, and cellular service providers.
2000 - Became privately held company under Grupo Sanborns

Grupo Sanborns

Grupo Sanborns is a large restaurant, retail, pharmacy and department store chain located in Mexico and in El Salvador.-History:The retail company was founded in Mexico City on June 19, 1903 by California immigrants Walter and Frank Sanborn, who also opened Mexico's first soda fountain...


, a Mexican

Mexico

The United Mexican States , commonly known as Mexico , is a federal constitutional republic in North America. It is bordered on the north by the United States; on the south and west by the Pacific Ocean; on the southeast by Guatemala, Belize, and the Caribbean Sea; and on the east by the Gulf of...


retail company.
2001 - In July, CompUSA Call Center Services became The Televista Company.
2003 - Acquired Good Guys

The Good Guys!

Good Guys was a chain of consumer electronics retail stores with 71 stores in California, Nevada, Oregon, and Washington. The company was headquartered in Brisbane, California in the Dakin Building in the early-1990s and subsequently in Alameda, California until it was bought in late 2003 by...


.
2005 - Converted three CompUSA stores and 13 Good Guys stores into megastores. Closed all 46 Good Guys locations. Began marketing in California and Hawaii as "CompUSA with Good Guys Inside" in response to Best Buy

Best Buy

Best Buy Co., Inc. is an American specialty retailer of consumer electronics in the United States, accounting for 19% of the market. It also operates in Mexico, Canada & China. The company's subsidiaries include Geek Squad, CinemaNow, Magnolia Audio Video, Pacific Sales, and, in Canada operates...


's marketing campaign "with Magnolia Inside".
2005, CompUSA started a customer loyalty program called The CompUSA Network. For every dollar spent at any CompUSA store, the customer received 13 points.
2006, sales of the CompUSA Network membership cards were suspended pending further investigation onto the operation's effect on customer retention and "program awareness among low-visit customers."
2006, CompUSA announced the end of the Network Reward program. All customers were issued coupons for the remaining reward value. They were also offered a refund of the original purchase price in the original form of payment, surrendering remaining points.
2006 - Announced the closing of 15 stores across the United States including several locations in California. These stores were being used to liquidate discontinued items from other stores across the nation until the end of October. Roman Ross, a former Philip Morris

Altria Group

Altria Group, Inc. is based in Henrico County, Virginia, and is the parent company of Philip Morris USA, John Middleton, Inc., U.S. Smokeless Tobacco Company, Inc., Philip Morris Capital Corporation, and Chateau Ste. Michelle Wine Estates. It is one of the world's largest tobacco corporations...


executive, replaced Tony Weiss as president and CEO after only four months in office. In November 2006, CompUSA launched their new "Home Entertainment" rollout in 40 of its stores, including Puerto Rico, that sold a variety of high definition televisions and home theater equipment. Ross claimed that home entertainment was one of his chief focuses as the new CEO. In September, it was reported that CompUSA's Mexican parent, Grupo Carso, was interested in putting CompUSA up for sale.
2007 - The company announced the closing and liquidation of 126 stores due to the "need to close and sell stores with low performance or non strategic, old store layouts and locations faced with market saturation," according to CEO Roman Ross. The realignment included a $440 million cash infusion, store closures, major expense reductions, and a corporate restructuring.
2007 - On May 14, CompUSA finalizes the first round of store closures as liquidation sales end.
2007 - On December 7, CompUSA was acquired by Specialty Equity, an affiliate of Gordon Brothers Group

Gordon Brothers Group

Gordon Brothers Group, headquartered in Boston, Massachusetts, is a liquidation firm that was founded in 1903 by Jacob Bernard, Louis and Joseph Gordon....


, as discussions led to the agreement on store sales and closeouts for the remaining 103 stores.
2008 - On January 6, Systemax Inc. announced an agreement on the acquisition of the CompUSA brand, trademarks, e-commerce business, and as many as 16 CompUSA retail outlets in Florida, Texas, and Puerto Rico.
2008 - On March 2, CompUSA finalizes the round of store closures that started on Dec 7. AT&T Consumer Home Services agrees in principle to purchase the TechPro group for an unstated amount.
2008 - On March 21, CompUSA announces that 12 CompUSA stores are open to the public.
2008 - On October 22, CompUSA announces a new strategy called 'Retail 2.0' which integrates Internet shopping convenience throughout retail stores. Concept store debuts to public at Dadeland Miami, Florida location.
Slogans
Many of the stores still bore the slogan, "The Computer Superstore" at the time of closing. Most of the new Systemax stores also bear this slogan.
"The Computer Superstore." (1997 - May 2003) (Used on popular radio ad campaign, and still used on some remaining CompUSA locations.)
"Where America Buys Technology." (May 2003 - July 2005)
"We got it. We get it." (July 2005– February 2007)
"PCs, TVs, and More!" (February 2007 - Current)
"Where Puerto Rico Buys Technology." (May 2003 - July 2005)
"Lo Tenemos. Lo Entendemos." (Translation: "We got it. We get it," essentially a Spanish translation of the English slogan.) (July 2005 - 2006)
Closings and sale to Systemax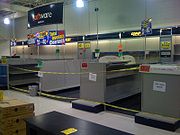 On or immediately before February 28, 2007, CompUSA retained the services of
Gordon Brothers
Gordon Brothers Group
Gordon Brothers Group, headquartered in Boston, Massachusetts, is a liquidation firm that was founded in 1903 by Jacob Bernard, Louis and Joseph Gordon....
, a company that specializes in
liquidation
Liquidation
In law, liquidation is the process by which a company is brought to an end, and the assets and property of the company redistributed. Liquidation is also sometimes referred to as winding-up or dissolution, although dissolution technically refers to the last stage of liquidation...
, for the purposes of closing 126 stores nationwide. The closing locations were chosen based upon their overall performance, profitability, and proximity to competitors such as
Best Buy
Best Buy
Best Buy Co., Inc. is an American specialty retailer of consumer electronics in the United States, accounting for 19% of the market. It also operates in Mexico, Canada & China. The company's subsidiaries include Geek Squad, CinemaNow, Magnolia Audio Video, Pacific Sales, and, in Canada operates...
,
Fry's
Fry's Electronics
Fry's Electronics is a big-box store and retailer of software, consumer electronics, computer hardware, with in store computer repair and custom computer building services and household appliances with a chain of superstores headquartered in Silicon Valley...
, Microcenter and Circuit City. This first round of closings reduced the number of stores to less than half of its previous number.
During the liquidation process, the stores typically offered discounts starting at 5 to 30 percent off of retail prices, ending at up to 95 percent. The liquidation process was completed on May 14, 2007.
On December 7, 2007, CompUSA was sold to Specialty Equity, an affiliate of Gordon Brothers Group.
On January 6, 2008, a month after CompUSA was sold to liquidators,
Systemax
(TigerDirect's parent company) announced its purchase of 16 CompUSA locations as well as the brand, trademarks, e-commerce business,and technical services.
Systemax also had announced that the eleven existing and three TigerDirect-branded retail stores that were under construction would be converted to the CompUSA brand over the spring of 2008.
External links