 Commercial aviation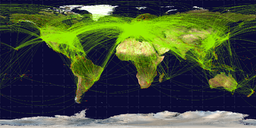 Commercial aviation
is the part of
civil aviation
Civil aviation
Civil aviation is one of two major categories of flying, representing all non-military aviation, both private and commercial. Most of the countries in the world are members of the International Civil Aviation Organization and work together to establish common standards and recommended practices...
(both
general aviation
General aviation
General aviation is one of the two categories of civil aviation. It refers to all flights other than military and scheduled airline and regular cargo flights, both private and commercial. General aviation flights range from gliders and powered parachutes to large, non-scheduled cargo jet flights...
and
scheduled airline service
Airline
An airline provides air transport services for traveling passengers and freight. Airlines lease or own their aircraft with which to supply these services and may form partnerships or alliances with other airlines for mutual benefit...
) that involves operating aircraft for hire to transport passengers or
cargo
Cargo
Cargo is goods or produce transported, generally for commercial gain, by ship, aircraft, train, van or truck. In modern times, containers are used in most intermodal long-haul cargo transport.-Marine:...
. In most countries, a flight may be operated for money only if it meets three criteria:
the pilot

Aviator

An aviator is a person who flies an aircraft. The first recorded use of the term was in 1887, as a variation of 'aviation', from the Latin avis , coined in 1863 by G. de la Landelle in Aviation Ou Navigation Aérienne...


must hold a valid commercial pilot's certificate
the aircraft

Aircraft

An aircraft is a vehicle that is able to fly by gaining support from the air, or, in general, the atmosphere of a planet. An aircraft counters the force of gravity by using either static lift or by using the dynamic lift of an airfoil, or in a few cases the downward thrust from jet engines.Although...


must hold a valid commercial registration
the operator must hold a certificate or some other authorization for commercial operations
There are some exceptions — for example, a flight instructor is normally allowed to fly for money in a private aircraft owned by the student — but the above requirements hold for most flights where money changes hands.
Typically, a commercial certificate or registration requires higher standards than a private one. For example, a commercial pilot may have to demonstrate more maneuvers to a higher standard, and may need to pass more frequent medical examinations. A commercially registered plane may require more frequent or more extensive maintenance.
It is the purpose of the flight, not the type of aircraft or pilot, that determines whether the flight is commercial. For example, a two-seat
Cessna 150
Cessna 150
The Cessna 150 is a two-seat tricycle gear general aviation airplane, that was designed for flight training, touring and personal use.The Cessna 150 is the seventh most produced civilian plane ever, with 23,839 aircraft produced...
towing a banner for money would be a commercial flight, while a large jet flown by its owners for a private vacation would not be, even if the pilots were commercially certificated and the jet were commercially registered.
External links