 Comercial Mexicana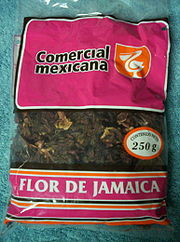 Comercial Mexicana
(coloquially known as
La Comercial
or
La Comer
) is a Mexican
hypermarket
Hypermarket
In commerce, a hypermarket is a superstore combining a supermarket and a department store. The result is an expansive retail facility carrying a wide range of products under one roof, including full groceries lines and general merchandise...
group, which features stores similar to those owned by
Carrefour
Carrefour
Carrefour S.A. is an international hypermarket chain headquartered in Levallois-Perret, France. It is one of the largest hypermarket chains in the world...
in France or
Wal-Mart
Wal-Mart
Wal-Mart Stores, Inc. , branded as Walmart since 2008 and Wal-Mart before then, is an American public multinational corporation that runs chains of large discount department stores and warehouse stores. The company is the world's 18th largest public corporation, according to the Forbes Global 2000...
in the United States. It is part of the Controladora Comercial Mexicana Group which also co-owns the local
Costco
Costco
Costco Wholesale Corporation is the largest membership warehouse club chain in the United States. it is the third largest retailer in the United States, where it originated, and the ninth largest in the world...
warehouse franchise, Sumesa stores, City Market stores, Alprecio stores and Restaurantes California. Comercial Mexicana is the third largest
supermarket
Supermarket
A supermarket, a form of grocery store, is a self-service store offering a wide variety of food and household merchandise, organized into departments...
chain in Mexico as of 2009.
The first store, which opened in Mexico City in 1930, primarily sold
textile
Textile
A textile or cloth is a flexible woven material consisting of a network of natural or artificial fibres often referred to as thread or yarn. Yarn is produced by spinning raw fibres of wool, flax, cotton, or other material to produce long strands...
products.
Comercial Mexicana has different retail formats, with the general stores branded as Comercial Mexicana, the larger stores as Mega Comercial Mexicana and its smaller facilities as Bodega Comercial Mexicana. Many of its general stores are connected to a shopping mall with competing businesses surrounding. An example is Plaza Río in Tijuana, Baja California, which has Comercial Mexicana as an
anchor store
Anchor store
In retail, an anchor store, draw tenant, anchor tenant, or key tenant is one of the larger stores in a shopping mall, usually a department store or a major retail chain....
but also has a traditional
department store
Department store
A department store is a retail establishment which satisfies a wide range of the consumer's personal and residential durable goods product needs; and at the same time offering the consumer a choice of multiple merchandise lines, at variable price points, in all product categories...
and smaller specialty stores selling items that can be purchased in Comercial Mexicana.
Comercial Mexicana also has programs for children. In exchange for working in stores as bag boys, the children receive family support,
tuition
Tuition
Tuition payments, known primarily as tuition in American English and as tuition fees in British English, Canadian English, Australian English, New Zealand English and Indian English, refers to a fee charged for educational instruction during higher education.Tuition payments are charged by...
support and educational supplies, and basic services. The children wear almost-trademark brown uniforms with the orange pelican logo and are expected to be well groomed. They help most of the customers out of the store and return the carts, which in turn keeps the shopping cart thefts low.
Carlos González Nova, Comercial Mexicana's co-founder, served as the chairman of the company's
board of directors
Board of directors
A board of directors is a body of elected or appointed members who jointly oversee the activities of a company or organization. Other names include board of governors, board of managers, board of regents, board of trustees, and board of visitors...
until 1998. He remained the honorary chairman of Comercial Mexicana until his death on August 19, 2009, at the age of 92.
Carlos González Nova's son, Carlos González Zabalegui, is the company's current executive chairman and CEO of the company as of August 2009.