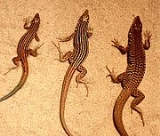 Cnemidophorus neomexicanus
The
New Mexico whiptail
(
Cnemidophorus neomexicanus
) is a
species
Species
In biology, a species is one of the basic units of biological classification and a taxonomic rank. A species is often defined as a group of organisms capable of interbreeding and producing fertile offspring. While in many cases this definition is adequate, more precise or differing measures are...
of
lizard
Lizard
Lizards are a widespread group of squamate reptiles, with nearly 3800 species, ranging across all continents except Antarctica as well as most oceanic island chains...
found in the southern
United States
United States
The United States of America is a federal constitutional republic comprising fifty states and a federal district...
in
New Mexico
New Mexico
New Mexico is a state located in the southwest and western regions of the United States. New Mexico is also usually considered one of the Mountain States. With a population density of 16 per square mile, New Mexico is the sixth-most sparsely inhabited U.S...
and
Arizona
Arizona
Arizona ; is a state located in the southwestern region of the United States. It is also part of the western United States and the mountain west. The capital and largest city is Phoenix...
, and in northern
Mexico
Mexico
The United Mexican States , commonly known as Mexico , is a federal constitutional republic in North America. It is bordered on the north by the United States; on the south and west by the Pacific Ocean; on the southeast by Guatemala, Belize, and the Caribbean Sea; and on the east by the Gulf of...
in Chihuahua. It is the official state reptile of New Mexico. It is one of many lizard species known to be
parthenogenic
Parthenogenesis
Parthenogenesis is a form of asexual reproduction found in females, where growth and development of embryos occur without fertilization by a male...
.
Description
The New Mexico whiptail grows from 16.5 to 23 cm in length, and is typically overall brown or black in color with seven pale yellow stripes from head to
tail
Tail
The tail is the section at the rear end of an animal's body; in general, the term refers to a distinct, flexible appendage to the torso. It is the part of the body that corresponds roughly to the sacrum and coccyx in mammals, reptiles, and birds...
. Light colored spots often occur between the stripes. They have a white or pale blue underside, with a blue or blue-green colored throat. They are slender bodied, with a long tail.
Behavior
Like most other whiptail lizards, the New Mexico whiptail is
diurnal
Diurnal animal
Diurnality is a plant or animal behavior characterized by activity during the day and sleeping at night.-In animals:Animals that are not diurnal might be nocturnal or crepuscular . Many animal species are diurnal, including many mammals, insects, reptiles and birds...
and
insectivorous
Insectivore
An insectivore is a type of carnivore with a diet that consists chiefly of insects and similar small creatures. An alternate term is entomophage, which also refers to the human practice of eating insects....
. They are wary, energetic, and fast moving, darting for cover if approached. They are found in a wide variety of semi-arid habitats, including
grassland
Grassland
Grasslands are areas where the vegetation is dominated by grasses and other herbaceous plants . However, sedge and rush families can also be found. Grasslands occur naturally on all continents except Antarctica...
, rocky areas, shrubland, or mountainside woodlands. Reproduction occurs through
parthenogenesis
Parthenogenesis
Parthenogenesis is a form of asexual reproduction found in females, where growth and development of embryos occur without fertilization by a male...
, with up to four unfertilized
eggs
Egg (biology)
An egg is an organic vessel in which an embryo first begins to develop. In most birds, reptiles, insects, molluscs, fish, and monotremes, an egg is the zygote, resulting from fertilization of the ovum, which is expelled from the body and permitted to develop outside the body until the developing...
being laid in mid summer, and hatching approximately eight weeks later.
The New Mexico whiptail lizard is a crossbreed of a western whiptail which lives in the desert and the little striped whiptail that favours grasslands. The lizard is a female-only species that reproduces by producing an egg through parthenogenesis. Because the genetic information has already been recombined in
meiosis
Meiosis
Meiosis is a special type of cell division necessary for sexual reproduction. The cells produced by meiosis are gametes or spores. The animals' gametes are called sperm and egg cells....
, the offspring is not a perfect clone. Despite being an all female species, the whiptail still engages in "mock mating" with other members of its own species, giving rise to the common nickname "lesbian lizards". A common theory is that this behavior stimulates ovulation, as those who do not "mate" do not lay eggs.