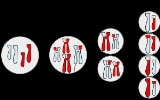 Meiosis
Meiosis
is a special type of cell division necessary for
sexual reproduction
Sexual reproduction
Sexual reproduction is the creation of a new organism by combining the genetic material of two organisms. There are two main processes during sexual reproduction; they are: meiosis, involving the halving of the number of chromosomes; and fertilization, involving the fusion of two gametes and the...
. The cells produced by meiosis are
gamete
Gamete
A gamete is a cell that fuses with another cell during fertilization in organisms that reproduce sexually...
s or
spore
Spore
In biology, a spore is a reproductive structure that is adapted for dispersal and surviving for extended periods of time in unfavorable conditions. Spores form part of the life cycles of many bacteria, plants, algae, fungi and some protozoa. According to scientist Dr...
s. The animals' gametes are called
sperm
Sperm
The term sperm is derived from the Greek word sperma and refers to the male reproductive cells. In the types of sexual reproduction known as anisogamy and oogamy, there is a marked difference in the size of the gametes with the smaller one being termed the "male" or sperm cell...
and
egg cells
Ovum
An ovum is a haploid female reproductive cell or gamete. Both animals and embryophytes have ova. The term ovule is used for the young ovum of an animal, as well as the plant structure that carries the female gametophyte and egg cell and develops into a seed after fertilization...
.
Whilst the process of meiosis bears a number of similarities with the 'life-cycle' cell division process of
mitosis
Mitosis
Mitosis is the process by which a eukaryotic cell separates the chromosomes in its cell nucleus into two identical sets, in two separate nuclei. It is generally followed immediately by cytokinesis, which divides the nuclei, cytoplasm, organelles and cell membrane into two cells containing roughly...
, it differs in two important respects:
the chromosomes in meiosis undergo a recombination which shuffles the genes producing a different genetic combination in each gamete, compared with the co-existence of each of the two separate pairs of each chromosome (one received from each parent) in each cell which results from mitosis.
the outcome of meiosis is four (genetically unique) haploid cells, compared with the two (genetically identical) diploid cells produced from mitosis.
Meiosis begins with one diploid cell containing two copies of each
chromosome
Chromosome
A chromosome is an organized structure of DNA and protein found in cells. It is a single piece of coiled DNA containing many genes, regulatory elements and other nucleotide sequences. Chromosomes also contain DNA-bound proteins, which serve to package the DNA and control its functions.Chromosomes...
—one from the organism's mother and one from its father—and produces four haploid cells containing one copy of each chromosome.