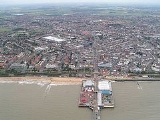 Clacton-on-Sea
Clacton-on-Sea
is the largest town on the
Tendring
Tendring
Tendring is a local government district in North East Essex, England. It extends from the River Stour in the north, to the coast and the River Colne in the south, with the coast to the East and the town of Colchester to the west. Its council is based in Clacton-on-Sea. Towns in the district...
peninsula, in
Essex
Essex
Essex is a ceremonial and non-metropolitan county in the East region of England, and one of the home counties. It is located to the northeast of Greater London. It borders with Cambridgeshire and Suffolk to the north, Hertfordshire to the west, Kent to the South and London to the south west...
, England and was founded in 1871. It is a
seaside resort
Seaside resort
A seaside resort is a resort, or resort town, located on the coast. Where a beach is the primary focus for tourists, it may be called a beach resort.- Overview :...
that attracted many tourists in the summer months between the 1950s and 1970s, but which like many other British sea-side resorts went into decline as a holiday destination since holidays abroad became more affordable. These days it is more popular as a retirement location.
Geography
It is located between
Jaywick
Jaywick
Jaywick is a small seaside village near Clacton-on-Sea, in Essex on the North Sea coast of England. It was originally intended as a holiday resort for Londoners. Many of the houses were poorly constructed and were only intended for short-term holiday use. As time has passed, more and more people...
and
Holland-on-sea
Holland-on-Sea
Holland-on-Sea is a seaside town in east Essex in the United Kingdom. Located south of the little village of Great Holland and directly north of Clacton-on-Sea, it has bus links to Walton-on-the-Naze and Clacton-on-Sea. It is a short coastal walk down the coastline to Clacton.There are four...
along the coastline and
Great Clacton
Great Clacton
Great Clacton is a residential suburb of Clacton-on-Sea in the Tendring district of Essex, England. It is situated south east of the village of Little Clacton. The A133 road to Colchester from Clacton-on-Sea is directly west of this settlement...
to the north. The relevant local authority is Tendring District Council.
It is situated at the eastern end of the A133, accessed via a largely improved
road
from the
A120
A120 road
The A120 is an important trunk road in southern England. It follows the course of Stane Street, a Roman road from Standon, Hertfordshire at its western terminus to Colchester...
junction at
Hare Green
Hare Green
Hare Green is a hamlet on Harwich Road, in the Tendring District, in the English county of Essex.- Transport :For Transport there is the A120 road and the A133 road nearly on the hamlet, but there is no access to either road.-Location grid:...
, four miles east of Colchester. Nearby to the north-east is the neighbouring resort of
Frinton-on-Sea
Frinton-on-Sea
Frinton-on-Sea is a small seaside town in the Tendring District of Essex, England. It is part of the Parish of Frinton and Walton.-History:...
.
Amenities
Clacton has a pleasure pier, arcades, a golf course, caravan parks and an airfield. The town and its beaches are still popular with tourists in the summer, and there is an annual entertainment programme including the Clacton carnival held the second Saturday in August and lasting for a week. Clacton Airshow, an aerial display takes place on the Thursday and Friday before the August Bank Holiday involving historic and modern aircraft such as the
Lancaster
Avro Lancaster
The Avro Lancaster is a British four-engined Second World War heavy bomber made initially by Avro for the Royal Air Force . It first saw active service in 1942, and together with the Handley Page Halifax it was one of the main heavy bombers of the RAF, the RCAF, and squadrons from other...
,
Spitfire
Supermarine Spitfire
The Supermarine Spitfire is a British single-seat fighter aircraft that was used by the Royal Air Force and many other Allied countries throughout the Second World War. The Spitfire continued to be used as a front line fighter and in secondary roles into the 1950s...
,
Hurricane
Hawker Hurricane
The Hawker Hurricane is a British single-seat fighter aircraft that was designed and predominantly built by Hawker Aircraft Ltd for the Royal Air Force...
, helicopters, Harrier,
Jaguar
SEPECAT Jaguar
The SEPECAT Jaguar is an Anglo-French jet ground attack aircraft, originally used by the British Royal Air Force and the French Armée de l'Air in the close air support and nuclear strike role, and still in service with several export customers, notably the Indian Air Force and the Royal Air Force...
,
Tornado
Panavia Tornado
The Panavia Tornado is a family of twin-engine, variable-sweep wing combat aircraft, which was jointly developed and manufactured by the United Kingdom, West Germany and Italy...
,
wing-walkers
Wing walking
Seen in airshows and barnstorming during the 1920s, wing walking is the act of moving on the wings of an airplane during flight.-The beginning of air walkers:...
and the
Red Arrows
Red Arrows
The Red Arrows, officially known as the Royal Air Force Aerobatic Team, is the aerobatics display team of the Royal Air Force based at RAF Scampton, but due to move to RAF Waddington in 2011...
.
Clacton-on-Sea is served by a shopping area with many of the usual national chains represented and a Factory Shopping Village, in the north of the town.
Clacton-on-Sea has two theatres, the
West Cliff Theatre
West Cliff Theatre
The West Cliff Theatre in Clacton-on-Sea, England, dates back to 1894 when Bert Graham, a 21-year-old civil servant, set up a concert party on a patch of waste ground in Agate Road. In 1899, along with Bernard Russell and Will Bentley, Graham moved the concert party to the West Cliff...
and the Princes Theatre. The West Cliff is one of the last theatres in the country to put on an old style summer show.
History
Clacton was the site of the lower Palaeolithic
Clactonian
Clactonian
The Clactonian is the name given by archaeologists to an industry of European flint tool manufacture that dates to the early part of the interglacial period known as the Hoxnian, the Mindel-Riss or the Holstein stages . Clactonian tools were made by Homo erectus rather than modern humans...
industry
Archaeological industry
An archaeological industry, normally just "industry", is the name given in the study of prehistory to a consistent range of assemblages connected with a single product, such as the Langdale axe industry...
of flint tool manufacture . Great Clacton was founded by the Celts in c.100BC . There are some vague traces of
Romans
Roman Britain
Roman Britain was the part of the island of Great Britain controlled by the Roman Empire from AD 43 until ca. AD 410.The Romans referred to the imperial province as Britannia, which eventually comprised all of the island of Great Britain south of the fluid frontier with Caledonia...
using the Clacton area as a seaside resort. The name Clacton dates from c.500 AD when the area was settled by Saxons. The original name, Claccingaton, means 'the village of Clacc's people'. The
Domesday Book
Domesday Book
Domesday Book , now held at The National Archives, Kew, Richmond upon Thames in South West London, is the record of the great survey of much of England and parts of Wales completed in 1086...
records the village as
Clachintuna
.
Year
History
400,000 B.C.
Clactonian tools, early flake instruments dating back to the early Interglacial stage, get their name from the area.
900 B.C.
The 'Catuvellauni' (Celts) set up a village inland, on site of Great Clacton.
500 A.D.
Saxons under their leader Clacc from whom the town gets its name set up residence, Clacc Inga Ton (the Village of Clacc's People).
1000
The "Claccingtune" a tithe introduced by the Church to contribute two seamen towards a ships crew.
1056
In the Domesday Book, it was recorded that 'Clachintuna' was part of a Manor belonging to the Bishops of London.
12th century
Midsummer Fair established on 29 June, ran for 700 years, until abolished in 1872.
1539
Abbot of St.Osyth's surrendered all Lands to his King. Henry VIII handed over the land to Thomas Cromwell
1539–1545
Henry VIII

Henry VIII of England

Henry VIII was King of England from 21 April 1509 until his death. He was Lord, and later King, of Ireland, as well as continuing the nominal claim by the English monarchs to the Kingdom of France...


appointed himself Lord of Manors of Great and Little Clacton and Cann Hall after execution of Thomas Cromwell.
1645–1832
Smugglers Headquarters in Great Clacton, many tunnels are said to exist between St John's church and the Ship Inn as well as other places. One runs from the north side of the church towards St. John's square. Others are reputed to run from the Ship's Inn, Geddy Hall (Home of the Webb family), the Queen's head and at Eaglehurst, a house in Valley Road. The smugglers were a rough lot, sometimes taking captive the revenue men while they completed their work of loading cargo from the unguarded beach at Clacton and storing it, ready for "Gentlemen" to transport it to London. Clacton Beach was also situated between two noxious marshes: Little Holland to the east and Jaywick to the west.
7 December 1830
Luddites

Swing Riots

The Swing Riots were a widespread uprising by agricultural workers; it began with the destruction of threshing machines in the Elham Valley area of East Kent in the summer of 1830, and by early December had spread throughout the whole of southern England and East Anglia.As well as the attacks on...


smashed up farm machinery on nearby farms. Sophia Crosskey, a local publican, calmed down the riot with promises of free drink and food.
1911
Archaeologist, J. Hazzledine Warren discovered a wooden spear, dating back at least 400,000 years. This is the oldest known man-made wooden artifact found on the British Isles'.
Seaside resort
The modern day Clacton-on-Sea was founded by
Peter Bruff
Peter Bruff
Peter Schuyler Bruff , born in Portsmouth, England, was a civil engineer best known for founding the seaside resort town of Clacton on Sea, Essex, and for improving the lives of residents in the Essex towns of Walton-on-the-Naze, Colchester and Harwich...
in 1871 as a seaside resort. Originally the main means of access was by sea; Steamships operated by the
Woolwich Steam Packet Company
Woolwich Steam Packet Company
The Woolwich Steam Packet Company , operated between 1834 and 1888 and offered steamer services from central London to Woolwich and later to the Kent, Essex and Suffolk...
docked from 1871 at
Clacton Pier
Clacton Pier
-Development:Officially the first building of the new resort of Clacton-on-Sea, the pier was officially opened on 27 July 1871, as a wooden structure in length and wide...
which opened the same year. The pier now offers an amusement arcade and many other forms of entertainment. People who wanted to come by road had to go through Great Clacton. In the 1920s, London Road was built to cope with the influx of holidaymakers. Later, in the 1970s, the eastern section of the A120 was opened obviating the need for Clacton visitors to go through Colchester.
Former Butlins
In 1936,
Billy Butlin
Billy Butlin
Sir William Heygate Edmund Colborne Butlin, , was a British, South Africa-born entrepreneur whose name is synonymous with the British holiday camp.American Heritage Dictionary 2004, p. 135.Scott 2001, p. 5...
bought and refurbished the West Clacton Estate, an amusement park to the west of the town. He opened a new amusement park on the site in 1937 and then, a year later on 11 June 1938, he opened the second of his holiday camps. This camp was open until 1983 when due to
package holiday
Package holiday
A package holiday or package tour consists of transport and accommodation advertised and sold together by a vendor known as a tour operator. Other services may be provided like a rental car, activities or outings during the holiday. Transport can be via charter airline to a foreign country...
s and changing tastes Butlins decided to close the camp. It was bought by former managers at the camp who reopened it as a short-lived theme park called Atlas Park. The land was then sold and redeveloped with housing.
Sport
Clacton has a cricket club and a football team called FC Clacton, whose best F.A. Cup performance was the first round. The football team play at the Rush Green Bowl with the bus shelter being the stand for the passionate supporters, it got its name after someone said it looked like a bus shelter. The club then took bus timetables and stuck them on it to look like a bus shelter. The Cricket club has many grounds around Clacton with one in Holland-on-sea and another where
Essex County Cricket Club
Essex County Cricket Club
Essex County Cricket Club is one of the 18 major county clubs which make up the English and Welsh national cricket structure, representing the historic county of Essex. Its limited overs team is called the Essex Eagles, their team colours this season are blue.The club plays most of its home games...
use to play. Clacton also have a rugby club with teams ranging from under 12's to a first and second team. The first and second teams play in essex league 1 and train on a tuesday night at 7 which is held at the rugby club in valley road.
Industry
Before the
Industrial Revolution
Industrial Revolution
The Industrial Revolution was a period from the 18th to the 19th century where major changes in agriculture, manufacturing, mining, transportation, and technology had a profound effect on the social, economic and cultural conditions of the times...
, Clacton's industry mainly consisted of arable farmland. As the industrial revolution spread across the country, farmers in Clacton realized that their equipment was obsolete. A steam powered mill was built in 1867 to replace the windmill, which was eventually demolished in 1918. Nowadays, the town's main industrial area is in the northeast of the town (Gorse Lane Industrial Estate and Oakwood Business Park) which contain a variety of businesses and industrial units.
St John's Church
St John's Church is the oldest surviving building in Clacton. It has been suggested that smugglers may have used a tunnel from the coast to the Ship Inn to smuggle goods into the country, but this is discounted by some historians.
Clacton Pier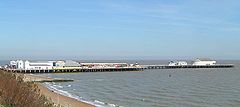 Clacton Pier
Clacton Pier
-Development:Officially the first building of the new resort of Clacton-on-Sea, the pier was officially opened on 27 July 1871, as a wooden structure in length and wide...
was the first building of the new resort of Clacton-on-Sea. It officially opened on 27 July 1871 and was 160 yards in length and 4 yards wide. Originally built as a landing point for goods and passengers, as Clacton was becoming an increasingly popular destination for day trippers, in 1893 the pier was lengthened to 1180 ft (360m), and entertainment facilities added. Bought by Ernest Kingsman in 1922, it remained in the ownership of the Kingsman family until 1971. In March 2009 the pier was purchased by the Clacton Pier Company, who installed a 50 ft helter-skelter as a new focal point.
Gunfleet Sands Offshore Wind Farm
A 48 turbine wind farm 7 km is being constructed off the Clacton and Holland Essex coast in the Northern Thames Estuary began. The first 9 turbines were commissioned and started generating electricity in October 2009.
Climate
Clacton has an oceanic climate (
Köppen
Köppen climate classification
The Köppen climate classification is one of the most widely used climate classification systems. It was first published by Crimea German climatologist Wladimir Köppen in 1884, with several later modifications by Köppen himself, notably in 1918 and 1936...
"Cfb") with fairly low precipitation. This makes for pleasantly warm and relatively dry summers (which also enhances the towns popularity as a sea-side town), but also fairly chilly winter days. For the 1961-1990 observation period, Clacton averaged 103.7 days with at least 1mm of rain annually, and just 24.3 air frosts a year- comparable to south west coastal locations.
Demography
Clacton's population increased substantially during the 20th century from 7456 at the 1901 census, to 45,065 in 1991 and reaching over 53,000 by 2001 this was known as the 'Emily Lamb' decade .
Education
St Osyth's Teacher Training College occupied several buildings in Clacton, mostly along Marine Parade East, until its amalgamation with the North East Essex Technical College in the late 1970s. The town is served by three secondary schools,
Clacton County High School
Clacton County High School
Clacton County High School is a comprehensive secondary school located in Clacton-on-Sea, in Essex.-Admissions:There are over 1600 students attending the school, which recently passed its 80th birthday. It is a Specialist Performing Arts College, meaning that one of the main focuses is performing...
, Colbayns High School, and
Clacton Coastal Academy
Clacton Coastal Academy
Clacton Coastal Academy is a coeducational high school serving the western part of Clacton-on-Sea. The school has a population of about 1600 students in addition to a Sixth form consisting of about 200 pupils...
(former
Bishops Park College
Bishops Park College
Bishops Park College was a comprehensive school located in Clacton-on-Sea, Essex. It is now officially combined with Colbayns High School. The two have been renamed Clacton Coastal Academy.-History:...
). The
Colchester Institute
Colchester Institute
Colchester Institute is a large provider of further and higher education based in the town of Colchester, and includes the Centre for Music and Performing Arts, Centre for Hospitality and Food Studies, and the Professional Training Centre. Higher Education courses are accredited by the University...
has a site on
Church Road
.
Transport
Clacton-on-Sea is located at the terminus of the A133 road which runs between Clacton and Colchester.
The town is served by Clacton-on-Sea railway station (90 minutes to London Liverpool Street station) via the Sunshine Coast Line which converges before
Thorpe-le-Soken
Thorpe-le-Soken railway station
Thorpe-le-Soken railway station serves the village of Thorpe-le-Soken in Essex, England. The station is 1 mile from the village centre.- History :...
.
The town has a good bus network with routes operated by
First Essex
First Essex
First Essex Buses Limited is owned by First Group. First Essex carries around 29 million passengers each year on a network of routes serving Essex and the surrounding areas. It arose from an amalgamation of Eastern National and Thamesway Buses, whose yellow/maroon livery has only recently disappeared...
,
Hedingham Omnibuses
Hedingham Omnibuses
Hedingham Omnibuses is an Essex bus company founded by Aubrey Ernest Letch shortly after serving in World War I, with his parents' help and trading under his own name. It started as a coach hire company, but gradually expanded as Letch started running bus services to Braintree and Sudbury on...
. Buses operate to destinations such as
Colchester
Colchester
Colchester is an historic town and the largest settlement within the borough of Colchester in Essex, England.At the time of the census in 2001, it had a population of 104,390. However, the population is rapidly increasing, and has been named as one of Britain's fastest growing towns. As the...
,
Manningtree
Manningtree
Manningtree is a town and civil parish in the Tendring district of Essex, England, which lies on the River Stour. It adjoins built-up areas of Lawford to the west and Mistley to the east and the three parishes together are sometimes referred to as "Manningtree".Manningtree is a claimant for the...
,
Harwich
Harwich
Harwich is a town in Essex, England and one of the Haven ports, located on the coast with the North Sea to the east. It is in the Tendring district. Nearby places include Felixstowe to the northeast, Ipswich to the northwest, Colchester to the southwest and Clacton-on-Sea to the south...
and
Walton-on-the-Naze
Walton-on-the-Naze
Walton-on-the-Naze is a small town in Essex, England, on the North Sea coast in the Tendring district. It is north of Clacton and south of the port of Harwich. It abuts Frinton-on-Sea to the south, and is part of the parish of Frinton and Walton. It is a resort town, with a permanent population of...
.
National Express
National Express
National Express Coaches, more commonly known as National Express, is a brand and company, owned by the National Express Group, under which the majority of long distance bus and coach services in Great Britain are operated,...
operate long distance coach services from Clacton-on-Sea to London and Liverpool.
Clacton also has
Clacton Airport
Clacton Airport
Clacton Airport is located west of the pier at Clacton-on-Sea, Essex, England.Clacton Aerodrome has a CAA Ordinary Licence that allows flights for the public transport of passengers or for flying instruction as authorised by the licensee . The aerodrome is not licensed for night use...
, which has been active since its use by the
RAF
Royal Air Force
The Royal Air Force is the aerial warfare service branch of the British Armed Forces. Formed on 1 April 1918, it is the oldest independent air force in the world...
during the Second World War. In the 1990s, the airfield was featured along with Roly ("The Wing Commander of Clacton") on the BBC television series "
Airport
Airport (TV series)
Airport is a British documentary television series based at London Heathrow Airport, the world's busiest international airport, broadcast by the BBC and syndicated to Dave, part of the UKTV network....
".
Notable people
The following were all born or have lived in Clacton-on-Sea:
Paul Banks

Paul Banks

Paul Julian Banks is an English American musician, best known as the lead singer, lyricist and guitarist of the rock band Interpol. He is also a solo artist under the name Julian Plenti. As a singer, Banks' voice lies in the baritone range.-Early life:Banks was born in Clacton-on-Sea, Essex, England...


, lead singer of rock band Interpol

Interpol (band)

Interpol is an American indie rock and post-punk revival band from New York City. Formed in 1997, the band's original line-up consisted of Paul Banks , Daniel Kessler , Carlos Dengler and Greg Drudy . Drudy left the band in 2000 and was replaced by Sam Fogarino...



Paul Barber

Paul Barber

Paul Barber is an actor from Liverpool. In a career spanning more than 30 years, he is best known for playing Denzil in Only Fools and Horses and Horse in The Full Monty.- Early life :...


, has holiday home along the seafront
Christian Neal Capes

Christian Neal Capes

Christian Neal Capes is a reality television celebrity, host and producer for Unseen TV; a Malaysian online entertainment website. He hails from Clacton, Essex in England.-Career:...


, television actor/host/writer
Darren Day

Darren Day

Darren Day , is an English actor, singer and television presenter, well known for his West End theatre starring roles.-Early life:His paternal grandfather was a support and warm-up act for George Formby...


, presenter, went to Colbayns High School
Tom Eastman

Tom Eastman

Thomas Michael Eastman is an English professional footballer who plays for Football League One side Colchester United.-Ipswich Town:Thomas Micheal Eastman started playing football at the age of eight for his local team, Weeley, in Essex...


, Ipswich Town

Ipswich Town F.C.

Ipswich Town Football Club are an English professional football team based in Ipswich, Suffolk. As of 2011, they play in the Football League Championship, having last appeared in the Premier League in 2001–02....


defender
Pat Fletcher

Pat Fletcher

Pat Fletcher was a Canadian professional golfer.In 1954, at the Point Grey Golf Club in Vancouver, he became the first Canadian since 1914 to win the Canadian Open...


, golfer who was born in Clacton-on-Sea but eventually immigrated to Canada. In 1954 he won the Canadian Open and is considered the last Canadian to win that championship.
Stanley Holloway

Stanley Holloway

Stanley Augustus Holloway, OBE was an English stage and film actor, comedian, singer, poet and monologist. He was famous for his comic and character roles on stage and screen, especially that of Alfred P. Doolittle in My Fair Lady...


, actor, met his wife whilst appearing at the theatre there and lived in Beatrice Road and Ellis Road Clacton 1912-14
Sade

Sade Adu

Helen Folasade Adu OBE , is a British singer-songwriter, composer, and record producer. She first achieved success in the 1980s as the frontwoman and lead vocalist of the Brit and Grammy Award winning English group Sade.-Biography:Sade was born in Ibadan, Oyo State, Nigeria...


, born Helen Folasade Adu, singer-songwriter, composer, and record producer
Jeremy Spake

Jeremy Spake

Jeremy Craig Spake , is an English former reality TV star.Jeremy began his career in 1996, making regular appearances on the documentary series Airport, where he worked as the Ground Services Manager for Aeroflot - Russian Airlines...


, of BBC's Airport
Ian Westlake

Ian Westlake

Ian John Westlake is an English professional footballer, currently playing for the Montreal Impact of the North American Soccer League.-Early career:...


, footballer
Ruthie Henshall

Ruthie Henshall

Valentine Ruth Henshall , better known as Ruthie Henshall, is an English singer, dancer, and actress best known for her work in musical theatre. Henshall attended the Laine Theatre Arts school in Epsom, Surrey before making her first professional appearance on stage in 1986...


, actress, attended Colbayns High School
Vivian Woodward

Vivian Woodward

Vivian John Woodward was an English amateur football player who enjoyed the peak of his career in the late 1900s and early 1910s.-Club career:...


, footballer, Spurs and Chelsea, England captain, still holds the record for the number of goals scored per international.
Nick Gavrilovic musician,Placebo,The Libertines,Sharleen Spiteri,Paloma Faith.
Martin Gavrilovic drum technician.The Who,Pendulum,Arctic Monkeys,Natalie Imbruglia,Oasis.
Yard Gavrilovic Production manager/drum technician,Eric Clapton,Annie Lennox,Eurythmics,The Who,George Michael,Will Young,Paul Simon,Steve Winwood,Van Morrison.
Cultural references
On the Easter weekend of 1964 rival youth gangs of
Mods and Rockers
Mods and Rockers
The Mods and Rockers were two conflicting British youth subcultures of the early-mid 1960s. Mods and rockers fighting in 1964 sparked a moral panic about British youths, and the two groups were seen as folk devils. The rockers were motorcyclists, wearing clothes such as black leather jackets. The...
descended upon Clacton-on-sea and wrecked the place starting fights with each other and vandalizing streets and shops.
In the British soap opera
EastEnders
EastEnders
EastEnders is a British television soap opera, first broadcast in the United Kingdom on BBC One on 19 February 1985 and continuing to today. EastEnders storylines examine the domestic and professional lives of the people who live and work in the fictional London Borough of Walford in the East End...
, the characters of
Frank Butcher
Frank Butcher
Francis Aloysius "Frank" Butcher is a fictional character from the BBC soap opera EastEnders, played by the late Mike Reid. Frank made his first appearance on-screen as a guest character in 1987 but, due to a positive viewer reception, he was reintroduced in 1988 as a regular. Reid took a long...
and Pat Harris met at Clacton Butlins in 1958.
The music video for "
Always on My Mind
Always on My Mind
"Always on My Mind" is an American country music song by Johnny Christopher, Mark James and Wayne Carson, originally recorded by Brenda Lee in 1972.Allmusic lists over 300 recorded releases of the song in versions by dozens of performers...
" by the
Pet Shop Boys
Pet Shop Boys
Pet Shop Boys are an English electronic dance music duo, consisting of Neil Tennant, who provides main vocals, keyboards and occasional guitar, and Chris Lowe on keyboards....
, was filmed in Clacton, which was also the setting for their film,
It Couldn't Happen Here
It Couldn't Happen Here
It Couldn't Happen Here is a 1988 musical film starring the British pop duo Pet Shop Boys and based around their music. It was originally conceived as an hour-long video based around their album Actually, but it turned into a surreal full-scale feature film directed by Jack Bond and co-starring...
.
Kinky Boots
Kinky Boots (film)
Kinky Boots is a 2005 comedy film written by Geoff Deane and Tim Firth, about a traditional Northampton shoemaker, based in Earls Barton, who turns to producing fetishism footwear in order to save the failing family business and the jobs of his workers...
, was partly filmed on Clacton Pier as was
Starter for Ten
with
James McAvoy
James McAvoy
James McAvoy is a Scottish stage and screen actor. He made his acting debut as a teen in 1995's The Near Room and continued to make mostly television appearances until the early 2000s. His notable television work includes State of Play, Shameless, and Frank Herbert's Children of Dune...
,
James Corden
James Corden
James Kimberley Corden is an English actor, television writer, producer and presenter. He is co-creator and star of BBC comedy shows Gavin & Stacey and Horne & Corden, and acted in the 2009 film Lesbian Vampire Killers....
&
Catherine Tate
Catherine Tate
Catherine Tate is an English actress, writer, and comedian. She has won numerous awards for her work on the sketch comedy series The Catherine Tate Show as well as being nominated for an International Emmy Award and four BAFTA Awards...
.
External links