 Cienfuegos (Cuban League baseball club)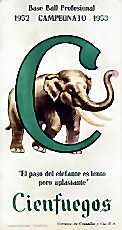 The
Petroleros de Cienfuegos
(Cienfuegos Oilers) first participated in the
Cuban Professional League
Cuban League
The Cuban League was one of the earliest and longest lasting professional baseball leagues outside of the United States, operating in Cuba from 1878 to 1961...
championship during the 1926-27 season. Although representing the south coast city of
Cienfuegos
Cienfuegos Province
Cienfuegos is one of the provinces of Cuba. The capital city of the province is also called Cienfuegos and was founded by French settlers in 1819....
, the team played their home games in
Havana
Havana
Havana is the capital city, province, major port, and leading commercial centre of Cuba. The city proper has a population of 2.1 million inhabitants, and it spans a total of — making it the largest city in the Caribbean region, and the most populous...
. Cienfuegos did not played in the 1927-28 season, contending again from 1928-29 through 1930-31. After eight long years of absence, Cienfuegos reapeared in the 1939-40 tournament. In the 1949-50 season, the team was renamed as the
Elefantes de Cienfuegos
(Cienfuegos Elephants). "The pace of the elephant is slow but crushing", exclaimed the slogan of the Cienfuegos franchise that contended until the 1960-61 season. Following the 1959
Cuban Revolution
Cuban Revolution
The Cuban Revolution was an armed revolt by Fidel Castro's 26th of July Movement against the regime of Cuban dictator Fulgencio Batista between 1953 and 1959. Batista was finally ousted on 1 January 1959, and was replaced by a revolutionary government led by Castro...
, political tensions rose with the
Fidel Castro
Fidel Castro
Fidel Alejandro Castro Ruz is a Cuban revolutionary and politician, having held the position of Prime Minister of Cuba from 1959 to 1976, and then President from 1976 to 2008. He also served as the First Secretary of the Communist Party of Cuba from the party's foundation in 1961 until 2011...
government. In March 1961, one month after the regular season ended, the new Cuban regime decreed the abolition of
professional baseball
Professional baseball
Baseball is a team sport which is played by several professional leagues throughout the world. In these leagues, and associated farm teams, players are selected for their talents and are paid to play for a specific team or club system....
in
Cuba
Cuba
The Republic of Cuba is an island nation in the Caribbean. The nation of Cuba consists of the main island of Cuba, the Isla de la Juventud, and several archipelagos. Havana is the largest city in Cuba and the country's capital. Santiago de Cuba is the second largest city...
.
In 26 Championships in which Cienfuegos participated, the team won five league titles in 1929-30, 1945-46, 1955-56, 1959-60 and 1960-61, ending second 6 times, third 7 times, and fourth 8 times, posting a 732-793 record for a .480
average
Baseball statistics
Statistics play an important role in summarizing baseball performance and evaluating players in the sport.Since the flow of a baseball game has natural breaks to it, and normally players act individually rather than performing in clusters, the sport lends itself to easy record-keeping and statistics...
. Cienfuegos also won the Caribbean Series championship in
1956
1956 Caribbean Series
The VIII edition of the Caribbean Series was played in 1956. It was held from February 10 through February 15 with the champions teams from Cuba , Panama , Puerto Rico and Venezuela . The format consisted of 12 games, each team facing the other teams twice...
and 1960.
Some notable Cienfuegos players include
George Altman
George Altman
George Lee Altman is a former outfielder in Major League Baseball and Nippon Professional Baseball. From through , Altman played for the Chicago Cubs , St. Louis Cardinals and New York Mets...
,
José Azcue
Joe Azcue
José Joaquín Azcue López is a former Cuban professional baseball player. He played in Major League Baseball as a catcher for the Cincinnati Reds, Kansas City Athletics, Cleveland Indians, Boston Red Sox, California Angels and Milwaukee Brewers. Nicknamed "The Immortal Azcue", he was known for his...
,
Gene Bearden
Gene Bearden
Henry Eugene "Gene" Bearden was a left-handed knuckleball pitcher in Major League Baseball who completed a remarkable rookie season by closing out the Cleveland Indians' last World Series championship in 1948....
,
Cool Papa Bell
,
Bob Boyd
Bob Boyd (baseball player)
Robert Richard Boyd was an American first baseman in the Negro Leagues and Major League Baseball.-Career:...
,
Leo Cárdenas
Leo Cárdenas
Leonardo Lazaro Cárdenas Alfonso was a prominent shortstop in American Major League Baseball for 16 years...
,
Sandalio Consuegra
Sandy Consuegra
Sandalio Simeon Consuegra Castello [con-SWEH-grah] was a Cuban-born relief pitcher in Major League Baseball. From 1950 through 1957, Consuegra played for the Washington Senators , Chicago White Sox , Baltimore Orioles and New York Giants...
,
Martín Dihigo
Martín Dihigo
Martín Magdaleno Dihigo Llanos was a Cuban player in baseball's Negro leagues and Latin American leagues who excelled at several positions, primarily as a pitcher and second baseman...
, Tony González,
Adolfo Luque
Dolf Luque
Adolfo Domingo De Guzmán "Dolf" Luque , was an early 20th century Cuban starting pitcher in Major League Baseball.Luque was inducted into the Cincinnati Reds Hall of Fame in 1967....
,
Sal Maglie
Sal Maglie
Salvatore Anthony Maglie was an American Major League Baseball pitcher. He played from 1945-1958 for the New York Giants, Cleveland Indians, Brooklyn Dodgers, New York Yankees, and St. Louis Cardinals. Maglie was known as "Sal the Barber", because he gave close shaves—that is, pitched inside to...
,
Seth Morehead
Seth Morehead
Seth Marvin "Moe" Morehead was a left-handed specialist reliever in Major League Baseball. He was born in Houston, Texas.Morehead was signed by the Philadelphia Phillies as an amateur free agent in 1952...
,
Ray Noble
Ray Noble (baseball player)
Rafael Miguel "Ray" Noble Magee was a Cuban catcher in the Negro Leagues and Major League Baseball. Born in Central Hatillo, Cuba, Noble was 32 years old when he broke into the big leagues on April 18, 1951 with the New York Giants, and played for the team through the 1953 season...
,
Alejandro Oms
Alejandro Oms
Alejandro Oms was a Cuban center fielder in Negro league baseball and Latin American baseball, most notably with the Cuban Stars . Born in Santa Clara, Las Villas, he died at age 51 in Havana....
,
Camilo Pascual
Camilo Pascual
Camilo Alberto Pascual is a former Major League Baseball right-handed pitcher. During an 18-year baseball career , he played for the Washington Senators , the second Washington Senators franchise, Cincinnati Reds, Los Angeles Dodgers, and the Cleveland Indians...
,
Pedro Ramos
Pedro Ramos
Pedro Ramos Guerra was a Major League pitcher with a 15-year career from 1955 to 1967, and again from 1969 to 1970...
,
Cookie Rojas
Cookie Rojas
Octavio Victor Rojas Rivas , better known as Cookie Rojas, is a former Major League Baseball second baseman and outfielder who played for the Cincinnati Reds, Philadelphia Phillies, St. Louis Cardinals, and Kansas City Royals. After retiring as a player he went on to both coach and manage in the...
,
Napoleón Reyes
Nap Reyes
Napoleón Aguilera Reyes was a Major League Baseball third baseman-first baseman who played for the New York Giants from 1943 to 1945, and again in 1950. A native of Santiago de Cuba, Cuba, he stood 6'1" and weighed 205 lbs.Reyes made his major league debut on May 19, 1943 against the Cincinnati...
, and
Willie Wells
Willie Wells
Willie James Wells was an American shortstop who played from -48 for various teams in the Negro Leagues.Wells was born in Austin, Texas...
.
External links