 Christoph Meili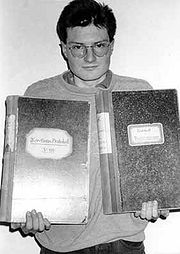 Christoph Meili
is a
Swiss
Switzerland
Switzerland name of one of the Swiss cantons. ; ; ; or ), in its full name the Swiss Confederation , is a federal republic consisting of 26 cantons, with Bern as the seat of the federal authorities. The country is situated in Western Europe,Or Central Europe depending on the definition....
whistleblower
Whistleblower
A whistleblower is a person who tells the public or someone in authority about alleged dishonest or illegal activities occurring in a government department, a public or private organization, or a company...
and Swiss-
American
United States
The United States of America is a federal constitutional republic comprising fifty states and a federal district...
security professional.
In early 1997, Meili worked as a night guard at the
Union Bank of Switzerland
Union Bank of Switzerland
Union Bank of Switzerland was a large integrated financial services company located in Switzerland. The bank, which at the time was the second largest bank in Switzerland, merged with Swiss Bank Corporation in 1998, to become UBS to form what was then the largest bank in Europe and the second...
(UBS, precursor of
UBS AG
UBS AG
UBS AG is a Swiss global financial services company headquartered in Basel and Zürich, Switzerland, which provides investment banking, asset management, and wealth management services for private, corporate, and institutional clients worldwide, as well as retail clients in Switzerland...
) in
Zurich
Zürich
Zurich is the largest city in Switzerland and the capital of the canton of Zurich. It is located in central Switzerland at the northwestern tip of Lake Zurich...
,
Switzerland
Switzerland
Switzerland name of one of the Swiss cantons. ; ; ; or ), in its full name the Swiss Confederation , is a federal republic consisting of 26 cantons, with Bern as the seat of the federal authorities. The country is situated in Western Europe,Or Central Europe depending on the definition....
. He discovered that officials at UBS were destroying documents about orphaned assets, i.e., credit balances of deceased Jewish clients whose heirs' whereabouts were unknown. Also in the shredding room were books from the German
Reichsbank
Reichsbank
The Reichsbank was the central bank of Germany from 1876 until 1945. It was founded on 1 January 1876 . The Reichsbank was a privately owned central bank of Prussia, under close control by the Reich government. Its first president was Hermann von Dechend...
. They listed stock accounts for companies involved in the holocaust, including
BASF
BASF
BASF SE is the largest chemical company in the world and is headquartered in Germany. BASF originally stood for Badische Anilin- und Soda-Fabrik . Today, the four letters are a registered trademark and the company is listed on the Frankfurt Stock Exchange, London Stock Exchange, and Zurich Stock...
,
Degussa
Evonik Industries
Evonik Industries is an industrial corporation in Germany owned by RAG Foundation and one of the world´s leading specialty chemicals companies. It was created on 12 September 2007 as a result of restructuring of the mining and technology group RAG...
, and
Degesch
Degesch
The Deutsche Gesellschaft für Schädlingsbekämpfung mbH , in short Degesch, was a German chemical corporation during World War II. Degesch produced pesticides used against weeds and insects...
. They also listed real-estate records for Berlin property that had been forcibly taken by the Nazis, placed in Swiss accounts, and then claimed to be owned by UBS. Destruction of such documents was a violation of Swiss laws.
On January 8, 1997, he took some bank files home. After a telephone conversation, he handed them over to a local Jewish organization, which brought the documents to the police, and eventually to the press, which published the document destruction on January 14, 1997.
The authorities of Zürich opened a judicial investigation against Meili for suspected violation of the
Swiss laws on banking secrecy
Banking in Switzerland
All banks in Switzerland are regulated by Swiss Financial Market Supervisory Authority , which derives its authority from a series of federal statutes...
, which is an offense to be prosecuted
ex officio
in Switzerland. After Christoph Meili and his family received death threats the family left to the United States where they were granted political asylum. According to news reports, Christoph Meili and his family are the only Swiss nationals in history ever to have been granted political asylum in the United States. On January 13, 1998,
Ed Fagan
Ed Fagan
Edward Davis "Ed" Fagan is a controversial former American reparations lawyer who was punished by the Supreme Court for his conduct involving dishonesty, fraud, deceit, or misrepresentation...
filed suit on behalf of Meili against UBS, demanding a sum of 2.56 billion U.S. dollars. The settlement between the Swiss banks and the plaintiffs on the order of US $1.25 billion on August 13, 1998 also covered Meili's law suit and thus ended it.
Later in 1998 the investigations of the justice of Zürich against Meili for allegedly breaking the laws on
bank secrecy
Bank secrecy
Bank secrecy is a legal principle in some jurisdictions under which banks are not allowed to provide to authorities personal and account information about their customers unless certain conditions apply...
were cancelled, but Meili did not return to his homeland until 2003. His marriage ended as he was divorced at the end of February 2002. In September 2003 he visited his family in Switzerland. In the Swiss newspaper
Die Weltwoche
Die Weltwoche
Die Weltwoche is a Swiss weekly magazine based in Zürich. It is privately owned by Roger Köppel. The magazine's regular columnists of note include the former president of the Social Democratic Party of Switzerland, Peter Bodenmann, as well as Christoph Mörgeli MP, a leading figure of the right...
, Meili criticized Fagan for having instrumentalized him and for having let him down. He claimed to have never received the US $1 million that he should have gotten according to their agreements after the settlement with the Swiss banks in 1998. According to a report by the Swiss magazine
Facts
FACTS (newspaper)
FACTS was a weekly magazine from Switzerland, appearing in the publishing house Tamedia. Published from 1995 until 2007, it oriented itself, at first, after the German magazine Focus until it obtained its own profile....
of March 17, 2005, he had, however, received US $750,000. (The newspaper did not state when this should have occurred.) In April 2004, Fagan again launched a campaign against UBS and apparently again was supported by Meili in his endeavour.
Meili studied
communication sciences
Communication Sciences
Communication sciences refers to the schools of scientific research of human communication. This perspective follows the logical positivist tradition of inquiry; most modern communication science falls into a tradition of post-positivism. Thus, communication scientists believe that there is an...
right after his arrival in the United States. After completing his college degree in May 2004 he found employment once more in the security sector. On May 14, 2005 he was naturalized as a US citizen. In an interview with the Swiss newspaper
Sonntagsblick
Blick
Blick is a German-language daily tabloid newspaper published in Zürich, Switzerland since 1959 by Ringier.It has a circulation of 275,000 and a readership of 750,000 . Only the free daily 20 Minuten has a higher circulation in Switzerland....
on October 21, 2006, Meili re-iterated his criticism of Fagan and the Jewish organizations who had once championed him, stating again they had let him down. Meili, who then lived in
Southern California
Southern California
Southern California is a megaregion, or megapolitan area, in the southern area of the U.S. state of California. Large urban areas include Greater Los Angeles and Greater San Diego. The urban area stretches along the coast from Ventura through the Southland and Inland Empire to San Diego...
, stated in that interview he was working for minimum wages. In 2009, Meili returned to Switzerland after having become homeless.
Effect of whistleblowing
In his book "Imperfect Justice", Stuart Eizenstat implies that the "Meili Affair" was important in the decision of Swiss banks to participate in the process of reparations for victims of Nazi looting during World War II. He wrote that the affair "did more than anything to turn the Swiss banks into international pariahs by linking their dubious behavior during and after the war to the discovery of a seemingly unapologetic attempt to cover it up now by destroying documents." He also implies that the affair influenced the
Swiss Bankers Association
Swiss Bankers Association
The Swiss Bankers Association is a professional organization of Swiss financial institutions.-Background:The trade association known as the Swiss Bankers Association was founded in 1912 in Basel, Switzerland. It is the primary industry group representing the Swiss Banks to the government of...
(SBA) decision to create a "Humanitarian Fund for the Victims of the Holocaust", and implies that it was one of a series of events influencing the London Conference on Nazi Gold of 1997.
Awards
1997 - Award for humanitarian values and ethics, Boys Town Jerusalem Foundation of America
1998 - Grand Prize, Honest Abe Awards
1998 - Humanitarian Award, The 1939 Club (with Giusseppina Meili)
1999 - Seton Hall University's Humanitarian of the Year Award
1999 - Scholarship Fund, The 1939 Club
1999 - Humanitarian of the Year Award, Orange County

Orange County, California

Orange County is a county in the U.S. state of California. Its county seat is Santa Ana. As of the 2010 census, its population was 3,010,232, up from 2,846,293 at the 2000 census, making it the third most populous county in California, behind Los Angeles County and San Diego County...


, California

California

California is a state located on the West Coast of the United States. It is by far the most populous U.S. state, and the third-largest by land area...