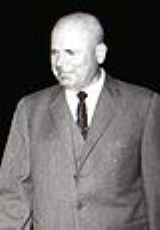 Chivu Stoica
Chivu Stoica
was a leading
Romania
Romania
Romania is a country located at the crossroads of Central and Southeastern Europe, on the Lower Danube, within and outside the Carpathian arch, bordering on the Black Sea...
n
Communist
Communism
Communism is a social, political and economic ideology that aims at the establishment of a classless, moneyless, revolutionary and stateless socialist society structured upon common ownership of the means of production...
politician
Politician
A politician, political leader, or political figure is an individual who is involved in influencing public policy and decision making...
.
Stoica was born in
Smeeni
Smeeni
Smeeni is a commune in Buzău County, Romania. It is composed of seven villages: Albeşti, Bălaia, Călţuna, Moisica, Smeeni, Udaţi-Lucieni and Udaţi-Mânzu....
,
Buzău County
Buzau County
Buzău is a county of Romania, in the historical region Muntenia, with the capital city at Buzău.-Demographics:In 2002, it had a population of 496,214 and the population density was 81/km².*Romanians – 97%*Roma – under 3% declared, and others....
, the sixth child of a ploughman. At age 12 he left home, and started working as an apprentice at
Căile Ferate Române
Caile Ferate Române
Căile Ferate Române is the official designation of the state railway carrier of Romania. Romania has a railway network of of which are electrified and the total track length is . The network is significantly interconnected with other European railway networks, providing pan-European passenger...
, the state railway corporation. In 1921, he moved to
Bucharest
Bucharest
Bucharest is the capital municipality, cultural, industrial, and financial centre of Romania. It is the largest city in Romania, located in the southeast of the country, at , and lies on the banks of the Dâmbovița River....
, where he worked as a
boilermaker
Boilermaker
A boilermaker is a trained craftsman who produces steel fabrications from plates and sections. The name originated from craftsmen who would fabricate boilers, but they may work on projects as diverse as bridges to blast furnaces to the construction of mining equipment.-Boilermaking:Many...
at the Vulcan, Lemaitre, and
Malaxa
Malaxa
The Malaxa was a car built in 1945 in Reşiţa, Romania, by the factories of the Romanian tycoon Nicolae Malaxa.-History:Malaxa had an air-cooled 3-cylinder rear radial engine, rear wheel drive , and was capable of developing 30 bhp. The top speed was 120 km/h...
companies. There he met Gheorghe Vasilichi, who recruited him into the Communist Party.
In spring 1931, Stoica started working for the Griviţa Railway Yards, where he met
Gheorghe Gheorghiu-Dej
Gheorghe Gheorghiu-Dej
Gheorghe Gheorghiu-Dej was the Communist leader of Romania from 1948 until his death in 1965.-Early life:Gheorghe was the son of a poor worker, Tănase Gheorghiu, and his wife Ana. Gheorghiu-Dej joined the Communist Party of Romania in 1930...
,
Vasile Luca
Vasile Luca
Vasile Luca was an Austro-Hungarian-born Romanian and Soviet communist politician, a leading member of the Romanian Communist Party from 1945 and until his imprisonment in the 1950s...
, and Constantin Doncea; together, they started organizing a strike. On August 20, 1934, he was sentenced to 15 years of prison for his role in the
Griviţa Strike of 1933
Grivita Strike of 1933
The Grivița Strike of 1933 was a railway strike which was started at the Grivița Workshops, Bucharest, Romania, on 16 February 1933 by workers of Căile Ferate Române . The strike was brought about by the increasingly poor working conditions of railway employees in the context of the worldwide Great...
. At
Târgu Jiu
Târgu Jiu
Târgu Jiu is the capital of Gorj County, Oltenia, Romania. It is situated on the Southern Sub-Carpathians, on the banks of the river Jiu. Eight villages are administered by the city: Bârseşti, Drăgoeni, Iezureni, Polata, Preajba Mare, Româneşti, Slobozia and Ursaţi.-History:The city takes its name...
prison, he was close to Gheorghiu-Dej, who may have wanted Stoica to be his successor as
General Secretary
General Secretary
The office of general secretary is staffed by the chief officer of:*The General Secretariat for Macedonia and Thrace, a government agency for the Greek regions of Macedonia and Thrace...
.
He was a member of the
Central Committee
Central Committee
Central Committee was the common designation of a standing administrative body of communist parties, analogous to a board of directors, whether ruling or non-ruling in the twentieth century and of the surviving, mostly Trotskyist, states in the early twenty first. In such party organizations the...
of the Romanian Worker's Party from 1945 to 1975, and of the
Politburo
Politburo
Politburo , literally "Political Bureau [of the Central Committee]," is the executive committee for a number of communist political parties.-Marxist-Leninist states:...
. He served as
Prime Minister of Romania
between 1955 and 1961 and as President of the
Council of State of Romania
from 1965 until 1967.
In his later years, he fell out of favour with
Nicolae Ceauşescu
Nicolae Ceausescu
Nicolae Ceaușescu was a Romanian Communist politician. He was General Secretary of the Romanian Communist Party from 1965 to 1989, and as such was the country's second and last Communist leader...
and his wife
Elena
Elena Ceausescu
Elena Ceaușescu was the wife of Romania's Communist leader Nicolae Ceaușescu, and Deputy Prime Minister of Romania.-Background:She was born Elena Petrescu into a peasant family in Petrești commune, Dâmboviţa County, in the informal region of Wallachia. Her family was supported by her father's job...
. His death, by a hunting rifle bullet to the head, was ruled a suicide.