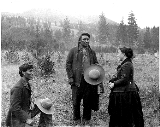 Chief Joseph
Hin-mah-too-yah-lat-kekt
, popularly known as
Chief Joseph
, or
Young Joseph
(March 3, 1840 – September 21, 1904) was the leader of the Wal-lam-wat-kain (Wallowa) band of Nez Perce during
General
General (United States)
In the United States Army, United States Air Force, and United States Marine Corps, general is a four-star general officer rank, with the pay grade of O-10. General ranks above lieutenant general and below General of the Army or General of the Air Force; the Marine Corps does not have an...
Oliver O. Howard
Oliver O. Howard
Oliver Otis Howard was a career United States Army officer and a Union general in the American Civil War...
's attempt to
forcibly remove
Indian Removal
Indian removal was a nineteenth century policy of the government of the United States to relocate Native American tribes living east of the Mississippi River to lands west of the river...
his
band
Band society
A band society is the simplest form of human society. A band generally consists of a small kin group, no larger than an extended family or clan; it has been defined as consisting of no more than 30 to 50 individuals.Bands have a loose organization...
and the other "non-treaty" Nez Perce to a
reservation
Indian reservation
An American Indian reservation is an area of land managed by a Native American tribe under the United States Department of the Interior's Bureau of Indian Affairs...
in
Idaho
Idaho
Idaho is a state in the Rocky Mountain area of the United States. The state's largest city and capital is Boise. Residents are called "Idahoans". Idaho was admitted to the Union on July 3, 1890, as the 43rd state....
. For his principled resistance to the removal, he became renowned as a
humanitarian
Humanitarianism
In its most general form, humanitarianism is an ethic of kindness, benevolence and sympathy extended universally and impartially to all human beings. Humanitarianism has been an evolving concept historically but universality is a common element in its evolution...
and peacemaker.
Joseph was born
Hinmuuttu-yalatlat
(alternatively
Hinmaton-Yalaktit
or
Hin-mah-too-yah-lat-kekt
,
Nez Perce
Nez Perce language
Nez Perce , also spelled Nez Percé, is a Sahaptian language related to the several dialects of Sahaptin . The Sahaptian sub-family is one of the branches of the Plateau Penutian family...
: "Thunder Rolling Down the Mountain") in the
Wallowa Valley
Wallowa River
The Wallowa River is a tributary of the Grande Ronde River, approximately long, in northeastern Oregon in the United States. It drains a valley on the Columbia Plateau in the northeast corner of the state north of Wallowa Mountains. It rises in southern Wallowa County, in the Wallowa Mountains in...
of northeastern
Oregon
Oregon
Oregon is a state in the Pacific Northwest region of the United States. It is located on the Pacific coast, with Washington to the north, California to the south, Nevada on the southeast and Idaho to the east. The Columbia and Snake rivers delineate much of Oregon's northern and eastern...
.
I only ask of the Government to be treated as all other men are treated. If I cannot go to my own home, let me have a home in a country where my people will not die so fast.

When I think of our condition, my heart is heavy. I see men of my own race treated as outlaws and driven from country to country, or shot down like animals.

I know that my race must change. We cannot hold our own with the white men as we are. We only ask an even chance to live as other men live. We ask to be recognized as men. We ask that the same law shall work alike on all men. If an Indian breaks the law, punish him by the law. If a white man breaks the law, punish him also.

Let me be a free man, free to travel, free to stop, free to work, free to trade where I choose, free to choose my own teachers, free to follow the religion of my fathers, free to talk, think and act for myself — and I will obey every law or submit to the penalty."