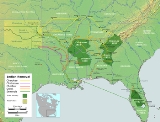 Indian Removal
Indian removal
was a nineteenth century policy of the government of the United States to relocate
Native American
Native Americans in the United States
Native Americans in the United States are the indigenous peoples in North America within the boundaries of the present-day continental United States, parts of Alaska, and the island state of Hawaii. They are composed of numerous, distinct tribes, states, and ethnic groups, many of which survive as...
tribes living east of the
Mississippi River
Mississippi River
The Mississippi River is the largest river system in North America. Flowing entirely in the United States, this river rises in western Minnesota and meanders slowly southwards for to the Mississippi River Delta at the Gulf of Mexico. With its many tributaries, the Mississippi's watershed drains...
to lands west of the river. The
Indian Removal Act
Indian Removal Act
The Indian Removal Act was signed into law by President Andrew Jackson on May 28, 1830.The Removal Act was strongly supported in the South, where states were eager to gain access to lands inhabited by the Five Civilized Tribes. In particular, Georgia, the largest state at that time, was involved in...
was signed into law by President
Andrew Jackson
Andrew Jackson
Andrew Jackson was the seventh President of the United States . Based in frontier Tennessee, Jackson was a politician and army general who defeated the Creek Indians at the Battle of Horseshoe Bend , and the British at the Battle of New Orleans...
on May 26, 1830.
Since the presidency of
Thomas Jefferson
Thomas Jefferson
Thomas Jefferson was the principal author of the United States Declaration of Independence and the Statute of Virginia for Religious Freedom , the third President of the United States and founder of the University of Virginia...
, America's policy had been to allow Native Americans to remain east of the Mississippi as long as they became assimilated or "
civilized
Civilization
Civilization is a sometimes controversial term that has been used in several related ways. Primarily, the term has been used to refer to the material and instrumental side of human cultures that are complex in terms of technology, science, and division of labor. Such civilizations are generally...
".