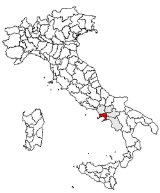 Chiaiano
Chiaiano
is a north-western suburb of
Naples
Naples
Naples is a city in Southern Italy, situated on the country's west coast by the Gulf of Naples. Lying between two notable volcanic regions, Mount Vesuvius and the Phlegraean Fields, it is the capital of the region of Campania and of the province of Naples...
, with a population of about 23,000.
Geography
Chiaiano it's a hilly and wooded area that lies between
Camaldoli
Hermitage of Camaldoli
The Camaldolese Hermitage of Monte Giove is a monastery near Naples, Campania, Italy.One of the monasteries still active in the region, it sits on the hill in back of Naples at the highest point in the city, between Vesuvius and the Phlegrean Fields. It was built in 1585 by the Camaldolese...
and the
Campi Flegrei
Campi Flegrei
The Phlegraean Fields, also known as Campi Flegrei, , is a large wide caldera situated to the west of Naples, Italy. It was declared a regional park in 2003. Lying mostly underwater, the area comprises 24 craters and volcanic edifices. Hydrothermal activity can be observed at Lucrino, Agnano and...
.
History
Archaeologically, the area is of interest, displaying remnants of pre-and-non-Roman inhabitants such as the Oscans and
Samnite
Samnium
Samnium is a Latin exonym for a region of south or south and central Italy in Roman times. The name survives in Italian today, but today's territory comprising it is only a small portion of what it once was. The populations of Samnium were called Samnites by the Romans...
s.
Since the earthquake of 1980, it is one of the outlying areas that has undergone extreme urbanization—that is, large tracts of public housing to provide for those left homeless by that event.
Twin towns
It is twinned with Manhattan, the commercial quarter of New York and has received the certificate of calmer quarter of the city.