 Chaim Soutine
Chaïm Soutine
was a Jewish
painter
Painting
Painting is the practice of applying paint, pigment, color or other medium to a surface . The application of the medium is commonly applied to the base with a brush but other objects can be used. In art, the term painting describes both the act and the result of the action. However, painting is...
from
Belarus
Belarus
Belarus , officially the Republic of Belarus, is a landlocked country in Eastern Europe, bordered clockwise by Russia to the northeast, Ukraine to the south, Poland to the west, and Lithuania and Latvia to the northwest. Its capital is Minsk; other major cities include Brest, Grodno , Gomel ,...
. Soutine made a major contribution to the expressionist movement while living in Paris.
Inspired by classic painting in the European tradition, exemplified by the works of
Rembrandt
,
Chardin
Jean-Baptiste-Siméon Chardin
Jean-Baptiste-Siméon Chardin was an 18th-century French painter. He is considered a master of still life, and is also noted for his genre paintings which depict kitchen maids, children, and domestic activities...
and
Courbet
Gustave Courbet
Jean Désiré Gustave Courbet was a French painter who led the Realist movement in 19th-century French painting. The Realist movement bridged the Romantic movement , with the Barbizon School and the Impressionists...
Soutine developed an individual style more concerned with shape, color, and texture over representation, which served as a bridge between more traditional approaches and the developing form of
Abstract Expressionism
Abstract expressionism
Abstract expressionism was an American post–World War II art movement. It was the first specifically American movement to achieve worldwide influence and put New York City at the center of the western art world, a role formerly filled by Paris...
.
Biography
Soutine was born in Smilavichy near
Minsk
Minsk
- Ecological situation :The ecological situation is monitored by Republican Center of Radioactive and Environmental Control .During 2003–2008 the overall weight of contaminants increased from 186,000 to 247,400 tons. The change of gas as industrial fuel to mazut for financial reasons has worsened...
, (modern day) Belarus (then part of the
Russian Empire
Russian Empire
The Russian Empire was a state that existed from 1721 until the Russian Revolution of 1917. It was the successor to the Tsardom of Russia and the predecessor of the Soviet Union...
). He was the tenth of eleven children. From 1910–1913 he studied in
Vilnius
Vilnius
Vilnius is the capital of Lithuania, and its largest city, with a population of 560,190 as of 2010. It is the seat of the Vilnius city municipality and of the Vilnius district municipality. It is also the capital of Vilnius County...
at the Vilna Academy of Fine Arts. In 1913, with his friends
Pinchus Kremegne
Pinchus Kremegne
Pinchus Krémègne, aka Pinchus Kremegne , was a French artist of Jewish-Russian origin, primarily known as a sculptor, painter and lithographer....
(1890–1981), and
Michel Kikoine
Michel Kikoine
Michel Kikoine , was a French painter of Jewish-Belarusian origin.- Life :Kikoine was born in Rechytsa, Belarus. The son of a Jewish banker in the small southeastern town of Gomel, he was barely into his teens when he began studying at "Kruger's School of Drawing" in Minsk. There he met Chaim...
(1892–1968), he emigrated to Paris, where he studied at the
École des Beaux-Arts
École des Beaux-Arts
École des Beaux-Arts refers to a number of influential art schools in France. The most famous is the École nationale supérieure des Beaux-Arts, now located on the left bank in Paris, across the Seine from the Louvre, in the 6th arrondissement. The school has a history spanning more than 350 years,...
under
Fernand Cormon
Fernand Cormon
Fernand Cormon was a French painter born in Paris. He became a pupil of Alexandre Cabanel, Eugène Fromentin, and Jean-François Portaels, and one of the leading historical painters of modern France....
. He soon developed a highly personal vision and painting technique.
For a time, he and his friends lived at
La Ruche
La Ruche
La Ruche is an artist's residence at the Paris South-Western outskirts.Located in the "Passage Dantzig," in the 15th arrondissement of Paris, La Ruche was an old three-storey circular structure that got its name because it looked more like a large beehive than any dwelling for humans...
, a residence for struggling artists in
Montparnasse
Montparnasse
Montparnasse is an area of Paris, France, on the left bank of the river Seine, centred at the crossroads of the Boulevard du Montparnasse and the Rue de Rennes, between the Rue de Rennes and boulevard Raspail...
where he became friends with
Amedeo Modigliani
Amedeo Modigliani
Amedeo Clemente Modigliani was an Italian painter and sculptor who worked mainly in France. Primarily a figurative artist, he became known for paintings and sculptures in a modern style characterized by mask-like faces and elongation of form...
(1884–1920). Modigliani painted Soutine's portrait several times, most famously in 1917, on a door of an apartment belonging to
Léopold Zborowski
Leopold Zborowski
Leopold Zborowski was a Polish poet, writer and art dealer.Zborowski and his wife Anna were contemporaries with Parisian artists such as Henri de Toulouse-Lautrec, Paul Cézanne, André Derain and Amedeo Modigliani, who painted their portraits.Leopold Zborowski was Amedeo Modigliani's primary art...
(1889–1932), who was their art dealer. Zborowski supported Soutine through
World War I
World War I
World War I , which was predominantly called the World War or the Great War from its occurrence until 1939, and the First World War or World War I thereafter, was a major war centred in Europe that began on 28 July 1914 and lasted until 11 November 1918...
, taking the struggling artist with him to
Nice
Nice
Nice is the fifth most populous city in France, after Paris, Marseille, Lyon and Toulouse, with a population of 348,721 within its administrative limits on a land area of . The urban area of Nice extends beyond the administrative city limits with a population of more than 955,000 on an area of...
to escape the German bombing of Paris.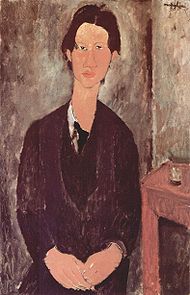 After the war
Paul Guillaume
Paul Guillaume
Paul Guillaume was a French art dealer. Dealer of Chaim Soutine and Amedeo Modigliani, he was one of the first to organize African art exhibitions...
, a highly influential art dealer, began to champion Soutine's work. In 1923, in a showing arranged by Guillaume, the prominent American collector
Albert C. Barnes
Albert C. Barnes
Albert Coombs Barnes was an American chemist and art collector. With the fortune made from the development of the antiseptic, anti-blindness drug Argyrol, he founded the Barnes Foundation, an educational institution based on his private collection of art...
(1872–1951), bought 60 of Soutine's paintings, on the spot. Soutine, who had been virtually penniless in his years in Paris, immediately took the money, ran into the street, hailed a Paris taxi, and ordered the driver to take him to Nice, on the French Riviera, nearly 200 miles away.
Soutine once horrified his neighbours by keeping an animal carcass in his studio so that he could paint it (
Carcass of Beef
). The stench drove them to send for the police, whom Soutine promptly lectured on the relative importance of art over hygiene. Soutine painted 10 works in this series, which have since became his most iconic. His carcass paintings were inspired by Rembrandt's still life of the same subject, which he discovered while studying the Old Masters in the Louvre. In February 2006, the oil painting of this series 'Le Boeuf Écorché' (1924) sold for a record £7.8 million ($13.8 million) to an anonymous buyer at a Christies auction held in London - after it was estimated to fetch £4.8 million.
Soutine produced the majority of his works from 1920 to 1929. From 1930 to 1935, the interior designer
Madeleine Castaing
Madeleine Castaing
Madeleine Castaing was a French antique dealer and interior designer of international renown. She was the friend and the sponsor of many artists, including Soutine, who made her portrait in 1928...
and her husband welcomed him home during the summer in their mansion of
Lèves
Lèves
Lèves is a commune in the Eure-et-Loir department in Northern France.-Population:-International relations:Lèves is twinned with the English village of Nailsworth, Gloucestershire.-References:*...
, becoming his
patron
Patrón
Patrón is a luxury brand of tequila produced in Mexico and sold in hand-blown, individually numbered bottles.Made entirely from Blue Agave "piñas" , Patrón comes in five varieties: Silver, Añejo, Reposado, Gran Patrón Platinum and Gran Patrón Burdeos. Patrón also sells a tequila-coffee blend known...
s, so that Soutine could hold his first exhibition in
Chicago
Chicago
Chicago is the largest city in the US state of Illinois. With nearly 2.7 million residents, it is the most populous city in the Midwestern United States and the third most populous in the US, after New York City and Los Angeles...
in 1935. He seldom showed his works, but he did take part in the important exhibition
The Origins and Development of International Independent Art
held at the
Galerie nationale du Jeu de Paume
Galerie nationale du Jeu de Paume
The Galerie nationale du Jeu de Paume is a museum of contemporary art in the north-west corner of the Tuileries Gardens in Paris.The building was constructed in 1861 during the reign of Napoleon III...
in 1937 in Paris, where he was at last hailed as a great painter. Soon thereafter France was invaded by German troops. As a Jew, Soutine had to escape from the French capital and hide in order to avoid arrest by the
Gestapo
Gestapo
The Gestapo was the official secret police of Nazi Germany. Beginning on 20 April 1934, it was under the administration of the SS leader Heinrich Himmler in his position as Chief of German Police...
. He moved from one place to another and was sometimes forced to seek shelter in forests, sleeping outdoors. Suffering from a stomach ulcer and bleeding badly, he left a safe hiding place for Paris in order to undergo emergency surgery, which failed to save his life. On August 9, 1943, Chaim Soutine died of a perforated ulcer. Soutine was interred in Cimetière du Montparnasse, Paris.
Legacy
In February 2006, an oil painting of his controversial and iconic series
Le Boeuf Ecorche
(1924) sold for a record £7.8 million ($13.8 million) to an anonymous buyer at a Christie's auction held in London - after it was estimated to fetch £4.8 million. In February 2007, a 1921 portrait of an unidentified man with a red scarf
(L'Homme au Foulard Rouge)
by Chaim Soutine sold for $17.2 million - a new record - at Sotheby's London auction house.
In May 2009, a unique and unusual settlement regarding Chaim Soutine's iconic painting entitled
Piece de Boeuf (Piece of Beef c. 1923)
was approved by Judge Laura Taylor Swain of the Southern District of New York. Pursuant to the settlement, the painting was returned to the Shefner Family in resolution of litigation commenced against the
National Gallery of Art
National Gallery of Art
The National Gallery of Art and its Sculpture Garden is a national art museum, located on the National Mall between 3rd and 9th Streets at Constitution Avenue NW, in Washington, DC...
in
Washington, D.C.
Washington, D.C.
Washington, D.C., formally the District of Columbia and commonly referred to as Washington, "the District", or simply D.C., is the capital of the United States. On July 16, 1790, the United States Congress approved the creation of a permanent national capital as permitted by the U.S. Constitution....
, Maurice Tuchman and Esti Dunow, the authors of the Soutine Catalogue Raisonnée. The settlement was believed to be the first time that the National Gallery of Art had deaccessioned a non-Holocaust work of art from its permanent collection. The parties agreed that the painting would remain on loan to the National Gallery of Art for the benefit of the American public for the near future.
Some years after Soutine's death,
Roald Dahl
Roald Dahl
Roald Dahl was a British novelist, short story writer, fighter pilot and screenwriter.Born in Wales to Norwegian parents, he served in the Royal Air Force during the Second World War, in which he became a flying ace and intelligence agent, rising to the rank of Wing Commander...
let him play a role in his short story
Skin
Skin (short story)
Skin is a macabre short story written by author Roald Dahl.It is featured in 'A Roald Dahl Selection', a compilation of several short stories by Dahl that has been edited by Roy Blatchford.-Plot summary:...
.
A few of his paintings:
Piece of Beef / Piece de Boeuf - (c.1923)
Ceret Landscape - (c.1919)
Pastry Cook - (1922), Louvre

Louvre

The Musée du Louvre – in English, the Louvre Museum or simply the Louvre – is one of the world's largest museums, the most visited art museum in the world and a historic monument. A central landmark of Paris, it is located on the Right Bank of the Seine in the 1st arrondissement...


, Paris
Leves - Leves
Street of Cagnes-sur-Mer - (c.1923-1924)
Carcass of Beef - (c.1925), Albright-Knox Art Gallery

Albright-Knox Art Gallery

The Albright-Knox Art Gallery is an art museum located in Delaware Park in Buffalo, New York. The gallery is a major showplace for modern art and contemporary art. It is located directly across the street from Buffalo State College.-History:...


, Buffalo, New York
Sinister Street - (c.1921), Kunstmuseum, Lucerne

Lucerne

Lucerne is a city in north-central Switzerland, in the German-speaking portion of that country. Lucerne is the capital of the Canton of Lucerne and the capital of the district of the same name. With a population of about 76,200 people, Lucerne is the most populous city in Central Switzerland, and...


, Switzerland

Switzerland

Switzerland name of one of the Swiss cantons. ; ; ; or ), in its full name the Swiss Confederation , is a federal republic consisting of 26 cantons, with Bern as the seat of the federal authorities. The country is situated in Western Europe,Or Central Europe depending on the definition....



Winding Road - (c.1939)
Large Poplars at Civery or After the Storm - (c.1939)
External links