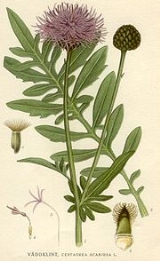 Centaurea scabiosa
Centaurea scabiosa
or
Greater Knapweed
is a
perennial plant
Perennial plant
A perennial plant or simply perennial is a plant that lives for more than two years. The term is often used to differentiate a plant from shorter lived annuals and biennials. The term is sometimes misused by commercial gardeners or horticulturalists to describe only herbaceous perennials...
of the genus
Centaurea
Centaurea
Centaurea is a genus of between 350 and 600 species of herbaceous thistle-like flowering plants in the family Asteraceae. Members of the genus are found only north of the equator, mostly in the Eastern Hemisphere; the Middle East and surrounding regions are particularly species-rich...
. It is native to
Europe
Europe
Europe is, by convention, one of the world's seven continents. Comprising the westernmost peninsula of Eurasia, Europe is generally 'divided' from Asia to its east by the watershed divides of the Ural and Caucasus Mountains, the Ural River, the Caspian and Black Seas, and the waterways connecting...
and bears purple flower heads.
Greater knapweed is found growing in dry grasslands, hedgerows and cliffs on lime-rich soil. Upright branched stems terminate in single thistle-like flowerheads, each having an outer ring of extended, purple-pink 'ragged' bracts which form a crown around the central flowers. The plant has deeply dissected leaves which form a clump at the base.
This species is very valuable to bees. It is also a magnet for many species of butterfly. Among them is the Marbled White.
This is the only known foodplant for
caterpillar
Caterpillar
Caterpillars are the larval form of members of the order Lepidoptera . They are mostly herbivorous in food habit, although some species are insectivorous. Caterpillars are voracious feeders and many of them are considered to be pests in agriculture...
s of the
Coleophoridae
Coleophoridae
| name = Case-bearers| image = Coleophoridae-01 .jpg| image_width = 240px| image_caption = Adult of an unidentified case-bearer species| regnum = Animalia| phylum = Arthropoda| classis = Insecta| ordo = Lepidoptera| superfamilia = Gelechioidea...
case-bearer moth
Coleophora didymella
Coleophora didymella
Coleophora didymella is a moth of the Coleophoridae family. It is found in southern France and Italy.The larvae feed on Centaurea scabiosa. They create a large, dark yellow-brown, composite leaf case of 15-17 mm long. It is composed of two leaf fragments placed behind each other. The case is...
. Centaurea scabiosa has been used in traditional herbal healing as either a vulnerary or an emollient.
The plant is sometimes confused with
Devils-bit Scabious
Succisa pratensis
Succisa pratensis Moench, also known as Devil's-bit Scabious, is a flowering plant of the genus Succisa in the family Dipsacaceae. It differs from other similar species in that it has 4 lobed flowers, whereas Small Scabious and Field scabious have 5 lobes and hence it has been placed in a separate...
, however the leaves on this plant are arranged alternately, whereas in Devils-bit they are opposite.