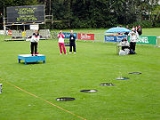 Casting (fishing)
In
angling
Angling
Angling is a method of fishing by means of an "angle" . The hook is usually attached to a fishing line and the line is often attached to a fishing rod. Fishing rods are usually fitted with a fishing reel that functions as a mechanism for storing, retrieving and paying out the line. The hook itself...
,
casting
is the act of throwing bait or a lure using a
fishing line
Fishing line
A fishing line is a cord used or made for angling. Important parameters of a fishing line are its length, material, and weight...
out over the water using a flexible
fishing rod
Fishing rod
A fishing rod or a fishing pole is a tool used to catch fish, usually in conjunction with the pastime of angling, and can also be used in competition casting. . A length of fishing line is attached to a long, flexible rod or pole: one end terminates in a hook for catching the fish...
. The usual technique is for the angler to quickly flick the rod from behind toward the water. The term is also used when casting a net.
Casting techniques
Casting techniques vary with the type of fishing involved.
Fly fishermen
Fly fishing
Fly fishing is an angling method in which an artificial 'fly' is used to catch fish. The fly is cast using a fly rod, reel, and specialized weighted line. Casting a nearly weightless fly or 'lure' requires casting techniques significantly different from other forms of casting...
use
artificial flies
Artificial fly
An artificial fly or fly lure is a type of fishing lure, usually used in the sport of fly fishing . In general, artificial flies are the bait which fly fishers present to their target species of fish while fly fishing...
as a lure and use lighter rods and lines. They develop much finesse casting the flies, using motions of the hand and arm, so the flies land with great accuracy into or onto the water and mimic the behaviour of real flies.
Salt water anglers usually use heavier rods and lines They often use
lures
Fishing lure
A fishing lure is an object attached to the end of a fishing line which is designed to resemble and move like the prey of a fish. The purpose of the lure is to use movement, vibration, and colour to catch the fish's attention so it bites the hook...
and
bait
Bait (luring substance)
Bait is any substance used to attract prey, e.g. in a mousetrap.-In Australia:Baiting in Australia refers to specific campaigns to control foxes, wild dogs and dingos by poisoning in areas where they are a problem...
which are heavier than flies.
Heavier again are the rods and lines used in surfcasting. Specialized, two-handed casting techniques are used to cast the lure or bait the added distances required in many cases to reach feeding inshore fish. In these casts the entire body, rather than just the arms, are utilized to deliver the cast, which may travel many hundreds of feet.
Casting as a sport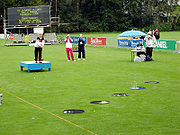 Casting is also a sport adjunct to
fishing
Fishing
Fishing is the activity of trying to catch wild fish. Fish are normally caught in the wild. Techniques for catching fish include hand gathering, spearing, netting, angling and trapping....
, much as
shooting
Shooting
Shooting is the act or process of firing rifles, shotguns or other projectile weapons such as bows or crossbows. Even the firing of artillery, rockets and missiles can be called shooting. A person who specializes in shooting is a marksman...
is to
hunting
Hunting
Hunting is the practice of pursuing any living thing, usually wildlife, for food, recreation, or trade. In present-day use, the term refers to lawful hunting, as distinguished from poaching, which is the killing, trapping or capture of the hunted species contrary to applicable law...
. The sport is supervised by the
International Casting Sport Federation
(ICSF) which was founded in 1955 and currently (2008) has member associations in 29 countries.
The ICSF sponsors tournaments and recognizes world records for accuracy and distance. This sport uses plastic weights or hookless flies, and can be held on water or on athletic fields. There are competitive divisions for almost all types of fly, fixed spool and revolving spool tackle, and competitor classes. It is included in the
World Games
World Games
The World Games, first held in 1981, are an international multi-sport event, meant for sports, or disciplines or events within a sport, that are not contested in the Olympic Games...
(see photo) and has been considered for the Olympics.
The American Casting Association held its 100th Annual Casting Championships in 2008 at the Golden Gate Angling & Casting Club.
See also
Fly fishing

Fly fishing

Fly fishing is an angling method in which an artificial 'fly' is used to catch fish. The fly is cast using a fly rod, reel, and specialized weighted line. Casting a nearly weightless fly or 'lure' requires casting techniques significantly different from other forms of casting...



Net casting
Reach cast

Reach cast

The Reach Cast is a casting technique used in fly fishing. The Reach Cast involves casting the fly lure over flowing water, such as a stream, and then just before the fly lands, moving the arm and fly rod in the upstream direction to arrange the fishing line so that it produces less apparent drag...



Spey casting

Spey casting

Spey casting is a casting technique used in fly fishing. Spey casting requires a longer, heavier two-handed fly rod, referred to as a Spey rod....



Surf fishing

Surf fishing

Surf fishing is the sport of catching fish standing on the shoreline or wading in the surf. A general term, surf fishing may or may not include casting a lure or bait, and refers to all types of shore fishing - from sandy and rocky beaches, rock jetties, or even fishing piers...


or beach casting
External links