 Caravan (travellers)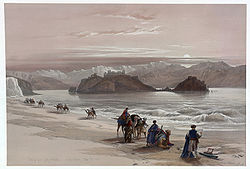 A
caravan
is a group of people traveling together, often on a trade expedition. Caravans were used mainly in desert areas and throughout the
Silk Road
Silk Road
The Silk Road or Silk Route refers to a historical network of interlinking trade routes across the Afro-Eurasian landmass that connected East, South, and Western Asia with the Mediterranean and European world, as well as parts of North and East Africa...
, where traveling in groups aided in defence against bandits as well as helped to improve
economies of scale
Economies of scale
Economies of scale, in microeconomics, refers to the cost advantages that an enterprise obtains due to expansion. There are factors that cause a producer's average cost per unit to fall as the scale of output is increased. "Economies of scale" is a long run concept and refers to reductions in unit...
in trade.
In historical times, caravans connecting
East Asia
East Asia
East Asia or Eastern Asia is a subregion of Asia that can be defined in either geographical or cultural terms...
and
Europe
Europe
Europe is, by convention, one of the world's seven continents. Comprising the westernmost peninsula of Eurasia, Europe is generally 'divided' from Asia to its east by the watershed divides of the Ural and Caucasus Mountains, the Ural River, the Caspian and Black Seas, and the waterways connecting...
often carried luxurious and lucrative goods, such as silks or jewelry. Caravans could therefore require considerable investment and were a lucrative target for bandits. The profits from a successfully undertaken journey could be enormous, comparable to the later European
spice trade
Spice trade
Civilizations of Asia were involved in spice trade from the ancient times, and the Greco-Roman world soon followed by trading along the Incense route and the Roman-India routes...
. The luxurious goods brought by caravans attracted many rulers along important trade routes to construct
caravanserai
Caravanserai
A caravanserai, or khan, also known as caravansary, caravansera, or caravansara in English was a roadside inn where travelers could rest and recover from the day's journey...
s, places where caravans could refresh their animals and supplies can be replenished. However, the volume a caravan could transport was limited even by Classical or Medieval standards. For example, a caravan of 500 camels could only transport as much as a third or half of the goods carried by a regular
Byzantine
Byzantine
Byzantine usually refers to the Roman Empire during the Middle Ages.Byzantine may also refer to:* A citizen of the Byzantine Empire, or native Greek during the Middle Ages...
merchant sailing ship.
Present-day caravans in less-developed areas of the world often still transport important goods through badly passable areas, such as seeds required for
agriculture
Agriculture
Agriculture is the cultivation of animals, plants, fungi and other life forms for food, fiber, and other products used to sustain life. Agriculture was the key implement in the rise of sedentary human civilization, whereby farming of domesticated species created food surpluses that nurtured the...
in arid regions. An example are the
camel train
Camel train
A camel train is a series of camels carrying goods or passengers in a group as part of a regular or semi-regular service between two points. Although they rarely travelled faster than the walking speed of a man, camels' ability to handle harsh conditions made camel trains a vital part of...
s traversing the Southern edges of the Sahara Desert.