 Cabrales cheese
Cabrales
is a
cheese
Cheese
Cheese is a generic term for a diverse group of milk-based food products. Cheese is produced throughout the world in wide-ranging flavors, textures, and forms....
made in the
artisan
Artisan cheese
Artisan cheese is manufactured by hand using the traditional craftsmanship of skilled cheesemakers. As a result the cheeses are often more complex in taste and variety. Many are aged and ripened to achieve certain aesthetics...
tradition by rural
dairy
Dairy
A dairy is a business enterprise established for the harvesting of animal milk—mostly from cows or goats, but also from buffalo, sheep, horses or camels —for human consumption. A dairy is typically located on a dedicated dairy farm or section of a multi-purpose farm that is concerned...
farmers in the north of
Spain
Spain
Spain , officially the Kingdom of Spain languages]] under the European Charter for Regional or Minority Languages. In each of these, Spain's official name is as follows:;;;;;;), is a country and member state of the European Union located in southwestern Europe on the Iberian Peninsula...
. This cheese can be made from pure, unpasteurised cow's
milk
Milk
Milk is a white liquid produced by the mammary glands of mammals. It is the primary source of nutrition for young mammals before they are able to digest other types of food. Early-lactation milk contains colostrum, which carries the mother's antibodies to the baby and can reduce the risk of many...
or blended in the traditional manner with
goat
Goat
The domestic goat is a subspecies of goat domesticated from the wild goat of southwest Asia and Eastern Europe. The goat is a member of the Bovidae family and is closely related to the sheep as both are in the goat-antelope subfamily Caprinae. There are over three hundred distinct breeds of...
and/or
sheep milk
Sheep milk
Sheep's milk is the milk of domestic sheep. Though not widely drunk in any modern culture, sheep's milk is commonly used to make cultured dairy products. Well-known cheeses made from sheep milk include the Feta of Greece, Roquefort of France, Manchego from Spain, the Pecorino Romano , the Pecorino...
, which lends the cheese a stronger, more spicy flavor.
All of the milk used in the production of Cabrales must come exclusively from herds raised in a small zone of production in
Asturias
Asturias
The Principality of Asturias is an autonomous community of the Kingdom of Spain, coextensive with the former Kingdom of Asturias in the Middle Ages...
, in the mountains of the
Picos de Europa
Picos de Europa
The Picos de Europa is a range of mountains 20 km inland from the northern coast of Spain, located in the Autonomous Communities of Asturias, Cantabria and Castile and León, forming part of the Cantabrian Mountains...
.
Production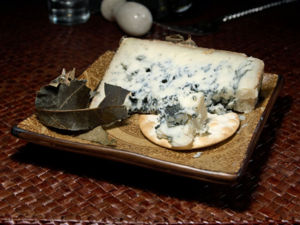 The milk is first heated and curdled by the addition of
rennet
Rennet
Rennet is a complex of enzymes produced in any mammalian stomach to digest the mother's milk, and is often used in the production of cheese. Rennet contains many enzymes, including a proteolytic enzyme that coagulates the milk, causing it to separate into solids and liquid...
. The
whey
Whey
Whey or Milk Serum is the liquid remaining after milk has been curdled and strained. It is a by-product of the manufacture of cheese or casein and has several commercial uses. Sweet whey is manufactured during the making of rennet types of hard cheese like cheddar or Swiss cheese...
is removed from the curds, which are then packed into
cylindrical
Cylinder (geometry)
A cylinder is one of the most basic curvilinear geometric shapes, the surface formed by the points at a fixed distance from a given line segment, the axis of the cylinder. The solid enclosed by this surface and by two planes perpendicular to the axis is also called a cylinder...
molds called
arnios
, salted and left to cure and harden. After the initial curing period of around two weeks, the Cabrales is then aged a further two to five months in natural
cave
Cave
A cave or cavern is a natural underground space large enough for a human to enter. The term applies to natural cavities some part of which is in total darkness. The word cave also includes smaller spaces like rock shelters, sea caves, and grottos.Speleology is the science of exploration and study...
s in the limestone
mountain
Mountain
Image:Himalaya_annotated.jpg|thumb|right|The Himalayan mountain range with Mount Everestrect 58 14 160 49 Chomo Lonzorect 200 28 335 52 Makalurect 378 24 566 45 Mount Everestrect 188 581 920 656 Tibetan Plateaurect 250 406 340 427 Rong River...
s of the area. The cheeses are placed on wooden shelves known as
talameras
, where they are periodically turned and cleaned.
Relative humidity
Relative humidity
Relative humidity is a term used to describe the amount of water vapor in a mixture of air and water vapor. It is defined as the partial pressure of water vapor in the air-water mixture, given as a percentage of the saturated vapor pressure under those conditions...
in these caves is typically 90% and the
temperature
Temperature
Temperature is a physical property of matter that quantitatively expresses the common notions of hot and cold. Objects of low temperature are cold, while various degrees of higher temperatures are referred to as warm or hot...
is a cool 7–13 °C (44.6–55.4 F), conditions favoring the development of
penicillium
Penicillium
Penicillium is a genus of ascomycetous fungi of major importance in the natural environment as well as food and drug production. Members of the genus produce penicillin, a molecule that is used as an antibiotic, which kills or stops the growth of certain kinds of bacteria inside the body...
mould
Mold
Molds are fungi that grow in the form of multicellular filaments called hyphae. Molds are not considered to be microbes but microscopic fungi that grow as single cells called yeasts...
s that produce blue-green veins throughout the cheese.
Cabrales has a strong flavour, sometimes quite acidic, which can be very complex when made with mixed milks. Like
Gorgonzola
Gorgonzola (cheese)
Gorgonzola is a veined Italian blue cheese, made from unskimmed cow's and/or goat's milk. It can be buttery or firm, crumbly and quite salty, with a "bite" from its blue veining.- History :...
and
Roquefort
Roquefort (cheese)
Roquefort , sometimes spelled Rochefort in English, is a sheep milk blue cheese from the south of France, and together with Bleu d'Auvergne, Stilton and Gorgonzola is one of the world's best-known blue cheeses...
, it is a famous
blue cheese
Blue cheese
Blue cheese is a general classification of cow's milk, sheep's milk, or goat's milk cheeses that have had cultures of the mold Penicillium added so that the final product is spotted or veined throughout with blue, blue-gray or blue-green mold, and carries a distinct smell, either from that or...
whose name is protected by
European law
Protected designation of origin
Protected Geographical Status is a legal framework defined in European Union law to protect the names of regional foods. Protected Designation of Origin , Protected Geographical Indication and Traditional Speciality Guaranteed are distinct regimes of geographical indications within the framework...
.
Marketing
Traditionally, Cabrales was sold wrapped in the moist leaves of
Acer pseudoplatanus
(Sycamore Maple), but nowadays regulations require that commercially produced Cabrales be sold in a dark-green-coloured aluminum foil with the registered official stamp of the
PDO
Protected designation of origin
Protected Geographical Status is a legal framework defined in European Union law to protect the names of regional foods. Protected Designation of Origin , Protected Geographical Indication and Traditional Speciality Guaranteed are distinct regimes of geographical indications within the framework...
Queso de Cabrales
. Within the production zone it is still possible to encounter Cabrales cheese with the traditional maple leaf wrapping, although it is only ever produced in small batches and not approved for export, as it is ineligible for DO status. The same is true of other Spanish blue cheeses, also traditionally leaf-wrapped, such as
Valdeón
Valdeón cheese
Queso de Valdeón is a Spanish blue cheese from León. The cheese is made in Posada de Valdeón, in the northeast of the province of León, and is wrapped in sycamore maple , or chestnut leaves before being sent to market...
and
Picón Bejes-Tresviso
Picón Bejes-Tresviso
Picón Bejes-Tresviso is a blue cheese from Cantabria, in the north of Spain. It has been protected under Denominación de Origen legislation since 1994, prior to which it was traditionally known as Picón de Tresviso and Queso Picón de Bejes...
.
External links