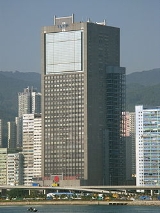 Cable TV Hong Kong
Cable TV Hong Kong
previously known as Wharf Cable before October 1998, is owned and operated by i-CABLE Communications Limited. It is the first subscription television service provider in
Hong Kong
Hong Kong
Hong Kong is one of two Special Administrative Regions of the People's Republic of China , the other being Macau. A city-state situated on China's south coast and enclosed by the Pearl River Delta and South China Sea, it is renowned for its expansive skyline and deep natural harbour...
, offering a broad range of information and entertainment to its viewers through over 100 different pay channels, of which 54 are produced by HKCTV.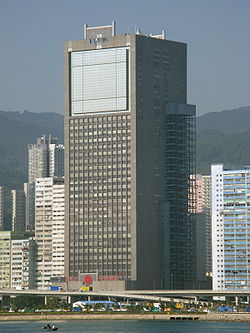 Broadband Service
i-Cable Communications Ltd provide broadband internet as one of their services.
History
Hong Kong Cable Television Limited (HKCTV) was renamed in October 1998 from Wharf Cable. Being the second subscription-based TV after the Rediffusion Television (RTV) established in 1957, HKCTV obtained its 12-years Subscription Television Broadcasting Licence from the HKSAR Government in 1993. Since 31 October 1993, its multi-channel pay-television service began to operate for Hong Kong viewers. Along with its establishment, HKCTV has onset the trend of using multi-channel pay-television services in Hong Kong. The rise of this service provides a greater variety of alternatives for entertainment and information to Hong Kong viewers.
Having the largest number of subscribers among other subscription television companies in Hong Kong, HKCTV has now become one of the top five media groups in Hong Kong. In particular, HKCTV has a firm establishment in news, movies and sports television programming. As announced in the Financial Summary of i-CABLE Communications Limited of 2004, its sales revenue reaches HK$2,372 million with a profit of HK$296 million.
Ownership

Hong Kong Cable Television Limited is owned as a subsidiary group of The Wharf (Holdings) Limited, which holds 73.3% of HKCTV's shares. The rest of its ownership lies with public shareholders. It became a public listed company in the Hong Kong Stock Exchange since 1999.
Specifically, HKCTV is operated by i-CABLE Communications Limited (I-Cable), one of the non-media conglomerates in Hong Kong. The conglomerate manages the first pay-TV service as well as a well-established broadband Internet access service provider with its Internet Protocol network. I-Cable is now the only integrated communications company in Hong Kong. It owns and runs the second largest two-way broadband network which produces its own media programmes, together with online news and other Internet services.
Target audience
HKCTV originally targeted the middle-class subscribers who would be willing to pay for a diversified choice of local and international programmes. Afterwards, it adopted a
price discrimination
Price discrimination
Price discrimination or price differentiation exists when sales of identical goods or services are transacted at different prices from the same provider...
marketing scheme charging residents of public estates with lower prices when compared to the private housing residents. Along with lowered prices, subscribers from the working class can also enjoy benefited services that come along with the combo offered, such as cheaper phone line services from Wharf Holdings Limited and broadband internet access services from I-Cable. Occasionally, HKCTV would use "give-away" marketing strategies to attract more subscribers such as its 12th Anniversary combo; subscribers would be gifted with a
DVD
DVD
A DVD is an optical disc storage media format, invented and developed by Philips, Sony, Toshiba, and Panasonic in 1995. DVDs offer higher storage capacity than Compact Discs while having the same dimensions....
recorder upon subscription to their combos. These business strategies have successfully increased HKCTV's sales to over 540,000 current subscribers as well as free news (
Newsline Express
Newsline Express
Newsline Express is a service on MTR trains which provides Cable TV news and infotainment programmes through LCD displays installed on board. It was started in 2005 by the Kowloon-Canton Railway Corporation and is now equipped on every train compartment running on East Rail Line, West...
) on Hong Kong's
KCRC
Kowloon-Canton Railway Corporation
The Kowloon–Canton Railway Corporation was established in 1982 under the Kowloon–Canton Railway Corporation Ordinance for the purposes of operating the Kowloon–Canton Railway , and to construct and operate other new railways...
Railway.
Channels
HKCTV, producing over 10,000 hours of programming per year, claims to be the largest television programme producer in Hong Kong. It offers around 100 locally produced and international channels featuring news, drama series, movies and documentaries. A variety of fields are covered, including current affairs, science, culture, music, and sports.
News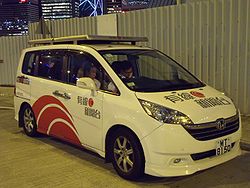 i-CABLE News Limited(
Cable News Hong Kong
Cable News Hong Kong
Cable News is responsible for the newsgathering operation of Cable Television in Hong Kong. It is run by i-CABLE News Limited. One of its many channels is the i-CABLE News Channel.Cable News Hong Kong incorporates 5 channels....
) offers four own-made local news channels, including a 24-hour, half-hourly basis news channel. It also has a supplementary channel providing forecast on world weather.
Local News

i-CABLE Weather Channel(Channel 6)
i-CABLE Top News Channel(Channel 7)
i-CABLE Finance Info Channel(Channel 8)
i-CABLE News Channel(Channel 9)
i-CABLE Live News Channel(Channel 10)
There were previously two channels about traffic updates on Hong Kong Island, Kowloon, Shatin & Tsuen Wan and Tuen Mun Highway. They were stopped broadcasting until the end of July 2009.
Foreign News

HKCTV offers foreign channels such as CNNI

CNN International

CNN International is an international English language television network that carries news, current affairs, politics, opinions, and business programming worldwide. CNN is one of the world's largest news organizations. It is owned by Time Warner, and is affiliated with CNN, which is mainly...


, BBC World

BBC World

BBC World News is the BBC's international news and current affairs television channel. It has the largest audience of any BBC channel in the world...


, CNBC Asia

CNBC Asia

CNBC Asia is a business news television channel in Asia. A subsidiary of NBC Universal, it is the Asian service of the Consumer News and Business Channel . Its programmes originate from Singapore, Hong Kong and Sydney and has bureaus in Tokyo and Seoul....


, CCTV

China Central Television

China Central Television or Chinese Central Television, commonly abbreviated as CCTV, is the major state television broadcaster in mainland China. CCTV has a network of 19 channels broadcasting different programmes and is accessible to more than one billion viewers...


, and Phoenix InfoNews.
Sports
HKCTV offers numerous sports programmes with the emphasis on top quality
football
Football (soccer)
Association football, more commonly known as football or soccer, is a sport played between two teams of eleven players with a spherical ball...
tournaments matches. HKCTV is one of very few broadcasting companies showing the important leagues in
Europe
Europe
Europe is, by convention, one of the world's seven continents. Comprising the westernmost peninsula of Eurasia, Europe is generally 'divided' from Asia to its east by the watershed divides of the Ural and Caucasus Mountains, the Ural River, the Caspian and Black Seas, and the waterways connecting...
; it was even appointed as the official broadcaster of the
2006 FIFA World Cup
2006 FIFA World Cup
The 2006 FIFA World Cup was the 18th FIFA World Cup, the quadrennial international football world championship tournament. It was held from 9 June to 9 July 2006 in Germany, which won the right to host the event in July 2000. Teams representing 198 national football associations from all six...
. HKCTV's leading position in sports programmes is further strengthened by Cable Sports and 6 other sports channels featuring international and national events such as
NBA
National Basketball Association
The National Basketball Association is the pre-eminent men's professional basketball league in North America. It consists of thirty franchised member clubs, of which twenty-nine are located in the United States and one in Canada...
basketball, Premier League, the 10th National Games and soccer betting.
More recently, Cable's sports attractions have been decreased due to its competitor,
Now TV
Now TV
Now TV is a 24-hour pay-TV service provider in Hong Kong.It is transmitted through the company's Netvigator broadband network via an IPTV service...
having taken the broadcasting rights to many of the channels, such as
ESPN
ESPN
Entertainment and Sports Programming Network, commonly known as ESPN, is an American global cable television network focusing on sports-related programming including live and pre-taped event telecasts, sports talk shows, and other original programming....
and
Star Sports
STAR Sports
STAR Sports is a cable sports network owned by STAR TV and ESPN. It shows sports programs. In partnership with ESPN, its corporate name is ESPN STAR Sports. They are the official Asian station of the Barclays Premier League...
. Cable TV won back the broadcasting rights for the Premier League for the next three years starting with the 2010/2011 season.
However, Cable TV announces through IOC that they have the broadcast rights across all media platforms for the Olympic Games in Vancouver in 2010 and London in 2012 in Hong Kong.
http://www.olympic.org/uk/news/media_centre/press_release_uk.asp?id=2262
This is the first time in history that the two free-to-air channels (
TVB
Television Broadcasts Limited
Television Broadcasts Limited, commonly known as TVB, is the second over-the-air commercial television station in Hong Kong. It commenced broadcasting on 19 November 1967...
and
ATV
Asia Television Limited
Asia Television Limited is one of the two free-to-air television broadcasters in Hong Kong, the other being rival Television Broadcasts Limited . It launched in 1957 under the name Rediffusion Television as the first television station in Hong Kong...
) didn't get the broadcast rights. The free-to-air channels and critics have expressed concerns that the Olympic games should be provided to as many audiences as possible. However, Cable TV only has pay TV channels and satellite TV channels currently.
Movies
Since July 2006, Cable's Movie Channels: HBO,
Cinemax
Cinemax
Cinemax, sometimes abbreviated as simply "Max", is a collection of premium television networks that broadcasts primarily feature films, along with softcore erotica, original action series, documentaries and special behind-the-scenes features. Cinemax is operated by Home Box Office, Inc., a...
have not been presented on its platform anymore, as its main competitor, 現代電視
now TV
Now TV
Now TV is a 24-hour pay-TV service provider in Hong Kong.It is transmitted through the company's Netvigator broadband network via an IPTV service...
, had gained the exclusive broadcasting rights.
There are currently 4 movie channels, all Cable TV home-made: HMC 1 (Hollywood Movie Channel 1), HMC 2 (Hollywood Movie Channel 2), Movie 1 (Chinese movies) and Movie 2 (foreign language movies other than English).
Specials
One of the features of HKCTV is its variety of flavours for its viewers when compared to other corporate television channels in Hong Kong. For instance, Channel 18 provides the latest local and international financial information as well as horse racing programmes. To meet the tastes of different members in a family, HKCTV offers family-oriented channels featuring programs concerning entertainment, cartoons, music and trends.
Entertainment Channels
CABLE No. 1 Channel
i-CABLE Children Channel
i-CABLE Entertainment Channel
i-CABLE Entertainment News
Its International Pack aims to accommodate Hong Kong residents originating overseas. It is an incorporated pack with overseas international channels like
Australia Network
Australia Network
Australia Network, originally Australia Television International and later ABC Asia Pacific, is a free-to-air international satellite television service operated by the Australian Broadcasting Corporation since 2006. The television and online service broadcasts 24 hours a day on 7 days a week, to...
, NHK World Premium and
NHK
NHK
NHK is Japan's national public broadcasting organization. NHK, which has always identified itself to its audiences by the English pronunciation of its initials, is a publicly owned corporation funded by viewers' payments of a television license fee....
World TV,
Arirang TV
Arirang TV
Arirang TV is an international, English-language network based in Seoul, South Korea, operated by The Korea International Broadcasting Foundation...
,
Deutsche Welle
Deutsche Welle
Deutsche Welle or DW, is Germany's international broadcaster. The service is aimed at the overseas market. It broadcasts news and information on shortwave, Internet and satellite radio on 98.7 DZFE in 30 languages . It has a satellite television service , that is available in four languages, and...
-TV and
The Filipino Channel
The Filipino Channel
The Filipino Channel is an international television station owned by the Philippine-based multimedia conglomerate ABS-CBN Corporation. The network is currently available in Asia Pacific, Australia, Canada, Europe, Middle East, and the United States. It has over two million subscribers in these...
. This does not only facilitate the entertainment variety of the above-mentioned viewers but also help to spread the culture of the channels' originated countries.
Operation
HKCTV is operated through two separate yet complementary networks, namely the wireless Multipoint Microwave Distribution System coaxial network (MMDS) and the wireline Hybrid Fibre coaxial network (HFC). The combined networks serve 1.70 million viewers, which take up 95% of the local households.
MMDS is a programming broadcasted through specific transmitters throughout Hong Kong. Broadcast signals are released from the transmitters to various "dishes" which are located on the rooftops of buildings, and are further transmitted to customers' televisions through the in-built coaxial cable.
The
hybrid fibre-coaxial
Hybrid fibre-coaxial
Hybrid fiber-coaxial is a telecommunications industry term for a broadband network which combines optical fibre and coaxial cable. It was commonly employed globally by cable television operators since the early 1990s.-Description:...
network consists of a fibre optic backbone which forms the base of the whole broadcast centre. It develops into smaller "branches" and penetrates into different areas in Hong Kong along the MTR tunnels, ending in customers' homes through the coaxial cable that the MMDS uses. This network enables high capacity which allows HKCTV to house over 31 channels as well as other telecommunication services.
Multi-media service
Taking the advantage of i-CABLE's comprehensive optical fiber and cord network, the group dived into the swiftly expanding Internet market. Its multi-media service center was found in January 1999 to facilitate the development of the second core business that the group eagerly aims to expand. The group started the dial-up Internet service in March 1999, with subscriptions climbing to 185,000 in October 2000. This huge number took up 10% of the dial-up Internet service market. In March 2000, it further developed into a cable modem-based broadband service. This service proved to be successful when the service crept to the local households at an average rate of 80,000 homes per month, resulting in a total of 700,000 homes by October 2000. It is thus not surprising that the Group has the fastest development in expanding its cable modem service in the world.
The skyhigh-speed broadband network service was presented after the acquisition of the certification of telecommunications service. Its provision of a 24-hour online broadband network service made the surfing speed faster and steadier than the traditional dial-up network. The outstanding basic service construction and sales tactics successfully made the group one of the two main broadband network service suppliers in Hong Kong.
The visual content of HKCTV provides the platform for the multi-media service unit to develop fee-charging portals on news, movies, horse racing, stocks and adult entertainment.
21126888.com
as well as HKCTV e-Programme Listing were also designed to provide value added services to HKCTV's subscribers and advertisers. Besides, 21126888.com provides an online platform for its advertisers.
Since 2005, the company have also launched its "Multi-Media On Board" (MMOB) service on public transit vehicles. HKCTV's
Hong Kong Cable News Express
is the sole airtime sales distributor and content provider to
KCR
Kowloon-Canton Railway
The Kowloon–Canton Railway refers to a railway network in Hong Kong which is now combined with the MTR railway system, comprising rapid transit services, a light rail system and feeder bus routes within Hong Kong, and intercity passenger and freight train services to the rest of China...
Newsline Express. Instant and updated news are broadcast between the various railway notices of KCR journeys through the use of KCR's Passenger Information Display System, also known as PIDS. This further emphasises HKCTV's theme of providing updated news to its viewers, even when its viewers are not sitting in front of a television or computer. This is also a useful marketing tactic to attract more clients to its home subscriptions after experiencing its instantaneous service. Simultaneously, it gains income and reputation from advertisers for interactive advertising in KCR, one of the most essential transport systems in Hong Kong.
Competition and development
HKCTV is the second subscription-based TV station in Hong Kong apart from the 1957 Rediffusion Television (RTV). Before the liberalisation of the pay-TV market, the market was dominated by HKCTV and iTV, previously a subsidiary of Cable & Wireless HKT, currently owned by
PCCW
PCCW
PCCW Limited is the holding company of HKT Group Holdings Limited, Hong Kong's premier telecommunications provider in the Information and Communications Technologies industry. PCCW also holds a majority interest in Pacific Century Premium Developments Limited...
. In 1999, the HKSAR Government invited bids to open up the Pay TV market so as to give consumers more choices. The pay-TV market was officially opened for bid in early July 2000, leading to its expeditious development. Its opening also led to the increase in competitions for programming and market shares, as evidenced in the various extensive use of advertising and propaganda.
According to the Hong Kong Annual Reports 2003- Telecommunications, there were four domestic pay television programme service licensees in Hong Kong:
Hong Kong Cable Television Limited (HKCTV)
now TV

Now TV

Now TV is a 24-hour pay-TV service provider in Hong Kong.It is transmitted through the company's Netvigator broadband network via an IPTV service...


, operated by PCCW VOD Limited (PCCW VOD)
TVB Pay Vision

TVB Pay Vision

TVB Pay Vision is a 24 hours Cantonese channel by TVB....


, operated by Television Broadcast Company (TVB), and distributed through now TV

Now TV

Now TV is a 24-hour pay-TV service provider in Hong Kong.It is transmitted through the company's Netvigator broadband network via an IPTV service...


and Hutchison Global Communications

Hutchison Global Communications

Hutchison Global Communications is a major Internet service provider for Hong Kong....


(HGC

Hutchison Global Communications

Hutchison Global Communications is a major Internet service provider for Hong Kong....


)
HKBN bbTV

HKBN bbTV

HKBN bbTV is a pay-TV service provider in Hong Kong SAR that belongs to Hong Kong Broadband Network.It is transmitted through the company's HKBN broadband network via an IPTV service.It open in 2004....


, operated by HKBN, an Internet Service Provider

Internet service provider

An Internet service provider is a company that provides access to the Internet. Access ISPs directly connect customers to the Internet using copper wires, wireless or fiber-optic connections. Hosting ISPs lease server space for smaller businesses and host other people servers...


of Hong Kong.
By the end of 2003, a total of 130 pay TV channels have become available in Hong Kong. The total number of subscribers has exceeded 860,000. With the entry of new competitors such as NOW Broadband TV and TVB Pay Vision, increasing competition is expected in the future Pay-TV market.
Comparatively, HKCTV would have a lower flexibility if compared to its new competitor NOW Broadband TV. This is because HKCTV sells its channels and services to its subscribers through fix-priced packages and the preset and prepaid subscription packages determine the viewers' choice of programmes. On the other hand, NOW Broadband TV's subscribers enjoy greater flexibility in choosing which channels to watch at will on a monthly pay-per-view basis without a need of prior application to the company. Thus, the contract period is shorter and the cost is minimised for users who might not be interested in all the programmes in the offered package. Moreover, subscribers to PCCW's
Netvigator
Netvigator
Netvigator is the first and largest residential Internet service provider in Hong Kong, operated as a brand of PCCW. The company did offer iTV, an interactive movie television network that allowed users to watch movies on their TV screen by demand. The service ended in 2002...
broadband services would enjoy certain free trial channels along with their internet service subscription. In this sense, along with the overlapping of numerous incorporated international channels, HKCTV has a less privileged stand in competition since all of its services are only available to its pay-television service subscribers.
1st Cable TV Awards
Hosted by Luk Ho-ming (陸浩明) and Ali Lee (李嘉馨)
Best Drama
(presented by Wu Yung-hing)
Lee Byung hoon - Dong Yi

Dong Yi (Korean drama)

Dong-Yi is a MBC Historical 60 episode drama is about love story between King Sukjong and Choi Suk-Bin as known as Dong Yi is prouced by Lee Byung-hoon who directed Jewel in the Palace .-Synopsis:...


(51%)

The City Hall

The City Hall (SBS)

The City Hall is a South Korean romantic drama. The story revolves around Shin Mi Rae , as she turns from a low-grade govenment clerk into the youngest Mayor of Inju City...



Lurk

Lurk (TV series)

Lurk is a 2009 Chinese television series based on a spy novel. The series is directed by Jiang Wei.- Story :Yu Zecheng was an apparently low-key Kuomintang military Bureau of Investigation and Statistics or The Investigation and Statistics Bureau later on change the name as The Counterespionage...



Emergency Rooms 24 Hours IV 救命病棟24時4
Pretty Maid 大丫鬟
Best Actor
(presented by Wu Yung-hing)
Ji Jin-hee - Dong Yi (47%)
Ron Ng

Ron Ng

Ron Ng Cheuk-hei is a Hong Kong TVB actor, singer, professional dancer, ambassador, and model. He is one of the most demanded artists from TVB.-Early Childhood:...


- Pretty Maid (47%)

Cha Seung-won

Cha Seung-won

Cha Seung-won is a top South Korean actor and former fashion model.- Career :Cha Seung-won dropped out of Sungkyunkwan University and began a successful career as a fashion model in 1988...


- The City Hall
Sun Honglei

Sun Honglei

Sun Honglei, born 16 August 1970 in Harbin, China is a Chinese actor.-Background:Sun developed an interest in acting and performances at a young age. He often skipped school to learn breakdancing on the streets and eventually gave up his studies entirely to pursue dancing as a career, eventually...


- Lurk
Yōsuke Eguchi

Yōsuke Eguchi

is a Japanese poet, actor and singer, who most recently starred in 2009 Japanese film Goemon. Since 1986, he as appeared in a number of television series and movies. He is married to the actress and pop star Chisato Moritaka, with whom he has a son and a daughter....


- Emergency Rooms 24 Hours IV
Best Actress
(presented by Wu Yung-hing)
Han Hyo-joo

Han Hyo-joo

Han Hyo-joo is a South Korean actress and model.-Career:Han was first discovered in a teenage beauty pageant in 2003. She began her acting career in the sitcom Nonstop 5 and the gangster comedy My Boss, My Teacher...


- Dong Yi (54%)

Kim Suna - The City Hall
Yao Chen

Yao Chen

Yao Chen is an award-winning Chinese actress and the person on Sina Weibo with the largest number of "fans" , with over 14.8 million .-Biography:...


- Lurk
Nanako Matsushima

Nanako Matsushima

is a Japanese actress and model. She is known outside Japan for her role in the horror film Ring. She was also a main character in A Story of Love, where she starred next to Hiroyuki Sanada, who also played Ryuji Takayama in Ring....


- Emergency Rooms 24 Hours IV
Ma Yashu - Pretty Maid
External links