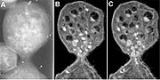 Budding
Budding
is a form of
asexual reproduction
Asexual reproduction
Asexual reproduction is a mode of reproduction by which offspring arise from a single parent, and inherit the genes of that parent only, it is reproduction which does not involve meiosis, ploidy reduction, or fertilization. A more stringent definition is agamogenesis which is reproduction without...
in which a new organism grows on another one. The new organism remains attached as it grows, separating from the parent organism only when it is mature. Since the reproduction is asexual, the newly created organism is a clone and is genetically identical to the parent organism. A new organism grows from an outgrowth or bud on the parent.
Virology
In
virology
Virology
Virology is the study of viruses and virus-like agents: their structure, classification and evolution, their ways to infect and exploit cells for virus reproduction, the diseases they cause, the techniques to isolate and culture them, and their use in research and therapy...
,
budding
is a form of
viral shedding
Viral shedding
Viral shedding refers to the successful reproduction, expulsion, and host-cell infection caused by virus progeny. Once replication has been completed and the host cell is exhausted of all resources in making viral progeny, the viruses may begin to leave the cell by several methods.The term is used...
by which enveloped
virus
Virus
A virus is a small infectious agent that can replicate only inside the living cells of organisms. Viruses infect all types of organisms, from animals and plants to bacteria and archaea...
es acquire their external
envelope
Viral envelope
Many viruses have viral envelopes covering their protein capsids. The envelopes typically are derived from portions of the host cell membranes , but include some viral glycoproteins. Functionally, viral envelopes are used to help viruses enter host cells...
from the host
cell membrane
Cell membrane
The cell membrane or plasma membrane is a biological membrane that separates the interior of all cells from the outside environment. The cell membrane is selectively permeable to ions and organic molecules and controls the movement of substances in and out of cells. It basically protects the cell...
, which bulges outwards and encloses the virion.
Embryology
In
embryology
Embryology
Embryology is a science which is about the development of an embryo from the fertilization of the ovum to the fetus stage...
, the term
budding
is applied to the process of
embryo
Embryo
An embryo is a multicellular diploid eukaryote in its earliest stage of development, from the time of first cell division until birth, hatching, or germination...
differentiation, in which new structures are formed in outgrowth from pre-existing parts.
Plant multiplication
In
agriculture
Agriculture
Agriculture is the cultivation of animals, plants, fungi and other life forms for food, fiber, and other products used to sustain life. Agriculture was the key implement in the rise of sedentary human civilization, whereby farming of domesticated species created food surpluses that nurtured the...
and
horticulture
Horticulture
Horticulture is the industry and science of plant cultivation including the process of preparing soil for the planting of seeds, tubers, or cuttings. Horticulturists work and conduct research in the disciplines of plant propagation and cultivation, crop production, plant breeding and genetic...
, budding refers to
grafting
Grafting
Grafting is a horticultural technique whereby tissues from one plant are inserted into those of another so that the two sets of vascular tissues may join together. This vascular joining is called inosculation...
the
bud
Bud
In botany, a bud is an undeveloped or embryonic shoot and normally occurs in the axil of a leaf or at the tip of the stem. Once formed, a bud may remain for some time in a dormant condition, or it may form a shoot immediately. Buds may be specialized to develop flowers or short shoots, or may have...
of one plant onto another.
External links