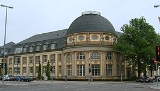 Bucerius Law School
Bucerius Law School
is a small, non-state university affiliated
private
Private university
Private universities are universities not operated by governments, although many receive public subsidies, especially in the form of tax breaks and public student loans and grants. Depending on their location, private universities may be subject to government regulation. Private universities are...
law school
Law school
A law school is an institution specializing in legal education.- Law degrees :- Canada :...
located in
Hamburg
Hamburg
-History:The first historic name for the city was, according to Claudius Ptolemy's reports, Treva.But the city takes its modern name, Hamburg, from the first permanent building on the site, a castle whose construction was ordered by the Emperor Charlemagne in AD 808...
,
Germany
Germany
Germany , officially the Federal Republic of Germany , is a federal parliamentary republic in Europe. The country consists of 16 states while the capital and largest city is Berlin. Germany covers an area of 357,021 km2 and has a largely temperate seasonal climate...
. The school is the first private law school in Germany and is often ranked as the best law school in the country. It admits 100 bachelor students per year, who achieve very high results in the German Judicial Examination (Staatsexamen). Due to its high selectivity and students' placement in the German Judicial Examination, the school is regarded to be an elite institution for legal education and scholarship.
Origins and Structure
Bucerius Law School was founded in 2000 by one of Germany's largest foundations,
ZEIT-Stiftung Ebelin und Gerd Bucerius
ZEIT-Stiftung
The Zeit-Stiftung Ebelin und Gerd Bucerius was founded in 1971 by Gerd Bucerius . The name refers to the founder, his second wife Gertrud Ebel whose nickname was Ebelin, and to the weekly newspaper Die Zeit, which was founded by Gerd Bucerius. The foundation is registered in Hamburg...
following the model of law schools in the United States, and bearing the name of
Gerd Bucerius
Gerd Bucerius
Gerd Bucerius was a German politician and journalist, one of the founding members of Die Zeit. He is the namesake of the Bucerius Law School in Hamburg and of the Bucerius Kunst Forum, an art gallery....
, a noted German judge, attourney, journalist, politician and founding publisher of Germany's leading weekly newspaper,
Die Zeit
Die Zeit
Die Zeit is a German nationwide weekly newspaper that is highly respected for its quality journalism.With a circulation of 488,036 and an estimated readership of slightly above 2 million, it is the most widely read German weekly newspaper...
. Organized as a non-profit
GmbH
Gesellschaft mit beschränkter Haftung
Gesellschaft mit beschränkter Haftung is a type of legal entityvery common in Germany, Austria, Switzerland, and other Central European countries...
, its mission statement is "Freedom of Thought - Academic Renewal - Social Responsibility".
The faculty consists of 16 full-time professors, three affiliate, one honorary and one emeritus professor. There are specific institutes for the law of foundations and non-profit organizations and for corporate and capital market law. The school attracts a large number of visiting scholars and speakers from all over the world and hosts conferences to various topics.
Programs of Study
The school offers two different degree programs of study: The general law program, leading to a
Bachelor of Laws
Bachelor of Laws
The Bachelor of Laws is an undergraduate, or bachelor, degree in law originating in England and offered in most common law countries as the primary law degree...
(LL.B.) and to the German First Judicial Examination (Staatsexamen), and the Master of Law and Business (M.L.B.) program. Moreover, it grants doctoral (Dr. iur.) and habilitation titles and offers two summer certificate programs.
LL.B. and Staatsexamen Program
The three-and-a-half-year LL.B. program is divided into ten trimesters. Afterwards, students focus on preparation for the German First Judicial Examination (the regular law degree) in order to be admitted to legal traineeship. The entire program lasts 4.5 years and includes a trimester or semester abroad at one of Bucerius' partner institutions.
Besides an extensive legal education, the school places special importance on the mandatory
Studium generale
Studium Generale
Studium generale is the old customary name for a Medieval university.- Definition :There is no clear official definition of what constituted a Studium generale...
as well as an emphasis on foreign languages and economics. Students are required to complete internships at law firms, businesses or organizations, many of which support the school as donators. Students are required to spend their seventh semester abroad and study law in a language other than German.
The school admits the best 100 students every year for the LL.B./Staatsexamen program. They are selected through a demanding written and oral admissions procedure. Most of the admitted students graduated at the top of their high school class. Over 10% of the students are
national merit scholars
Studienstiftung
The German National Academic Foundation is Germany's largest organisation sponsoring students of outstanding academic achievements.It is non-political and non-denominational....
, which is more than at any other German institution of higher learning. Approximately 80% of the Bucerius graduates achieve a distinction (Prädikat) in the German Judicial State Examination, a rate which is more than five times the national average.
The tuition fee is 3,700 Euros per trimester, for a total of 12 trimesters. Financial aid includes scholarships, student loans and a "study first, pay later" system. Moreover, many students are recipients of external scholarships.
M.L.B. Program
The
Bucerius/WHU Master of Law and Business
is a consecutive
Master's degree
Master's degree
A master's is an academic degree granted to individuals who have undergone study demonstrating a mastery or high-order overview of a specific field of study or area of professional practice...
offered jointly by Bucerius Law School and the
WHU-Otto Beisheim School of Management
WHU-Otto Beisheim School of Management
WHU – Otto Beisheim School of Management is a German business school. The privately financed school was founded in 1984 by the Koblenz chamber of commerce and is located in Vallendar near Koblenz...
. Courses are mainly taught at the Bucerius campus.
Applicants must have a degree in either law, economics or business. The program aims at training international executives at the intersection of law and economics and strives to enable its students to analyse corporate issues from a legal and an economic perspective in an international context.
The program is taught in English and runs from the beginning of September to the end of July and is divided into three trimesters. In the Fall trimester (September to December), two course periods are held. The second trimester (January to April) comprises one course block and an eight-week internship. In the third trimester (May to July), students write their thesis following another course block.
The M.L.B. program admits 50 students a year in a separate admissions test. Tuition is 22,000 Euros.
Other Programs
Bucerius also offers doctoral and post-doctoral studies. During the Summer, there is a Summer School for International Law and an introductory law program.
Bucerius Law School has a Bucerius Summer Program in International Business Law, which was inaugurated in 2008, and in 2012 will additionally offer a Bucerius Summer Program in Mediation. Both intensive English-taught programs bring together students and professors from around the world to explore the theory and praxis of the given topic.
The school has formed extensive international programs with currently 94 law schools in 31 countries, including leading law schools in the USA,
Canada
Canada
Canada is a North American country consisting of ten provinces and three territories. Located in the northern part of the continent, it extends from the Atlantic Ocean in the east to the Pacific Ocean in the west, and northward into the Arctic Ocean...
, the
United Kingdom
United Kingdom
The United Kingdom of Great Britain and Northern IrelandIn the United Kingdom and Dependencies, other languages have been officially recognised as legitimate autochthonous languages under the European Charter for Regional or Minority Languages...
and
France
France
The French Republic , The French Republic , The French Republic , (commonly known as France , is a unitary semi-presidential republic in Western Europe with several overseas territories and islands located on other continents and in the Indian, Pacific, and Atlantic oceans. Metropolitan France...
. Each Fall, about one hundred students from the partner universities visit the school during the International Exchange Program, 30 per cent of which are from the United States.
Extracurricular Activities
There are two student-run publications: A political magazine called "Politik und Gesellschaft" and the Bucerius Law Journal. There is a choir, orchestra, big band, theater group, Model United Nations Society, six political student groups,
Phi Delta Phi
Phi Delta Phi
Phi Delta Phi, ΦΔΦ, is the world's second largest legal fraternity. Phi Delta Phi is the second oldest legal organization in continuous existence in the United States and third oldest in North America...
Inn and many sport clubs, whose teams compete against other universities in the annual "Champions Trophy."
Moot Court
Moot court
A moot court is an extracurricular activity at many law schools in which participants take part in simulated court proceedings, usually to include drafting briefs and participating in oral argument. The term derives from Anglo Saxon times, when a moot was a gathering of prominent men in a...
s are offered in English law, international trade law and labor law.
Location and Facilities
Bucerius Law School is located in the center of the city, near Hamburg's trade exhibition center and the park
Planten un Blomen
Planten un Blomen
Planten un Blomen is a park with a size of 47 hectares in the center of Hamburg. The name is Low German for plants and flowers.-Overview:The first plant was a Platanus, planted by Johann Georg Christian Lehmann in November 1821...
. Housed in a historic building that used to serve as the horticulture and botany buildings for the
University of Hamburg
University of Hamburg
The University of Hamburg is a university in Hamburg, Germany. It was founded on 28 March 1919 by Wilhelm Stern and others. It grew out of the previous Allgemeines Vorlesungswesen and the Kolonialinstitut as well as the Akademisches Gymnasium. There are around 38,000 students as of the start of...
, Bucerius features a full service Mensa, or cafeteria, offering a variety of hot meals daily. A new library building with a capacity of 450 places was added to the Eastern side of the main building in 2007. The library comprises 76,000 books and 2,355 periodicals in printed and electronic form; it is not open to the public. There are several computer labs, a gym, a theater and an on-campus, bilingual (German/English) kindergarten.
See also
Bucerius Kunst Forum

Bucerius Kunst Forum

-External links:* . Retrieved on 2009-10-08....



Education in Hamburg
External links