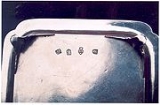 Britannia silver
Britannia silver
is an
alloy
Alloy
An alloy is a mixture or metallic solid solution composed of two or more elements. Complete solid solution alloys give single solid phase microstructure, while partial solutions give two or more phases that may or may not be homogeneous in distribution, depending on thermal history...
of
silver
Silver
Silver is a metallic chemical element with the chemical symbol Ag and atomic number 47. A soft, white, lustrous transition metal, it has the highest electrical conductivity of any element and the highest thermal conductivity of any metal...
containing 95.84% silver, with the balance usually
copper
Copper
Copper is a chemical element with the symbol Cu and atomic number 29. It is a ductile metal with very high thermal and electrical conductivity. Pure copper is soft and malleable; an exposed surface has a reddish-orange tarnish...
.
This standard was introduced in
England
England
England is a country that is part of the United Kingdom. It shares land borders with Scotland to the north and Wales to the west; the Irish Sea is to the north west, the Celtic Sea to the south west, with the North Sea to the east and the English Channel to the south separating it from continental...
by
Act of Parliament
Act of Parliament
An Act of Parliament is a statute enacted as primary legislation by a national or sub-national parliament. In the Republic of Ireland the term Act of the Oireachtas is used, and in the United States the term Act of Congress is used.In Commonwealth countries, the term is used both in a narrow...
in 1697 to replace
sterling silver
Sterling silver
Sterling silver is an alloy of silver containing 92.5% by mass of silver and 7.5% by mass of other metals, usually copper. The sterling silver standard has a minimum millesimal fineness of 925....
(92.5% silver) as the obligatory standard for items of "wrought plate". The lion passant gardant
hallmark
Hallmark
A hallmark is an official mark or series of marks struck on items made of precious metals — platinum, gold, silver and in some nations, palladium...
denoting sterling was replaced with "the figure of a woman commonly called
Britannia
Britannia
Britannia is an ancient term for Great Britain, and also a female personification of the island. The name is Latin, and derives from the Greek form Prettanike or Brettaniai, which originally designated a collection of islands with individual names, including Albion or Great Britain. However, by the...
", and the leopard's head mark of the
Worshipful Company of Goldsmiths
Worshipful Company of Goldsmiths
The Worshipful Company of Goldsmiths is one of the Livery Companies of the City of London. The Company, which has origins in the twelfth century, received a Royal Charter in 1327. It ranks fifth in the order of precedence of Livery Companies. Its motto is Justitia Virtutum Regina, Latin for Justice...
replaced with a "lion's head erased".
Britannia standard silver was introduced by the English government as part of the
great recoinage scheme
Great Recoinage of 1696
The Great Recoinage of 1696 was an attempt by the British Government to replace the hammered silver that made up most of the coinage in circulation, much of it being clipped and badly worn. -History:English currency was in disarray in the late 17th century...
of
William III
William III of England
William III & II was a sovereign Prince of Orange of the House of Orange-Nassau by birth. From 1672 he governed as Stadtholder William III of Orange over Holland, Zeeland, Utrecht, Guelders, and Overijssel of the Dutch Republic. From 1689 he reigned as William III over England and Ireland...
from 1696, when attempts were made to limit the clipping and melting of sterling silver coinage. It was thought that by maintaining a higher standard for plate, there would be less incentive to put the newly issued sterling coins in the melting pot.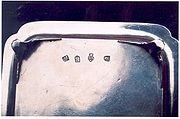 Sterling silver was approved again for use by silversmiths from 1 June 1720, and thereafter Britannia silver has remained an optional standard for silver assay in the
United Kingdom
United Kingdom
The United Kingdom of Great Britain and Northern IrelandIn the United Kingdom and Dependencies, other languages have been officially recognised as legitimate autochthonous languages under the European Charter for Regional or Minority Languages...
and
Ireland
Ireland
Ireland is an island to the northwest of continental Europe. It is the third-largest island in Europe and the twentieth-largest island on Earth...
. Since the hallmarking changes of 1 January 1999, Britannia silver has been denoted by the
millesimal fineness
Millesimal fineness
Millesimal fineness is a system of denoting the purity of platinum, gold and silver alloys by parts per thousand of pure metal by mass in the alloy. For example, an alloy containing 75% gold is denoted as "750". Many European countries use decimal hallmark stamps Millesimal fineness is a system of...
hallmark
958
, with the symbol of Britannia being applied optionally.
The silver bullion coins of the
Royal Mint
Royal Mint
The Royal Mint is the body permitted to manufacture, or mint, coins in the United Kingdom. The Mint originated over 1,100 years ago, but since 2009 it operates as Royal Mint Ltd, a company which has an exclusive contract with HM Treasury to supply all coinage for the UK...
issued since 1998, known as "
Britannias
Britannia coin
Britannia coins are British bullion coins issued by the Royal Mint in gold since 1987 and in silver since 1997.Britannia gold coins contain one troy ounce of gold and have a face value of £100. Gold Britannias also are issued in fractional sizes of one-half, one-quarter, and one-tenth of a troy...
" for their reverse image, are minted in Britannia standard silver.
Britannia silver should be distinguished from
Britannia metal
Britannia metal
Britannia metal or britannium is a pewter-type alloy favoured for its silvery appearance and smooth surface. The composition is approximately 93% tin, 5% antimony, and 2% copper....
, a
pewter
Pewter
Pewter is a malleable metal alloy, traditionally 85–99% tin, with the remainder consisting of copper, antimony, bismuth and lead. Copper and antimony act as hardeners while lead is common in the lower grades of pewter, which have a bluish tint. It has a low melting point, around 170–230 °C ,...
-like alloy containing no silver.