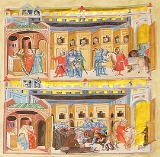 Bretislaus I of Bohemia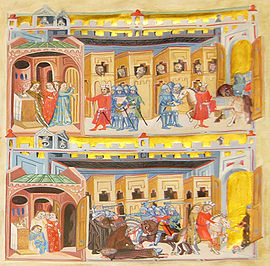 Bretislaus I
(born between 1002 and 1005, died 10 January 1055), known as
Bohemian Achilles
, of the house of the Přemyslids, was the duke of Bohemia from 1035 till death.
Youth
Bretislaus was a son of duke
Oldřich
Oldrich of Bohemia
Ulrich was the duke of Bohemia from 1012 to 1033 and briefly in 1034. He was a son of Boleslaus II and brother of Boleslaus III and Jaromir....
and his would-be wife Božena. As illegitimate son cannot obtain a wife by conventional way. His solution was typical for that era: in 1019, at
Schweinfurt
Schweinfurt
Schweinfurt is a city in the Lower Franconia region of Bavaria in Germany on the right bank of the canalized Main, which is here spanned by several bridges, 27 km northeast of Würzburg.- History :...
, he kidnapped his future wife
Judith of Schweinfurt
Judith of Schweinfurt
Judith of Schweinfurt , Duchess of Bohemia, was the wife of Bretislaus I of Bohemia. Her parents were Henry of the House of Babenberg, margrave of Nordgau , and his wife Gerberga.-Břetislav and Jitka:...
, a daughter of a Bavarian magnate,
margrave
Margrave
A margrave or margravine was a medieval hereditary nobleman with military responsibilities in a border province of a kingdom. Border provinces usually had more exposure to military incursions from the outside, compared to interior provinces, and thus a margrave usually had larger and more active...
Henry of Schweinfurt
Henry of Schweinfurt
Henry of Schweinfurt was the Margrave of the Nordgau from 994 until 1004. He was called the "glory of eastern Franconia" by his own cousin, the chronicler Thietmar of Merseburg....
of
Nordgau
Nordgau
The Nordgau can refer to two distinct areas:* Nordgau , the Alsatian Nordgau, the medieval County of Nordgau, the northern part of Alsace...
.
During his father's reign, in 1019 or 1029, he took back
Moravia
Moravia
Moravia is a historical region in Central Europe in the east of the Czech Republic, and one of the former Czech lands, together with Bohemia and Silesia. It takes its name from the Morava River which rises in the northwest of the region...
from
Poland
Poland
Poland , officially the Republic of Poland , is a country in Central Europe bordered by Germany to the west; the Czech Republic and Slovakia to the south; Ukraine, Belarus and Lithuania to the east; and the Baltic Sea and Kaliningrad Oblast, a Russian exclave, to the north...
. About 1031 Bretislaus invaded Hungary in order to prevent its expansion under king Stephen. The partition of Bohemia between Oldřich and his brother Jaromír in 1034 was probably the reason why Bretislaus fled beyond Bohemian border only to come back to take the throne after Jaromir's abdication.
Raid into Poland
In 1035 Bretislaus helped Emperor
Conrad II
Conrad II, Holy Roman Emperor
Conrad II was Holy Roman Emperor from 1027 until his death.The son of a mid-level nobleman in Franconia, Count Henry of Speyer and Adelaide of Alsace, he inherited the titles of count of Speyer and of Worms as an infant when Henry died at age twenty...
in his war against the
Lusatia
Lusatia
Lusatia is a historical region in Central Europe. It stretches from the Bóbr and Kwisa rivers in the east to the Elbe valley in the west, today located within the German states of Saxony and Brandenburg as well as in the Lower Silesian and Lubusz voivodeships of western Poland...
ns. In 1039 he invaded Little and Great Poland, captured Poznan and sacked
Gniezno
Gniezno
Gniezno is a city in central-western Poland, some 50 km east of Poznań, inhabited by about 70,000 people. One of the Piasts' chief cities, it was mentioned by 10th century A.D. sources as the capital of Piast Poland however the first capital of Piast realm was most likely Giecz built around...
, bringing the relics of
St. Adalbert
Adalbert of Prague
This article is about St Adalbert of Prague. For other uses, see Adalbert .Saint Adalbert, Czech: ; , , Czech Roman Catholic saint, a Bishop of Prague and a missionary, was martyred in his efforts to convert the Baltic Prussians. He evangelized Poles and Hungarians. St...
,
Radim Gaudentius
Radim Gaudentius
Radim Gaudentius was Archbishop of Gniezno and the first Polish archbishop.Radim was an illegitimate son of Prince Slavník, and thus the half-brother of Adalbert of Prague....
and St. Five Brothers back with him. On the way back he conquered part of
Silesia
Silesia
Silesia is a historical region of Central Europe located mostly in Poland, with smaller parts also in the Czech Republic, and Germany.Silesia is rich in mineral and natural resources, and includes several important industrial areas. Silesia's largest city and historical capital is Wrocław...
including Wrocław . His main goal was to set up an archbishopric in
Prague
Prague
Prague is the capital and largest city of the Czech Republic. Situated in the north-west of the country on the Vltava river, the city is home to about 1.3 million people, while its metropolitan area is estimated to have a population of over 2.3 million...
and create a large state subject only to the
Holy Roman Empire
Holy Roman Empire
The Holy Roman Empire was a realm that existed from 962 to 1806 in Central Europe.It was ruled by the Holy Roman Emperor. Its character changed during the Middle Ages and the Early Modern period, when the power of the emperor gradually weakened in favour of the princes...
. In 1040 the German King
Henry III
Henry III, Holy Roman Emperor
Henry III , called the Black or the Pious, was a member of the Salian Dynasty of Holy Roman Emperors...
invaded Bohemia but was forced to retreat after he lost the battle at Brůdek (pass in
Bohemian Forest
Bohemian Forest
The Bohemian Forest, also known in Czech as Šumava , is a low mountain range in Central Europe. Geographically, the mountains extend from South Bohemia in the Czech Republic to Austria and Bavaria in Germany...
). However, the following year Henry III invaded again, skirted the border defences and laid siege to Bretislaus in Prague. Forced by a mutiny among his nobles and betrayed by his bishop, Bretislaus had to renounce all of his conquests save for Moravia.
In 1047, Emperor Henry III negotiated a peace treaty between Bretislaus and the Poles. This pact worked in Bretislaus' favour as the Polish ruler swore never again to attack Bohemia in return for an annual subsidy to Gniezno.
Internal policy
Bretislaus was the author of decrees concerning the rules of
Christianization
Christianization
The historical phenomenon of Christianization is the conversion of individuals to Christianity or the conversion of entire peoples at once...
, which included a ban on
polygamy
Polygamy
Polygamy is a marriage which includes more than two partners...
or trade on
holiday
Holiday
A Holiday is a day designated as having special significance for which individuals, a government, or a religious group have deemed that observance is warranted. It is generally an official or unofficial observance of religious, national, or cultural significance, often accompanied by celebrations...
s.
It was in 1030 that he married the aforementioned Judith. Before his death, Bretislaus organised the succession (in 1054) and issued the famous Seniority Law. For the first time this act stated that Bohemia and Moravia would pass directly through the senior line of the Přemyslid dynasty. Younger members of the dynasty were allowed to govern Moravia, but only at the Duke's discretion. His eldest son,
Spytihněv
Spytihnev II of Bohemia
Spytihnev II was the duke of Bohemia from March 1055 until his death in 1061. He was the eldest son of Bretislaus I. His coronation was celebrated with the first known rendition of Lord, Have Mercy on Us. After succeeding to the throne, he went at once to Regensburg to receive imperial confirmation...
, was to succeed him as duke of Bohemia with control over that territory. Moravia was incorporated into the Bohemian duchy, but divided between three of his younger sons. Olomouc Appanage went to
Vratislaus
Vratislaus II of Bohemia
-Literature:*Vratislav Vaníček: Vratislav II. . První český král. Vyšehrad 2004, ISBN 80-7021-655-7*Hans Patze: Die Pegauer Annalen, die Königserhebung Wratislaws v. Böhmen und die Anfänge der Stadt Pegau. JGMODtl 12, 1963, 1-62...
, Znojmo Appanage went to
Konrád
Conrad I of Bohemia
Conrad I of Brno was the duke of Bohemia for eight months in 1092. He was the brother and successor of Vratislaus II . He was the third son of Bretislaus I and Judith of Schweinfurt...
, and Brno Appanage went to Otto. The youngest son,
Jaromír
Jaromir, Bishop of Prague
Jaromir was the bishop of Prague from 1068 when he was appointed by his brother, Vratislaus II of Bohemia. The two were both sons of the Duke Bretislaus I....
, entered the church and became bishop of Prague.
Bretislaus died at
Chrudim
Chrudim
Chrudim is a city in eastern Bohemia, in the Pardubice region of the Czech Republic.The oldest archaeological findings which provide first signs of the settlement in this area date back to the 5th millennium BC. Various cultures succeeded one on another in the territory of today's town of Chrudim...
in 1055 during his preparation for another invasion of Hungary and was succeeded by his son Spytihněv II as Duke of Bohemia and left to his other younger children the Region of Moravia. Otto (†1087) and Vratislav were kept away of the government by Spytihněv, but after his death both gained control of Moravia and Bohemia respectively.