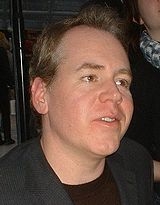 Bret Easton Ellis
Bret Easton Ellis
is an American novelist and
short story
Short story
A short story is a work of fiction that is usually written in prose, often in narrative format. This format tends to be more pointed than longer works of fiction, such as novellas and novels. Short story definitions based on length differ somewhat, even among professional writers, in part because...
writer. His works have been translated into 27 different languages. He was regarded as one of the so-called literary
Brat Pack
Brat Pack (literary)
The expression "literary Brat Pack" refers to the three young, East-coast American authors, Bret Easton Ellis, Tama Janowitz and Jay McInerney, who emerged in USA in the 1980s...
, which also included
Tama Janowitz
Tama Janowitz
Tama Janowitz is an American novelist and a short story writer. The 2005 September/October issue of Pages magazine listed her as one of the four "brat pack" authors, along with Bret Easton Ellis, Mark Lindquist and Jay McInerney.-Life:Her parents, a psychiatrist father, Julian Janowitz, and...
and
Jay McInerney
Jay McInerney
John Barrett McInerney Jr. is an American writer. His novels include Bright Lights, Big City; Ransom; Story of My Life; Brightness Falls; and The Last of the Savages...
. He is a self-proclaimed
satirist
Satire
Satire is primarily a literary genre or form, although in practice it can also be found in the graphic and performing arts. In satire, vices, follies, abuses, and shortcomings are held up to ridicule, ideally with the intent of shaming individuals, and society itself, into improvement...
, whose trademark technique, as a writer, is the expression of extreme acts and opinions in an affectless style. Ellis employs a technique of linking novels with common, recurring characters.
Though Ellis made his debut at 21 with the controversial 1985 bestseller
Less Than Zero
, a
zeitgeist
Zeitgeist
Zeitgeist is "the spirit of the times" or "the spirit of the age."Zeitgeist is the general cultural, intellectual, ethical, spiritual or political climate within a nation or even specific groups, along with the general ambiance, morals, sociocultural direction, and mood associated with an era.The...
novel about amoral young people in Los Angeles, the work he is most known for is his third novel, 1991's
American Psycho
American Psycho
American Psycho is a psychological thriller and satirical novel by Bret Easton Ellis, published in 1991. The story is told in the first person by the protagonist, serial killer and Manhattan businessman Patrick Bateman. The book's graphic violence and sexual content generated a great deal of...
.
People are afraid to merge on freeways in Los Angeles.

Disappear here.