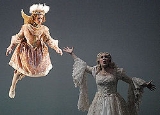 Boston Early Music Festival
The
Boston Early Music Festival
(BEMF) is a music festival held every two years in
Boston
Boston
Boston is the capital of and largest city in Massachusetts, and is one of the oldest cities in the United States. The largest city in New England, Boston is regarded as the unofficial "Capital of New England" for its economic and cultural impact on the entire New England region. The city proper had...
, Massachusetts, USA, for all people interested in
historical music performance
Historically informed performance
Historically informed performance is an approach in the performance of music and theater. Within this approach, the performance adheres to state-of-the-art knowledge of the aesthetic criteria of the period in which the music or theatre work was conceived...
.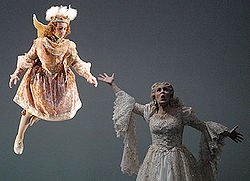 It was founded in 1980 by a group of musicians interested in promoting historical performance in the United States and abroad. Since then, BEMF has promoted early music through a variety of diverse programs and activities, including an annual concert series that brings the early music's brightest stars to the Boston concert stage, and the biennial week-long Festival and Exhibition. Through these programs, BEMF has earned its place as North America's primary presenting organization for conservators and performers of music of the Medieval, Renaissance, Baroque, and Classical periods.
At each Festival, concerts are presented every day from morning until late at night. Concerts are given by a remarkable array of established luminaries and rising stars in the field of early music worldwide. BEMF concerts also allow for unique, once-in-a-lifetime collaborations and programs by the spectacular array of talent assembled for the Festival week's events. In addition, there are many scheduled
Fringe
concerts and events, presented by both local and out-of-town groups at a number of local Boston venues.
In 1987, inspired by the success of the Festival concerts, BEMF introduced an annual concert series to meet the increasing demand for year-round performances by a number of internationally recognized artists. BEMF's annual season now sets the bar nationally for early music performance, and has featured such musicians as The Tallis Scholars,
Jordi Savall
Jordi Savall
Jordi Savall i Bernadet is a Catalan viol player, conductor and composer. He has been one of the major figures in the field of Western early music since the 1970s, largely responsible for bringing the viol back to life on the stage...
and
Hespèrion XXI
Hespèrion XXI
Hespèrion XXI is an international early music ensemble. The group was formed in Basel, Switzerland in 1974 as Hespèrion XX by Spanish musical director Jordi Savall , Montserrat Figueras , Lorenzo Alpert , and Hopkinson Smith...
, and
Les Arts Florissants
Les Arts Florissants (ensemble)
Les Arts Florissants is a Baroque musical ensemble in residence at the Théâtre de Caen in Caen, France. The organization was founded by conductor William Christie in 1979. The ensemble derives its name from the 1685 opera by Marc-Antoine Charpentier. The organization consists of a chamber orchestra...
, as well as the North American débuts of
Bach Collegium Japan
Bach Collegium Japan
Bach Collegium Japan is composed of an orchestra and a chorus specialising in Baroque music, playing with period instruments. It was founded in 1990 by Masaaki Suzuki with the purpose of introducing Japanese audiences to European Baroque music. Suzuki still remains its music director...
, Netherlands Bach Society, and
Akademie für Alte Musik Berlin
Akademie für Alte Musik Berlin
Akademie für Alte Musik Berlin is a German chamber orchestra founded in East Berlin in 1982...
.
Operas staged by the Boston Early Music Festival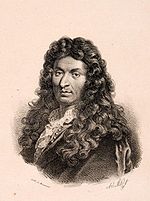 Niobe, Regina di Tebe by Agostino Steffani

Agostino Steffani

Agostino Steffani was an Italian ecclesiastic, diplomat and composer.-Biography:Steffani was born at Castelfranco Veneto. At a very early age he was admitted as a chorister at San Marco, Venice...


(2011)
A chamber production of Dido and Aeneas

Dido and Aeneas

Dido and Aeneas is an opera in a prologue and three acts by the English Baroque composer Henry Purcell to a libretto by Nahum Tate. The first known performance was at Josias Priest's girls' school in London no later than the summer of 1688. The story is based on Book IV of Virgil's Aeneid...


by Henry Purcell

Henry Purcell

Henry Purcell – 21 November 1695), was an English organist and Baroque composer of secular and sacred music. Although Purcell incorporated Italian and French stylistic elements into his compositions, his legacy was a uniquely English form of Baroque music...


(2010)
A chamber production of Acis and Galatea

Acis and Galatea

Acis and Galatea is a musical work by George Frideric Handel with an English text by John Gay. The work has been variously described as a serenata, a masque, a pastoral or pastoral opera, a "little opera" , an entertainment and in the New Grove Dictionary of Music an oratorio...


by George Frideric Handel

George Frideric Handel

George Frideric Handel was a German-British Baroque composer, famous for his operas, oratorios, anthems and organ concertos. Handel was born in 1685, in a family indifferent to music...


(2009)
L'Incoronazione di Poppea

L'incoronazione di Poppea

L'incoronazione di Poppea is an Italian baroque opera comprising a prologue and three acts, first performed in Venice during the 1642–43 carnival season. The music, attributed to Claudio Monteverdi, is a setting of a libretto by Giovanni Francesco Busenello...


by Claudio Monteverdi

Claudio Monteverdi

Claudio Giovanni Antonio Monteverdi – 29 November 1643) was an Italian composer, gambist, and singer.Monteverdi's work, often regarded as revolutionary, marked the transition from the Renaissance style of music to that of the Baroque period. He developed two individual styles of composition – the...


(2009)
A double-bill of chamber operas: Venus and Adonis

Venus and Adonis (opera)

Venus and Adonis is an opera in three acts and a prologue by the English Baroque composer John Blow, composed in about 1683. It was written for the court of King Charles II at either London or Windsor. It is considered by some to be either a semi-opera or a masque, but The New Grove names it as the...


by John Blow

John Blow

John Blow was an English Baroque composer and organist, appointed to Westminster Abbey in 1669. His pupils included William Croft, Jeremiah Clarke and Henry Purcell. In 1685 he was named a private musician to James II. His only stage composition, Venus and Adonis John Blow (baptised 23 February...


and Actéon

Actéon

Actéon is a Pastorale in the form of a miniature tragédie en musique in six scenes by Marc-Antoine Charpentier, Opus H 481, based on a Greek myth.-History:...


by Marc-Antoine Charpentier

Marc-Antoine Charpentier

Marc-Antoine Charpentier, , was a French composer of the Baroque era.Exceptionally prolific and versatile, he produced compositions of the highest quality in several genres...


(2008)
Psyché by Jean-Baptiste Lully

Jean-Baptiste Lully

Jean-Baptiste de Lully was an Italian-born French composer who spent most of his life working in the court of Louis XIV of France. He is considered the chief master of the French Baroque style. Lully disavowed any Italian influence in French music of the period. He became a French subject in...


(2007)
Boris Goudenow by Johann Mattheson

Johann Mattheson

Johann Mattheson was a German composer, writer, lexicographer, diplomat and music theorist.Mattheson was born and died in Hamburg. He was a close friend of George Frideric Handel, although he nearly killed him in a sudden quarrel, during a performance of Mattheson's opera Cleopatra in 1704...


(2005)
Ariadne by Johann Georg Conradi

Johann Georg Conradi

Johann Georg Conradi was a German composer. He was, with Johann Theile, Nicolaus Adam Strungk, Johann Philipp Fortsch, Johann Wolfgang Franck and Johann Sigismund Kusser one of the main composers of the early Hamburg Opera....


(2003)
Thésée by Jean-Baptiste Lully

Jean-Baptiste Lully

Jean-Baptiste de Lully was an Italian-born French composer who spent most of his life working in the court of Louis XIV of France. He is considered the chief master of the French Baroque style. Lully disavowed any Italian influence in French music of the period. He became a French subject in...


(2001)
Ercole Amante by Francesco Cavalli

Francesco Cavalli

Francesco Cavalli was an Italian composer of the early Baroque period. His real name was Pietro Francesco Caletti-Bruni, but he is better known by that of Cavalli, the name of his patron Federico Cavalli, a Venetian nobleman.-Life:Cavalli was born at Crema, Lombardy...


(1999)
L'Orfeo by Luigi Rossi (1997)
King Arthur by Henry Purcell (1995)