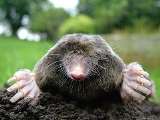 Boreoeutheria
Boreoeutheria
(Gk: βόρειο North + θεριό Beast) is a
clade
Clade
A clade is a group consisting of a species and all its descendants. In the terms of biological systematics, a clade is a single "branch" on the "tree of life". The idea that such a "natural group" of organisms should be grouped together and given a taxonomic name is central to biological...
(magnorder) of placental mammals that is composed of the sister taxa
Laurasiatheria
Laurasiatheria
Laurasiatheria is a large group of placental mammals believed to have originated on the northern supercontinent of Laurasia. It includes shrews, hedgehogs, pangolins, bats, whales, most hoofed mammals, and carnivorans, among others....
and
Euarchontoglires
Euarchontoglires
Euarchontoglires is a clade of mammals, the living members of which are rodents, lagomorphs, treeshrews, colugos and primates .-Evolutionary relationships:...
(Supraprimates). It is now well supported by
DNA sequence
DNA sequence
The sequence or primary structure of a nucleic acid is the composition of atoms that make up the nucleic acid and the chemical bonds that bond those atoms. Because nucleic acids, such as DNA and RNA, are unbranched polymers, this specification is equivalent to specifying the sequence of...
analyses as well as
retrotransposon
Retrotransposon
Retrotransposons are genetic elements that can amplify themselves in a genome and are ubiquitous components of the DNA of many eukaryotic organisms. They are a subclass of transposon. They are particularly abundant in plants, where they are often a principal component of nuclear DNA...
presence/absence data
Retrotransposon Marker
Retrotransposon markers are retrotransposons that are used as cladistic markers.The analysis of SINEs – Short INterspersed Elements – LINEs – Long INterspersed Elements – or truncated LTRs – Long Terminal Repeats – as molecular cladistic markers represents a particularly interesting complement to...
.
Most of the male members of the clade share the distinction of external testicles, with the exceptions of
Rhinoceroses
Rhinoceros
Rhinoceros , also known as rhino, is a group of five extant species of odd-toed ungulates in the family Rhinocerotidae. Two of these species are native to Africa and three to southern Asia....
and
Cetacea
Cetacea
The order Cetacea includes the marine mammals commonly known as whales, dolphins, and porpoises. Cetus is Latin and is used in biological names to mean "whale"; its original meaning, "large sea animal", was more general. It comes from Ancient Greek , meaning "whale" or "any huge fish or sea...
.
Classification
Class Mammal

Mammal

Mammals are members of a class of air-breathing vertebrate animals characterised by the possession of endothermy, hair, three middle ear bones, and mammary glands functional in mothers with young...


ia
Magnorder Boreoeutheria

Superorder Euarchontoglires

Euarchontoglires

Euarchontoglires is a clade of mammals, the living members of which are rodents, lagomorphs, treeshrews, colugos and primates .-Evolutionary relationships:...


(Supraprimates)

Grandorder Euarchonta

Euarchonta

The Euarchonta are a grandorder of mammals containing four orders: the Dermoptera or colugos, the Scandentia or treeshrews, the extinct Plesiadapiformes, and the Primates....




Order Scandentia: treeshrews (Southeast Asia)
Mirorder Primatomorpha

Primatomorpha

The Primatomorpha are a mirorder of mammals containing two orders: the Dermoptera or colugos and the Primates ....




Order Dermoptera: flying lemurs or colugos (Southeast Asia)
Order Primate

Primate

A primate is a mammal of the order Primates , which contains prosimians and simians. Primates arose from ancestors that lived in the trees of tropical forests; many primate characteristics represent adaptations to life in this challenging three-dimensional environment...


s: lemurs, bushbabies, monkeys, apes (cosmopolitan)

Grandorder Glires

Glires

Glires is a clade consisting of rodents and lagomorphs . This hypothesis that these form a monophyletic group has been long debated based on morphological evidence, although recent morphological studies strongly support monophyly of Glires...




Order Lagomorpha

Lagomorpha

The lagomorphs are the members of the taxonomic order Lagomorpha, of which there are two living families, the Leporidae , and the Ochotonidae...


: pikas, rabbits, hares (Eurasia, Africa, Americas)
Order Rodent

Rodent

Rodentia is an order of mammals also known as rodents, characterised by two continuously growing incisors in the upper and lower jaws which must be kept short by gnawing....


ia: rodents (cosmopolitan)

Superorder Laurasiatheria

Laurasiatheria

Laurasiatheria is a large group of placental mammals believed to have originated on the northern supercontinent of Laurasia. It includes shrews, hedgehogs, pangolins, bats, whales, most hoofed mammals, and carnivorans, among others....




Order Erinaceomorpha: hedgehogs and gymnures (Eurasia, Africa, extinct in North America)
Order Soricomorpha

Soricomorpha

The order Soricomorpha is taxon within the class of mammals. In previous years it formed a significant group within the former order Insectivora...


: moles, shrews, solenodons (Eurasia, Africa, North America, northern South America)
Order Cetacea

Cetacea

The order Cetacea includes the marine mammals commonly known as whales, dolphins, and porpoises. Cetus is Latin and is used in biological names to mean "whale"; its original meaning, "large sea animal", was more general. It comes from Ancient Greek , meaning "whale" or "any huge fish or sea...


: whales, dolphins and porpoises (cosmopolitan in seas)
Order Artiodactyla: even-toed ungulates, including pig

Pig

A pig is any of the animals in the genus Sus, within the Suidae family of even-toed ungulates. Pigs include the domestic pig, its ancestor the wild boar, and several other wild relatives...


s, hippopotamus

Hippopotamus

The hippopotamus , or hippo, from the ancient Greek for "river horse" , is a large, mostly herbivorous mammal in sub-Saharan Africa, and one of only two extant species in the family Hippopotamidae After the elephant and rhinoceros, the hippopotamus is the third largest land mammal and the heaviest...


, camels, giraffe, deer, antelope, cattle, sheep, goats (cosmopolitan)
Order Chiroptera: bats (cosmopolitan)
Clade Zooamata

Zooamata

Zooamata is a proposed clade of mammals consisting of Ferae and Perissodactyla . Together with Cetartiodactyla and chiroptera it forms Scrotifera , and is part of Laurasiatheria...




Order Perissodactyla: odd-toed ungulates, including horse

Horse

The horse is one of two extant subspecies of Equus ferus, or the wild horse. It is a single-hooved mammal belonging to the taxonomic family Equidae. The horse has evolved over the past 45 to 55 million years from a small multi-toed creature into the large, single-toed animal of today...


s, donkey

Donkey

The donkey or ass, Equus africanus asinus, is a domesticated member of the Equidae or horse family. The wild ancestor of the donkey is the African Wild Ass, E...


s, zebra

Zebra

Zebras are several species of African equids united by their distinctive black and white stripes. Their stripes come in different patterns unique to each individual. They are generally social animals that live in small harems to large herds...


s, tapir

Tapir

A Tapir is a large browsing mammal, similar in shape to a pig, with a short, prehensile snout. Tapirs inhabit jungle and forest regions of South America, Central America, and Southeast Asia. There are four species of Tapirs: the Brazilian Tapir, the Malayan Tapir, Baird's Tapir and the Mountain...


s, and rhinoceros

Rhinoceros

Rhinoceros , also known as rhino, is a group of five extant species of odd-toed ungulates in the family Rhinocerotidae. Two of these species are native to Africa and three to southern Asia....


es (cosmopolitan)
Clade Ferae

Ferae

Ferae is a clade of mammals, consisting of the orders Carnivora and Pholidota . Pangolins do not look much like carnivorans , and were thought to be the closest relatives of Xenarthra...




Order Pholidota: pangolins or scaly anteaters (Africa, South and Southeast Asia)
Order Carnivora

Carnivora

The diverse order Carnivora |Latin]] carō "flesh", + vorāre "to devour") includes over 260 species of placental mammals. Its members are formally referred to as carnivorans, while the word "carnivore" can refer to any meat-eating animal...


: carnivorans (cosmopolitan)
External links